(Italiano) Segni di Guerra
ORIGINAL LANGUAGES, 2 Apr 2018
Edward Curtin | Centro Studi Sereno Regis – TRANSCEND Media Service
Per Donald Trump stanno finendo i giorni per atteggiarsi ad anfitrione ora passivo ora aggressive di un gioco televisivo di reality. O licenzia tutti gli apprendisti lievemente esitanti a scatenare una guerra mondiale ben più vasta con una gragnuola di bombe, o sarà sostituito da uno che lo farà.  I segni indicano che ha imparato che cosa comporta il suo lavoro e il mondo ne soffrirà di conseguenza più morte e distruzione.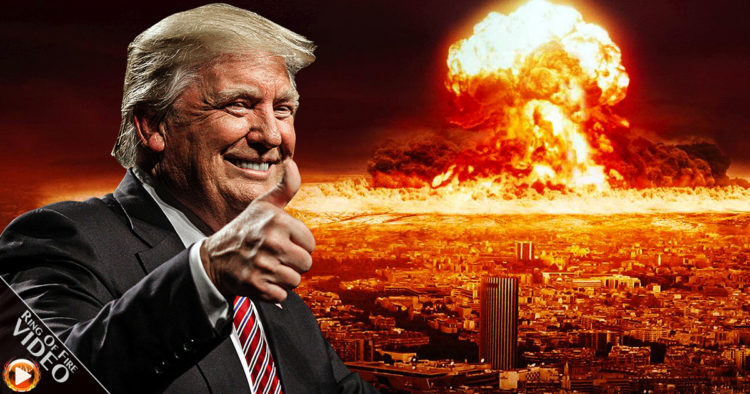 Tornando ai tempi della guerra fredda – fine anni 1950 inizio anni 1960, allorché il nostro piccolo mondo si avvicinò all'estinzione – la mia grande famiglia apparve in molti show televisivi americani.  I loro nomi raccontavano la storia di quei tempi: "Who Do You Trust" (Di chi ti fidi), "To Tell the Truth" (A dir la verità), "Charades" (Sciarade), "Play Your Hunch" (Gioca il tuo presagio) e "Beat the Clock" (Batti l'orologio), per citarne alcuni.  Era come se quegli insulsi spettacoli stessero inconsciamente suggerendo che grattassimo un po' oltre i titoli per scoprire che cosa stesse realmente succedendo prima che scadesse l'Orologio dell'Apocalisse (nucleare) – [effettivo indicatore del rischio imminente del Bulletin of Atomic Scientists – ndt] .
Oggi le cose sono molto più sofisticate e sinistre, con una guerra massiccia e inesorabile alla verità da parte dei grossi media occidentali, un braccio della CIA, esercito invisibile del capitalismo.  Si tratta di un gioco-spettacolo distorto, con conseguenze letali. Il suo metodo è da Giano bifronte: su una faccia, ripetere ancora e ancora menzogne spudorate sempre carenti di prove – per esempio, il Russiagate, le armi di distruzione di massa in Iraq, l'uso di armi chimiche da parte del governo siriano, la Russia è un aggressore che programma l'invasione dell'Europa Orientale, i tre edifici del World Trade Center buildings crollarono sulle proprie fondamenta a velocità di caduta libera a causa degli incendi, etc.; sull'altra faccia, giocare a suggerire al pubblico di saperne di più grazie a spettacoli sostenuti dalla CIA come "Homeland", a film come "Zero Dark Thirty", e di essere costantemente informati da tutti i cosiddetti ex-agenti CIA e assimilati disposti a commenti esplicativi dell'effettiva realtà che popolano i grossi media.  Il vecchio adagio "la CIA non la lasci mai" si è impercettibilmente mutate chissà come in "Sì, ce la facciamo; fidatevi".
Adesso abbiamo il Primo ministro britannico Theresa May che accusa la Russia di avvelenamento in Inghilterra dell'agente doppiogiochista Sergei Skripal e che ammonisce la Russia di dare una spiegazione "credibile" del perché di questo tentato omicidio, altrimenti … di un uomo che ha venduto per denaro l'identità di agenti russi al Regno Unito, mettendoli in serio pericolo.  O altrimenti, dice, il Regno Unito "concluderà che quest'azione equivale a un uso illegale dello stato russo contro il Regno Unito".  Naturalmente non ha presentato alcuna prova del coinvolgimento russo, ma la BBC, secondo sua consuetudine, specula su come I britannici possano punire la Russia, e gli altri media vi si sintonizzano. Ma ci resta da chiederci dove questo ci porti. Potrebbe essere una Siria? L'ex-diplomatico britannico Craig Murray lascia intendere che potrebbe essere una messa in scena sotto falsa bandiera mirante a montare la russofobia a proporzioni isteriche. Ma a qual fine?
Se guardiamo alle Nazioni Unite e alle accuse e minacce che volano dalla bocca dell' ambasciatore USA all'ONU, sosia dell'ambasciatore di Obama all'ONU Samantha Power in fregola bellica, vediamo espandersi il quadro.  Haley ha minacciato che gli USA intraprenderanno azione unilaterale in Siria contro le forze siriane e russe se l'ONU non adottasse la propria risoluzione che avrebbe concesso tempo in abbondanza ai terroristi anti-governativi di filarsela dall'Est-Ghouta. La Haley ha detto, riecheggiando parole già sentite parecchie volte:
Non è il percorso che preferiamo, ma è un percorso che abbiamo dimostrato che faremo e che siamo pronti a rifare … Quando la comunità internazionale manca d'agire, ci sono volte in cui gli stati sono costretti di intraprendere la propria azione.
In risposta abbiamo il ministro degli esteri russo Sergey Lavrov che ammonisce che un altro attacco USA al governo siriano avrebbe serie conseguenze; e il capo di stato maggiore russo Valery Gerasimov dire:
Abbiamo informazioni affidabili di militanti che si preparano a falsificare un attacco chimico del governo contro i civili. In parecchi distretti della Ghouta orientale, è stata radunata una folla con donne, bambini ed anziani, portati da alter regioni, che dovevano rappresentare le vittime dell'incidente chimico.
Ha aggiunto che attivisti "Caschi Bianchi" (di cui è dimostrato il finanziamento da parte USA e UK) erano già arrivati sulla scena con trasmittenti video satellitari per filmare la scena e che i russi avevano scoperto un "laboratorio per la produzione di armi chimiche nel villaggio di Aftris che era stato liberato dai terroristi". Dopo l'attacco programmato sotto falsa bandiera, gli USA stavano per bombardare distretti di Damasco in mani governative, adempiendo così la minaccia di Haley.
E qui negli USA, il col. Lawrence Wilkinson, capo-gabinetto del segretario di Stato Colin Powell quando questi mentì all'ONU nel 2003 per raccogliere sostegno all'attacco criminale all'Iraq, ha parlato alla conferenza The Israel Lobby and American Policy 2018 dieci giorni fa, dicendo, in riferimento al primo ministro israeliano Netanyahu e al ministro della difesa Avigdor Lieberman, che:
Sono tutt'e due diretti alla guerra; ne sono convinto. Useranno la presumibile [avversione] esistenziale dell'Iran alla presenza d'Israele in Siria, sempre più tale giorno dopo giorno anche da una prospettiva militare, l'accumulo di Hezbollah di circa 150.000 missili a prestar fede alle nostre agenzie d'intelligence. Il bisogno di far di nuovo retrocedere l'economia del Libano, quello è importante. Guardate che cosa stanno deliberando proprio adesso in merito al nuovo ricchissimo deposito di gas trovato nel Mediterraneo orientale, con Israele e Libano che reclamano entrambi la sua Sezione 9. Prova a prenderla, Libano, e noi ti bombardiamo, così lascerete che ce l'abbiamo noi. Quello sarà il loro pretesto.
Ora Rex Tillerson è fuori come Segretario di Stato e il capo della CIA, il ben più bellicoso Mike Pompeo passa naturalmente a quel ruolo. Poltrone 'musicali' per l'élite al potere; come ha detto Trump di Pompeo "Siamo sulla stessa lunghezza d'onda". E così Nikki Haley, quindi un trio la cui alleanza non lascia presagire nulla di buono per la pace in Medio Oriente o per un riavvicinamento alla Russia. Il gioco si fa più letale coll'apprendimento delle regole da parte dell'Apprendista Presidenziale e i preparativi dell'impero a versare altro sangue innocente in un'empia alleanza con Israele, Arabia Saudita, e altri "giocatori di squadra".
Ma questa volta il gioco non sarà, secondo l'espressione di un altro bugiardo della CIA, "un canestro infilato a mano". Gli oppositori questa volta sono pronti. Il gioco è cambiato.
E in Ucraina orientale la neve dovrebbe fondere fra 3-4 settimane.
Giocate il vostro presagio.
___________________________________________________

Edward Curtin è uno scrittore di vasta diffusione e membro della Rete TRANSCEND per Pace Sviluppo Ambiente.  Insegna sociologia al Massachusetts College of Liberal Arts. Ex-giocatore universitario di pallacanestro, insegna sociologia degli sport, e scrive su una gran varietà di argomenti. Il suo sito web è http://edwardcurtin.com/
Titolo originale: Further Signs of More War: A Most Dangerous Game – TRANSCEND Media Service
Traduzione di Miki Lanza per il Cenro Studi Sereno Regis
Go to Original – serenoregis.org
DISCLAIMER: The statements, views and opinions expressed in pieces republished here are solely those of the authors and do not necessarily represent those of TMS. In accordance with title 17 U.S.C. section 107, this material is distributed without profit to those who have expressed a prior interest in receiving the included information for research and educational purposes. TMS has no affiliation whatsoever with the originator of this article nor is TMS endorsed or sponsored by the originator. "GO TO ORIGINAL" links are provided as a convenience to our readers and allow for verification of authenticity. However, as originating pages are often updated by their originating host sites, the versions posted may not match the versions our readers view when clicking the "GO TO ORIGINAL" links. This site contains copyrighted material the use of which has not always been specifically authorized by the copyright owner. We are making such material available in our efforts to advance understanding of environmental, political, human rights, economic, democracy, scientific, and social justice issues, etc. We believe this constitutes a 'fair use' of any such copyrighted material as provided for in section 107 of the US Copyright Law. In accordance with Title 17 U.S.C. Section 107, the material on this site is distributed without profit to those who have expressed a prior interest in receiving the included information for research and educational purposes. For more information go to: http://www.law.cornell.edu/uscode/17/107.shtml. If you wish to use copyrighted material from this site for purposes of your own that go beyond 'fair use', you must obtain permission from the copyright owner.