Peace Journalism in Lebanon
TMS PEACE JOURNALISM, 9 Apr 2018
Jake Lynch – TRANSCEND Media Service
Inaugural Conference, Association of Media Educators of Lebanon, Lebanese American University, Beirut 7-11 Dec 2017
Lebanon is a country in acute need of Peace Journalism. In a general sense, there is a hunger among both journalists and their readers and audiences for ways to engage with social and political issues in the public sphere that do not exacerbate the tensions inherent in a diverse society, still coming to terms with the legacy of a vicious civil war.
It is also true in a specific sense, as I heard when invited to give the keynote address to the Association of Media Educators of Lebanon (Med Leb), at its inaugural conference at the Lebanese American University in Beirut last December. Successive contributors to this event – from professional as well as academic backgrounds – lamented the difficulties for Lebanese media in creating and projecting a distinctive identity, capable of addressing the particular experiences and perspectives of the country and its people, in mediascapes that are distinctively globalised, and dominated by US-based corporations.
Thanks to technological changes, "there is no such thing as watching television" any more, according to one of the conference speakers, Peter el Daher, a programme-maker from LBCI Lebanon News: instead, "there is content consumption". Viewers can now see "what they want, whenever they want". And, in the words of Professor Jad Melki, the conference organiser, this cornucopia of choice and access points up one uncomfortable conclusion. In comparison, news produced locally is "boring". The crux of the problem, in his view, is how Lebanese media can "offer 'sexy' news that does not shade into sensationalist news, that in the long term will destroy our credibility".
Peace Journalism, with its emphasis on "people as peace-makers", has always offered potential to differentiate local news from the constant stream of – as Prof Melki put it – "breaking news updates from CNN apps". In addition to my keynote address, I also facilitated a workshop, attended by up to 50 conference-goers over three hours of the second afternoon of the event. Participants diagnosed War Journalism, and identified and discussed opportunities for Peace Journalism, in the context of recent stories about issues of conflict. Two examples were a deadly attack by Islamic State militants on a mosque in the Egyptian Sinai peninsula, and the announcement by President Donald Trump of plans to move the US Embassy to Israel from Tel Aviv to Jerusalem.
In each case, a Peace Journalism treatment could be created by hearing from people on the ground, affected by and living with the contradictions underpinning the violence. With his proposed embassy move, Trump appeared to forestall a negotiated agreement the Palestinians. The future of Jerusalem – a city claimed as a capital by both Israel and the Palestinians – was one of the "final status issues" in the Oslo process. Workshop participants discussed ways of getting into contact with the Palestinian families of East Jerusalem, and local groups advocating for their rights, as they struggle against the ongoing pressure and harrassment from an Israeli state that is trying to squeeze them out. Social media – identified in several conference panels as a threat to professional journalism – might, in this case, be a helpful tool for newsgathering. If constraints of mobility and finances make it difficult to, say, take a TV crew to East Jerusalem to access such perspectives, then Facebook, Instagram or similar platforms which allow the sharing of material, including video, could help to overcome such constraints.
With the attack on the Sinai mosque, which took place two weeks before the conference and killed over 300 people, workshop participants considered two versions of the same story. The first, drawn from the website of the English-language Lebanon Daily Star newspaper, was an Associated Press report, which confined itself to the details of the numbers dead, the time and location of the attack, as well as some material about the efforts of emergency services to care for the wounded. It also had a prominent place for official political responses, notably a threat from Egyptian President Abdel-Fattah al-Sisi that the attack "will not go unpunished". Sure enough, days later, Egyptian air force bombers were pounding what were claimed as "Islamic State positions" in Sinai.
The second version of this same story was by the web news service of Deutsche Welle, the German broadcaster and media development agency which was also among the sponsors for the Med Leb conference. In this version, a "long and bloody conflict between local Bedouin tribes and the government in Cairo" was cited as an essential element of background and context for understanding and explaining the traumatic sequence of events. The issue was explored through the inclusion of quotes from a "German-Egyptian political scientist", Asien El Difraoui. "Bedouin in the Sinai were always seen as second class citizens", he had told DW in an interview. Bedouin communities, deprived of any economic benefits from either the oil or tourism industries, were breeding grounds of discontent and therefore vulnerable to the influence of extremists. The remedy, according to El Difraoui, was "to find the way back to dialogue" over such matters. "You can't answer terror with just bombs".
In allowing for violent acts to result from an intelligible sequence of cause and effect, including social and political grievances, El Difraoui was taking issue with a fundamental tenet of the US-led "war on terrorism": a phrase seldom used now by political leaders, but still the dominant orthodoxy. "Any attempt to discuss the 'root' of terrorism is an attempt to justify it", Richard Perle, a neoconservative ideologue in Washington, intoned after the 9/11 attacks on the US in 2001: "it simply needs to be fought and destroyed". It's an orthodoxy that fitted perfectly with the dominant form of War Journalism, which excludes and marginalises backgrounds and contexts, in favour of a surface narrative of violent events.
Did the resultant pattern of reporting then, in turn, influence the actions and calculations of conflict actors? The effect is called "mediatization": the seepage of media logics and assumptions into source behaviours. Back in 2005, when Annabel McGoldrick and I published our field-defining book, Peace Journalism, we modelled this effect as a "feedback loop": journalists report facts, but some facts, at least, are deliberately provided for them to report. How does any source know what facts to provide, and in what form, in order to gain advantage when they are reported? Why, only from study of previous reporting.
The enduring ascendancy of War Journalism, and the "war on terrorism" ideology, has left an explanatory gap. Into that gap has surged dyadic formulations, which – when entered into the feedback loop of mediatization – risk incentivising further violence. Today, in the Middle East and North Africa region of which Lebanon is part, the dyad is between 'Riyadh' and 'Tehran'. The current Saudi regime, in particular, is inclined to see the malign hand of Iran behind every problem. The Saudi bombing campaign against the Houthis in Yemen – the subject of well-attested claims that civilians are being indiscriminately targeted – is routinely justified with reference to this claim. And Hezbollah, in Lebanon, is viewed through the same prism – overlooking the entirely home-grown issues that gave rise to the emergence of both groups, in the first place.
Governments of Lebanon take the form of coalitions, to ensure no significant section of Lebanese society is unrepresented: a prudent precaution, given its history. So it is that Hezbollah's political wing has seats in the current cabinet, of Prime Minister Saad al-Hariri. When I reached Beirut, he had just arrived back from a diplomatic mission to Riyadh that lasted several weeks longer than scheduled, amid reports that he had been detained by the Saudi authorities. He went on Saudi TV to read a scripted statement of resignation. Was this under duress? Applied because including Hezbollah in his cabinet made him suspect, in the dyadic official Saudi view? Only later did he rescind his statement, and things began to return to normal.
So, Lebanon is potentially endangered by War Journalism, and has a direct interest in promoting and enabling more Peace Journalism. Fortunately, it is also notable for home-grown Peace Journalism initiatives, exemplified by the Media Association for Peace, founded and directed by Vanessa Bassil. MAP has emerged and grown as a successful NGO, partnering with other reform-minded groups in Lebanon, and international agencies, to offer journalist training courses, as well as regular conferences to promote discussion of peace, human rights, and media roles. Whilst in Lebanon, I took part in an evening question-and-answer session Vanessa organised at a local hotel. Whether journalists should be aiming to offer Peace Journalism to their readers and audiences was an issue that participants had, by a d large, already resolved. The remaining issue was, how to do more of it. A question that is now under increasingly urgent discussion in the wider Lebanese media community.
_________________________________________________________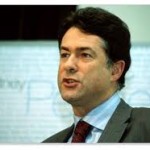 Jake Lynch is a former BBC newsreader, political correspondent for Sky News and Sydney correspondent for the Independent. He is Associate Professor of Peace Journalism and Director of the Centre for Peace and Conflict Studies at the University of Sydney, Australia, and winner of the 2017 Luxembourg Peace Prize. Lynch is a member of the TRANSCEND Network for Peace Development Environment and advisor for TRANSCEND Media Service-TMS. He is the co-author, with Annabel McGoldrick, of Peace Journalism (Hawthorn Press, 2005), and Debates in Peace Journalism, Sydney University Press and TRANSCEND University Press. He also co-authored with Johan Galtung and Annabel McGoldrick 'Reporting Conflict: An Introduction to Peace Journalism,' which TMS editor Antonio C. S. Rosa translated to Portuguese.
This article originally appeared on Transcend Media Service (TMS) on 9 Apr 2018.
Anticopyright: Editorials and articles originated on TMS may be freely reprinted, disseminated, translated and used as background material, provided an acknowledgement and link to the source, TMS: Peace Journalism in Lebanon, is included. Thank you.
If you enjoyed this article, please donate to TMS to join the growing list of TMS Supporters.


This work is licensed under a CC BY-NC 4.0 License.