The End of Globalization
IN FOCUS, 2 Jul 2018
Trump and the dangerous new era of trade and tech wars.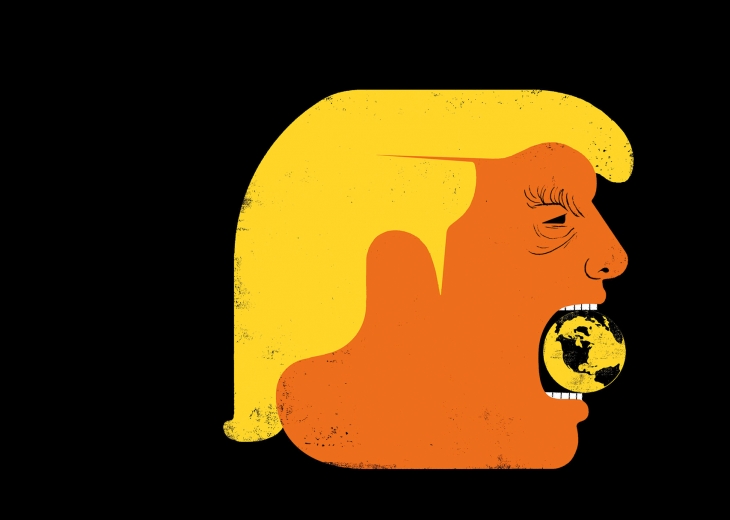 28 Jun 2018 – Suppose we reverse the premise of the film Good Bye, Lenin!. Instead of a communist waking up from a coma in a newly marketised Germany, we get a technocrat from the Blair/Clinton era waking up today – to a world gripped by economic nationalism, great power politics and xenophobia.
What would be the biggest mind-bender? What would the patient's family, trying to hide the harsh reality, struggle with most?
Most obviously, the answer is Donald Trump. If you know the history of the United States you know that there was an anti-Semitic isolationist movement against American involvement in the Second World War, and that it was called America First. But you would also know that, from 1916 onwards, the US sought global hegemony through engagement and intervention, not isolation.
Almost every other aspect of the retreat from globalisation and multilateralism is predictable: that Poland should produce a government of right-wing nationalists trying to attack the rule of law; that Britain would detach from Europe; that Russia and Turkey would become elective dictatorships – all of these can be understood as simply reversions to the historical mean.
Yet for America to kiss goodbye simultaneously to the Paris climate agreement, the UN's human rights council, the G7, the principle of a rules-based order and a peace deal that secured and stabilised the one region it has been obsessed with for a century? What does that tell us about the world? For me, the least reversible, and therefore most significant, of all Trump's moves is the launch of a simultaneous trade war against China, the EU and Canada.
Trump has earmarked $200bn-worth of Chinese imports to the US for punitive tariffs, with the threat of a further $200bn if China retaliates. And in June, Trump imposed tariffs on steel and aluminium from the European Union, Canada and Mexico, prompting the EU to prepare retaliation against $2.7bn worth of US imports.
At the calamitous G7 summit in Quebec, Trump is said to have told his fellow leaders that the North American Free Trade Agreement was the worst deal the US ever did, with the World Trade Organization (WTO) a close second. In February, he described the WTO as a "catastrophe".
In other words, the trade measures Trump has unleashed against China and others are not simply designed to reform the trade balance within the existing trade architecture of the world, but to destroy that architecture.
Trump has already circumvented WTO rules by classifying steel imports from Canada, the EU and others as "national security threats" – thus technically denying his opponents the right to retaliate. And since coming to office, he has vetoed the appointment of new judges to the WTO's seven-person appeals court, which adjudicates trade disputes, leaving the entire system one judge away from breakdown.
The signs, then, are very clear. The Trump administration intends to paralyse the rules-based trade system and construct an alternative order with itself at the centre, as the great borrower and consumer on unequal terms. And such is the support for protectionism and economic nationalism among the US middle class, it is hard to see a future president reversing the direction of trade policy.
In the original Good Bye, Lenin! movie, the plot was a metaphor for the old communist generation's inability to move on. Surveying the response of European centrist politicians to Trump, the parallels are again accurate.
In the next 12 to 18 months, mainstream politicians of the centre left and centre right face a difficult recalibration task. While remaining committed to a rules-based order on trade, human rights and climate change, they need to prepare policies, and foster a new political culture, for the eventuality that the whole thing breaks down. To save what we can of globalisation, we need to retreat to a second trench: do less of it, end calls for its aggressive deepening, stabilise global and continental institutions around systems that offshore less and deregulate less.
****
The political centre seems blithely unaware of the collapsing institutional framework. As Trump tweets insults at Angela Merkel, openly inciting rebellions by xenophobes within her ruling coalition, German civil servants work overtime to soften the EU's retaliation against his trade measures.
In Britain we face the worst of both worlds: as Trump's trade war with the EU escalates, we have a Trade Secretary – Liam Fox – who has made a career out of being in the ideological pocket of the Republican right; and we face being rule-takers without influence inside the EU itself after Brexit in March 2019, but with zero freedom to make our own trade deals and, worse, zero strategy as the world breaks up into large, rival trading blocs.
One of the reasons the centre is so unwilling to face the possibility of the collapse of globalisation is that it has always accepted the fiction that this was an objective, irreversible and spontaneous process – not a policy choice among the elite. A more persuasive reason is that, especially when seen from the top floor of a law firm in Canary Wharf, globalisation looks like a primarily financial phenomenon.
Since nobody can imagine the break-up of the global finance system –  the full return of capital controls, or the evaporation of foreign exchange markets, and the pooling of financial assets into national economies – they cannot contemplate trade and intellectual property wars.
However, the shape of the mid-21st century is becoming clearer and more dystopian. The sources of growth that drove the past 30 years will be scarcer: fewer new workers, less "catch-up growth", less financial leverage. Competition for what growth, what jobs and what prosperity the global economy can sustain will become stronger. Though today it takes the form of trade war, tomorrow it will take the form of technological "deglobalisation".
Few senior Western business people, even today, will get on a plane to China without a "burner" phone and laptop, so routine have fears of intellectual property theft become. Once both physical trade in goods and rival technological standards and IP laws are in play, the insatiable demands of populist politicians for enemies and victims will lead, if not to old-style capital controls, then to a more complex use of financial regulations to incentivise the localisation of capital.
Finally, comes the battle of "values". Once China imposes a social-credit scoring system on its workforce, using mass surveillance and algorithmic control to discipline its population, the idea that there is any form of unified global capitalism – any possibility of a level playing field between the putative tech giants of the 21st century – will be over. For 30 years, the left has moulded its programme around the inevitability of globalisation. That moment has already gone: the programmes of Bernie Sanders in America, Podemos in Spain, La France Insoumise and Jeremy Corbyn's Labour constitute a welcome, partial and calibrated retreat from the extremes of globalisation.
But in the world I am describing, it is not enough. You could put a Corbynista or a Podemos activist into a Good Bye, Lenin! situation, and wake them up in the world described above, say in the year 2038, and the whole agenda of the left would have had to change. For me, the practical outcomes of the incipient trade and tech wars, and the emergence of great power-style geopolitics, lead to the following broad conclusions.
Britain has to be part of a big, continental project. It's a no-brainer that the project should be Europe – and being semi-detached from the EU doesn't matter as long as we are focused on Europe, and building a common and independent security, migration, defence and diplomatic entity. That's why I keep using the word "Norway", even if the Labour front bench doesn't like it.
Europe has to be involved in artificial intelligence at continental scale, and a player in all other globally important tech projects.
Socially, Europe has to enrich its citizens, build domestic industries and agriculture resilient enough to survive the contraction of a rules-based global order, and define its own ethos. That means having a battle against the various resurgent ethno-nationalisms of Europe – and the best way to fight that battle is with growth, prosperity and education. The institutions that stand in the way are the eurozone and the Lisbon Treaty. Both are reformable. Both should be reformed.
It is an inescapable fact that the global order is fragmenting. If you replay the tit-for-tat measures governments resorted to over trade, currency, debts and war reparations between, say, 1931 and 1934, you can see how quickly things escalate (do it on a management away day or in your university tutorial group one afternoon, with Charles Kindleberger's The World in Depression, 1929-39 as your source material).
The sheer scale of the interconnections – financial, cultural and in physical trade –means globalisation cannot fail completely, but it doesn't need to in order to produce the Good Bye, Lenin! effect.
_________________________________________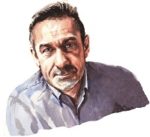 Paul Mason is a New Statesman contributing writer, author and film-maker. As economics editor at Newsnight, then Channel 4 News he covered the global financial crisis, the Arab Spring, the Occupy movement and the Gaza war. His bestselling book Postcapitalism has been translated into 16 languages. His play Why It's Kicking Off Everywhere was televised on BBC Two in 2017. 
Go to Original – newstatesman.com
DISCLAIMER: In accordance with title 17 U.S.C. section 107, this material is distributed without profit to those who have expressed a prior interest in receiving the included information for research and educational purposes. TMS has no affiliation whatsoever with the originator of this article nor is TMS endorsed or sponsored by the originator. "GO TO ORIGINAL" links are provided as a convenience to our readers and allow for verification of authenticity. However, as originating pages are often updated by their originating host sites, the versions posted may not match the versions our readers view when clicking the "GO TO ORIGINAL" links. This site contains copyrighted material the use of which has not always been specifically authorized by the copyright owner. We are making such material available in our efforts to advance understanding of environmental, political, human rights, economic, democracy, scientific, and social justice issues, etc. We believe this constitutes a 'fair use' of any such copyrighted material as provided for in section 107 of the US Copyright Law. In accordance with Title 17 U.S.C. Section 107, the material on this site is distributed without profit to those who have expressed a prior interest in receiving the included information for research and educational purposes. For more information go to: http://www.law.cornell.edu/uscode/17/107.shtml. If you wish to use copyrighted material from this site for purposes of your own that go beyond 'fair use', you must obtain permission from the copyright owner.
Join the discussion!
We welcome debate and dissent, but personal — ad hominem — attacks (on authors, other users or any individual), abuse and defamatory language will not be tolerated. Nor will we tolerate attempts to deliberately disrupt discussions. We aim to maintain an inviting space to focus on intelligent interactions and debates.