Articles by Paul Mason
We found 3 results.
---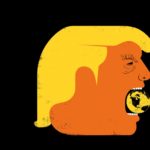 The End of Globalization
Paul Mason – New Statesman, 2 Jul 2018
28 Jun 2018 – Trump and the dangerous new era of trade and tech wars. The Trump administration intends to paralyse the rules-based trade system and construct an alternative order with itself at the centre, as the great borrower and consumer on unequal terms. And such is the support for protectionism and economic nationalism among the US middle class, it is hard to see a future president reversing the direction of trade policy.
→ read full article
---
The End of Capitalism Has Begun
Paul Mason – The Guardian, 20 Jul 2015
Without us noticing, we are entering the postcapitalist era. At the heart of further change to come is information technology, new ways of working and the sharing economy. It's time to be utopian. Marx imagined something close to our information economy. He wrote its existence would blow capitalism sky high.
→ read full article
---
(Português) As revelações de O Capital no Século XXI
Paul Mason, The Guardian – TRANSCEND Media Service, 12 May 2014
Sucesso internacional, livro de Thomas Piketty expõe engrenagens que produzem desigualdade e pobreza, sugere alternativas e desafia: elites aceitarão debatê-las?
→ read full article
---