Forced Return of Rohingya Crime against Humanity
TRANSCEND MEMBERS, ASIA-UPDATES ON MYANMAR ROHINGYA GENOCIDE, 19 Nov 2018
Maung Zarni | Anadolu Agency – TRANSCEND Media Service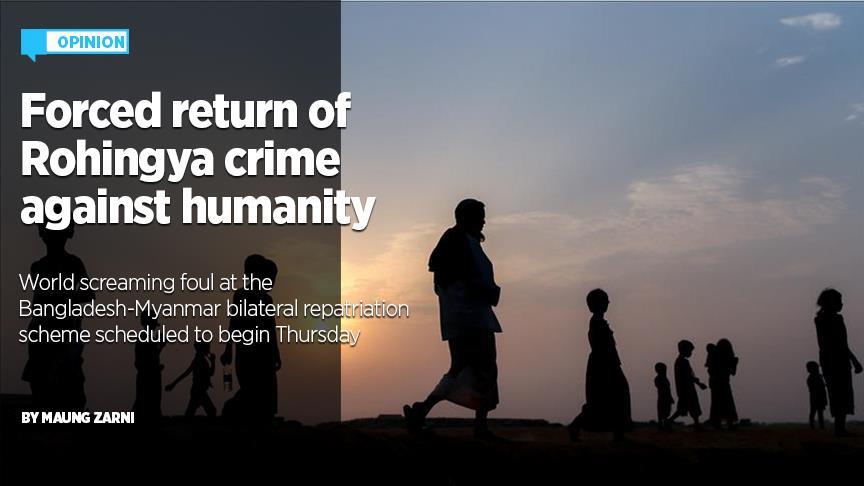 World screaming foul at the Bangladesh-Myanmar bilateral repatriation scheme scheduled to begin Thursday [15 Nov 2018).
15 Nov 1018 – From the Red Cross to the United Nations High Commission for Refugees, with the principal mandate for refugee protection, the world is screaming foul at the Bangladesh-Myanmar bilateral repatriation scheme scheduled to begin on 15 November, today.
The International Committee of the Red Cross' Robert Mardini based in Myanmar told reporters that "we still believe that the conditions are not right for voluntary, safe, dignified returns …. Nobody can claim today that the security in Rakhine is so well established that people can return safely."
Last night, 150 fear-stricken Rohingyas were taken by Bangladeshi authorities to a transit camp on the Bangladesh side of the border, apparently without their volition.
The plan is to return an initial batch of 2,200 Rohingya survivors of the Myanmar genocide to be followed by repatriating another 2,000. If the two countries go ahead with the repatriation – reportedly reached under pressure from China (and India) – the move will amount to a crime against humanity in international law.
Doreen Chen, international law coordinator for the Free Rohingya Coalition and director of a Geneva-based advocacy group Destination Justice, said pointedly, "given what we know about the conditions the Rohingya are likely to face on their return to Myanmar, together with the documented unwillingness of many Rohingya to return, it is unconscionable to repatriate them at this time." She further added, "indeed, it goes far beyond that: the mere act of repatriation itself not only violates the international law principle of non-refoulement but may amount to the crime against humanity of forcible transfer."
So a deeply alarming situation is emerging wherein the two signatories – Myanmar and Bangladesh – to the 1948 Convention on the Prevention and Punishment of the Crime of Genocide or Genocide Convention – are proving their willingness to flaunt international law, with Myanmar perpetrating the crime, and the neighbouring Bangladesh planning to forcibly transfer the survivors back into harm's way.
On 24 October, the UN Fact Finding Mission Chair and former attorney general of Indonesia Marzuki Darusman officially and emphatically told the Security Council that Myanmar's genocide is "ongoing".
The genocidal conditions on the ground are still pushing the remaining Rohingyas out of Rakhine State. Boat loads of Rohingyas who attempted to flee the hellish situation in their homeland of Northern Rakhine have recently been caught and detained by both Bangladeshi and Myanmar Navies.
There are 120,000 Rohingyas in "concentration camps", the term used by German Foreign Office officials in private meetings with Rohingyas, where they have been caged since the organized violence erupted in 2012, and an additional 400,000 live in "vast open prisons" in towns such as Buthidaung and half of the un-burned Rohingya villages.
This complete and utter absence of physical safety of Rohingyas, as individuals and as a group, has not been lost on Prime Minister Sheik Hasina of Bangladesh. She proposed the establishment of a 'safe zone' on Rohingyas' original place of residence inside Myanmar at the United Nations General Assembly for the last two consecutive years – 2017 and 2018.
Therefore, it is perplexing and alarming that Dhaka seems determined to push ahead with the bilateral repatriation – against the well-documented wishes of the overwhelming majority of 1.2 million Rohingya in the camps in Cox's Bazar. Understandably the volume of Rohingya refugees put an enormous burden on Bangladesh. Besides, the international community – rich countries, in particular – have not fulfilled their pledges to share this burden in concrete humanitarian dollars or euros.
Bangladesh is also under pressure from powerful Asian governments such as China and India to start the repatriation and to treat the cross-border impact of hosting 1 million refugees fleeing the genocide next door.
To make matters worse, Myanmar State Counsellor and Foreign Minister Aung San Suu Kyi has been in a state of complete denial with respect to the facts on the ground – that the military has commissioned the crime of genocide, a fact which she denies. She has defiantly dismissed every research and human rights report that finds Myanmar's crimes against humanity, genocide and war crimes, from the 444-UN Fact Finding Mission report of 18 Sept. to Yale and Queen Mary University of London reports on Myanmar genocide.
So, when U.S. Vice President Mike Pence told her face-to-face in their meeting in Singapore that Myanmar's persecution of Rohingyas is "without excuse" she rebuffed the American acerbically, instead of acknowledging the ugly truths about her government.
In her own words, "in a way, we can say that we understand our country better than any other country does and I'm sure you will say the same of yours, that you understand your country better than anybody else."
As a matter of fact, it is Ms. Suu Kyi's Foreign Ministry that has been engaged in anti-Rohingya propaganda, circulating official statements and making media comments, which frame the military's brutal attacks on unarmed Rohingyas as Myanmar's legitimate self-defence against "terrorists".
Her government also promotes the anti-Rohingya propaganda film by the known American Islamophobe Rick Heinzman.
Mr. Heinzman is banned on Twitter and Facebook for his hate-promotion but is provided by Ms. Suu Kyi's government with unprecedented, free access to the killing fields of Rakhine to do his anti-Rohingya video-recording. She continues to block the UN Fact Finding Mission members and the Special Rapporteur on the human rights situation in Myanmar Ms. Yanghee Lee.
Against this backdrop, the safety of Rohingyas in Myanmar cannot be entrusted to their Burmese perpetrators in power without concrete international interventions. Establishing a coalition of UN member states – such as Malaysia, Turkey, Canada, Netherlands, Sweden, the U.S., the U.K. and so on – that have expressed acute concerns about the plight of Rohingyas. This would constitute a vital step towards guaranteeing the safety to facilitate voluntary return of Rohingyas to their homeland and eventually ending Myanmar's ongoing genocide.
___________________________________________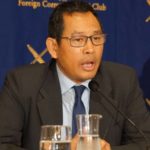 A Buddhist humanist from Burma, Maung Zarni is a member of the TRANSCEND Network for Peace Development Environment, former Visiting Lecturer with Harvard Medical School, specializing in racism and violence in Burma and Sri Lanka, and Non-resident Scholar in Genocide Studies with Documentation Center – Cambodia. Zarni is coordinator for Strategic Affairs for Free Rohingya Coalition and an adviser to the European Centre for the Study of Extremism, Cambridge, UK. His analyses have appeared in leading newspapers including the New York Times, The Guardian and the Times. Among his academic publications on Rohingya genocide are The Slow-Burning Genocide of Myanmar's Rohingyas (Pacific Rim Law and Policy Journal), An Evolution of Rohingya Persecution in Myanmar: From Strategic Embrace to Genocide, (Middle East Institute, American University), and Myanmar's State-directed Persecution of Rohingyas and Other Muslims (Brown World Affairs Journal, forthcoming). He holds a PhD (U Wisconsin at Madison) and a MA (U California), and has held various teaching, research and visiting fellowships at the universities in Asia, Europe and USA including Oxford, LSE, UCL Institute of Education) , National-Louis, Malaya, and Brunei. He is the recipient of the "Cultivation of Harmony" award from the Parliament of the World's Religions (2015).
DISCLAIMER: The statements, views and opinions expressed in pieces republished here are solely those of the authors and do not necessarily represent those of TMS. In accordance with title 17 U.S.C. section 107, this material is distributed without profit to those who have expressed a prior interest in receiving the included information for research and educational purposes. TMS has no affiliation whatsoever with the originator of this article nor is TMS endorsed or sponsored by the originator. "GO TO ORIGINAL" links are provided as a convenience to our readers and allow for verification of authenticity. However, as originating pages are often updated by their originating host sites, the versions posted may not match the versions our readers view when clicking the "GO TO ORIGINAL" links. This site contains copyrighted material the use of which has not always been specifically authorized by the copyright owner. We are making such material available in our efforts to advance understanding of environmental, political, human rights, economic, democracy, scientific, and social justice issues, etc. We believe this constitutes a 'fair use' of any such copyrighted material as provided for in section 107 of the US Copyright Law. In accordance with Title 17 U.S.C. Section 107, the material on this site is distributed without profit to those who have expressed a prior interest in receiving the included information for research and educational purposes. For more information go to: http://www.law.cornell.edu/uscode/17/107.shtml. If you wish to use copyrighted material from this site for purposes of your own that go beyond 'fair use', you must obtain permission from the copyright owner.