(Português) Dez Mentiras Sobre a Venezuela que pela Repetição se Tornaram Verdade
ORIGINAL LANGUAGES, 11 Feb 2019
Katu Arkonada | La Jornada – TRANSCEND Media Service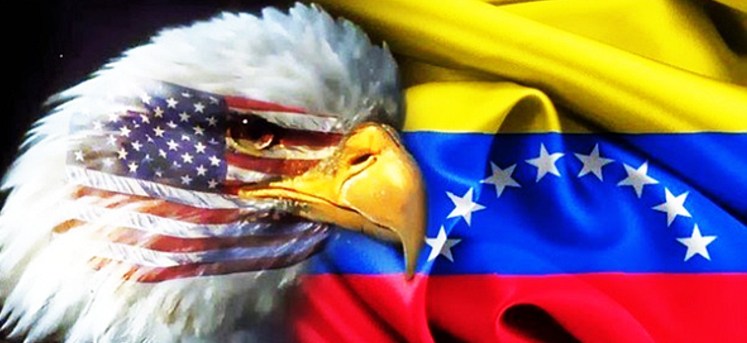 5 fev 2019 – A guerra híbrida que vive a Venezuela tem a desinformação e manipulação midiática como uma de suas principais armas de combate. Lemos e escutamos mentiras de analistas que nunca estiveram na Venezuela e as repetem tantas vezes que se convertem em realidade para a opinião pública.
1 – A Venezuela tem dois presidentes
Nada mais distante da realidade. A Constituição venezuelana estabelece em seu artigo 233 como "falta absoluta do presidente" sua morte, renúncia, destituição decretada pelo Tribunal Supremo de Justiça, ou a incapacidade física ou mental decretada por uma junta médica. Juan Guaidó não tem nenhum argumento constitucional para autoproclamar-se presidente, pois não há falta absoluta do presidente, que fez o juramento tal e como estabelece a Constituição em seu artículo 231: em 10 de janeiro e diante do Tribunal Supremo de Justiça.
2 – Guaidó tem apoio da comunidade internacional
Para além da hipocrisia de chamar "comunidade internacional" alguns países do Ocidente, em 10 de janeiro a posse de Nicolás Maduro contou com a representação diplomática de mais de 80 países, desde a Rússia à China, passando pelo Vaticano, a Liga Árabe e a União Africana. Esses países seguem mantendo relações diplomáticas com o governo de Maduro. Guaidó tem o reconhecimento dos mesmos países que em 10 de janeiro não reconheceram a Maduro: Estados Unidos e o Grupo de Lima (exceto o México). Fora isso, só se somaram Georgia (devido à disputa territorial com a Rússia), Austrália e Israel.
3 – Guaidó é diferente da oposição violenta
Guaidó é deputado pela Vontade Popular, partido político que não reconheceu as eleições presidenciais de 2013 e cujo líder, Leopoldo López, está condenado por ser o autor intelectual do episódio "La Salida" que impulsionou as guarimbas (manifestações violentas) de 2014, que tiveram um saldo de 43 mortos e centenas de feridos.
4 – A Assembleia Nacional é o único órgão legítimo
O artigo 348 da Constituição venezuelana autoriza o presidente a convocar uma Assembleia Constituinte, e o artigo 349 define que os poderes constituídos (Assembleia Nacional) não poderão, de forma alguma, impedir as decisões da Assembleia Constituinte. A decisão de convocar a Constituinte foi um ato de astúcia do chavismo para rifar o bloqueio da Assembleia Nacional e, gostem ou não, foi realizado com estrito apego à Constituição.
5 – Maduro foi reeleito de maneira fraudulenta, em eleições sem oposição
As eleições de 20 de maio de 2018 foram convocadas pelo mesmo CNE (Conselho Nacional Eleitoral) que permitiu a eleição de Guaidó como deputado. Houve três candidatos de oposição que juntos conquistaram 33% dos votos e foram seguidas as normas estabelecidas na mesa de diálogos realizada na República Dominicana entre o governo venezuelano e a oposição, com mediação do ex-presidente espanhol José Luís Rodríguez Zapatero.
6 – Na Venezuela não há democracia
Desde 1998 foram realizadas cinco eleições presidenciais, quatro eleições parlamentares, seis eleições regionais, quatro eleições municipais, quatro referendos constitucionais, e uma consulta nacional (plebiscito). Ou seja: 23 eleições em 20 anos. Todas com o mesmo sistema eleitoral, considerado um dos mais seguros do mundo pelo ex-presidente estadunidense Jimmy Carter.
7 – Na Venezuela há uma crise humanitária
Não há dúvidas de que na Venezuela há agora uma crise econômica impulsionada por ordens executivas de Barack Obama e Donald Trump ao declarar o país como perigo para a segurança nacional dos Estados Unidos, com sanções que têm impedido a compra de alimentos e medicamentos.
Essa crise tem provocado uma migração econômica que alguns tentam maquiar como "asilo político", fato desmentido pelos dados: entre janeiro e agosto de 2018 a Comissão Mexicana de Ajuda ao Refugiado recebeu 3.500 solicitações de asilo de venezuelanos e 6.523 solicitações de refúgio de cidadãos hondurenhos, por exemplo, quase o dobro.
8 – Na Venezuela os direitos humanos são violados
Analisemos as cifras das guarimbas de 2017: 131 pessoas mortas, 13 das quais por disparos das forças de segurança (fato que levou 40 oficiais a serem presos e processados); 9 membros das diferentes polícias e Guarda Nacional Bolivariana foram assassinados e cinco pessoas foram queimadas vivas ou linchadas pela oposição. As demais mortes se deram enquanto pessoas manipulavam explosivos de forma irregular ou tentavam saltar das barricadas da oposição.
9 – Na Venezuela não há liberdade de expressão
As imagens destes dias de Guaidó dando declarações rodeado de microfones de meios de comunicação nacionais e internacionais desmentem tal afirmação.
10 – A comunidade internacional está preocupada com o Estado da democracia na Venezuela
A comunidade internacional representada pelos Estados Unidos e o Grupo de Lima não está preocupada com os presos torturados em Guantánamo; não se preocupa com os defensores dos direitos humanos assassinados diariamente na Colômbia, não há preocupações com as caravanas de imigrantes que fogem da doutrina do shock neoliberal em Honduras e tampouco se importa com as relações do filho de Jair Bolsonaro com as milícias que assassinaram Marielle Franco.
Não, ninguém do Grupo de Lima e seu aliado Estados Unidos julga grave as violações dos direitos humanos nestes países todos. O que se esconde por trás desta preocupação com a Venezuela não se chama democracia. Se chama petróleo, ouro e coltan.
__________________________________________________
Katu Arkonada – Cientista político, autor de livros relacionados à política latino-americana e membro da Rede de Intelectuais na Defesa da Humanidade. Este artigo foi publicado originalmente no jornal mexicano La Jornada.
Fonte: La Vanguarda – Tradução: Mariana Serafini
Transcrito do Monitor Mercantil
Go to Original – patrialatina.com.br
DISCLAIMER: The statements, views and opinions expressed in pieces republished here are solely those of the authors and do not necessarily represent those of TMS. In accordance with title 17 U.S.C. section 107, this material is distributed without profit to those who have expressed a prior interest in receiving the included information for research and educational purposes. TMS has no affiliation whatsoever with the originator of this article nor is TMS endorsed or sponsored by the originator. "GO TO ORIGINAL" links are provided as a convenience to our readers and allow for verification of authenticity. However, as originating pages are often updated by their originating host sites, the versions posted may not match the versions our readers view when clicking the "GO TO ORIGINAL" links. This site contains copyrighted material the use of which has not always been specifically authorized by the copyright owner. We are making such material available in our efforts to advance understanding of environmental, political, human rights, economic, democracy, scientific, and social justice issues, etc. We believe this constitutes a 'fair use' of any such copyrighted material as provided for in section 107 of the US Copyright Law. In accordance with Title 17 U.S.C. Section 107, the material on this site is distributed without profit to those who have expressed a prior interest in receiving the included information for research and educational purposes. For more information go to: http://www.law.cornell.edu/uscode/17/107.shtml. If you wish to use copyrighted material from this site for purposes of your own that go beyond 'fair use', you must obtain permission from the copyright owner.