Einstein and Freud: War and Peace in an Interdisciplinary Dialogue
FEATURED RESEARCH PAPER, 15 Apr 2019
Luis Henrique Beust | Universidade Presbiteriana Mackenzie – TRANSCEND Media Service
Dissertation submitted as part of the requirements for Master in Education, Art and History of Culture.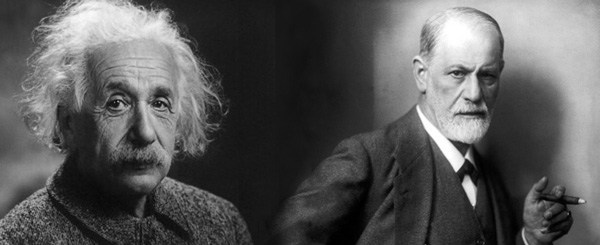 The present work makes a case for the relevance of Albert Einstein and Sigmund Freud's exchange on war and peace for current efforts towards establishing a Culture of Peace as designated by the UN/UNESCO International Decade for a Culture of Peace (2001-2010). Two open letters exchanged between Einstein and Freud in 1932 served as the principle source for this investigation.
In these letters — exchanged under the auspices of the International Committee on Intellectual Cooperation of the League of Nations — Einstein and Freud describe their rationale regarding the causes of war and the possible paths which might lead to the establishment of a lasting peace between the Nations.
This paper analyses the perspectives of Einstein and Freud in relation to war and peace in light of the theoretical framework given by Norberto Bobbio's characterization of the contemporary modes of pacifism ("paths to peace"). In spite of the fact that seventy years have passed since Einstein and Freud discussed their views on war and peace and notwithstanding the fact that some of Freud´s thinking has been challenged since, the author concludes by suggesting that the exchange between Einstein and Freud is directly in line with, and contributes towards, current efforts to promote a Culture of Peace — particularly regarding their shared view that war is not intrinsic to human nature and therefore can be eliminated.
In retrospect, the contribution that Einstein and Freud can make towards the goal of establishing a Culture of Peace stems as much from their exchange as it does from the fact that these two thinkers have become icon figures of the 20th century.
___________________________________________________

Luis Henrique Beust was born in Porto Alegre, Brazil, in 1958. Beust is a consultant in human and social development at the UN-UNDP (United Nations Development Program), having worked in more than 30 countries in the three Americas, Europe, the Middle East and Asia. He also works as a consultant for corporations, governmental and nongovernmental organizations in Brazil and abroad. He studied Architecture and Urbanism, Agronomy and History in his native state. He holds a Master degree in Social Development (Latin American Master of Social Development: Chile / Colombia / Bolivia); and a Master in Education, Art and History of Culture (Universidade Presbiteriana Mackenzie, São Paulo). He also holds several postgraduate courses, including Development Planning (University College, London); Management of Human Settlements (Latin American Faculty of Social Sciences, FLACSO-UNESCO). Since 1977 he has been a member of the Bahá'í community, having served in local, regional and national bodies throughout the decades. Like all Bahá'ís, he believes that "peace is not only possible but inevitable." That world peace is the next stage of the collective life of mankind on this planet. He has been professor in graduate courses in Brazil and abroad, and has several published texts and books, including poetry. His book Educar por Inteiro (Wholesome Education), originally published by the UN, can be found in Portuguese in electronic format on the website of Anima Mundi (www.animamundi.org.br); and his most recent publication, Afinal, Por Que Sofremos? (After All, Why Do We Suffer?) may be obtained from the same site. His work, Como Se Constrói a Paz? (How do We Wage Peace?), in partnership with Dr. Silmara Casadei, aimed at the pre-teen readers, has been adopted in numerous schools in Brazil. Beust maintains three blogs (in Portuguese): lhb-educacao, lhb-religiao, lhb-poesia.
This article originally appeared on Transcend Media Service (TMS) on 15 Apr 2019.
Anticopyright: Editorials and articles originated on TMS may be freely reprinted, disseminated, translated and used as background material, provided an acknowledgement and link to the source, TMS: Einstein and Freud: War and Peace in an Interdisciplinary Dialogue, is included. Thank you.
If you enjoyed this article, please donate to TMS to join the growing list of TMS Supporters.


This work is licensed under a CC BY-NC 4.0 License.
2 Responses to "Einstein and Freud: War and Peace in an Interdisciplinary Dialogue"