(Français) Des mercenaires prêts à intervenir au Venezuela
ORIGINAL LANGUAGES, 13 May 2019
Gustavo Veiga | Investig'Action – TRANSCEND Media Service
7 Mai 2019 – Comme si l'ingérence des Etats-Unis, la tentative de coup d'Etat de Juan Guaidó et son opération Liberté ne suffisaient pas, une société mercenaire bien connue apparait désormais comme un acteur possible dans la crise vénézuélienne. Erik Prince et Blackwater, la même société meurtrière qui opéra dans la guerre en Irak…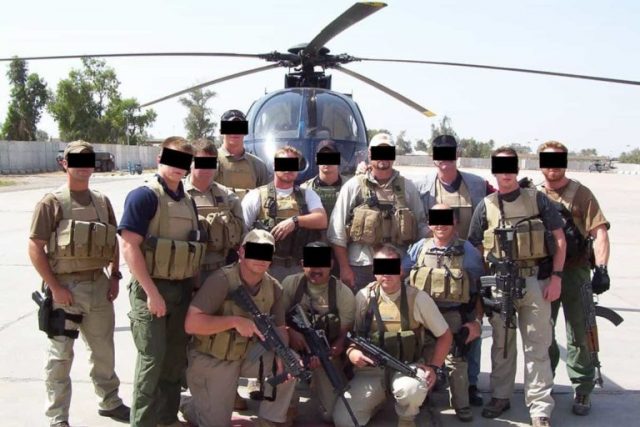 Un article publié par Reuters donne quelques détails sur les intentions de cette compagnie de créer une force irrégulière de quatre ou cinq mille combattants pour soutenir le coup d'État contre le président Nicolas Maduro. L'information attribue à Erik Prince, le fondateur de cette société conçue pour tuer, la recherche de fonds – environ 40 millions de dollars – pour financer cette aventure militaire. A cet effet, selon l'agence britannique, l'homme d'affaires, ancien marine et généreux contributeur à la campagne électorale de Donald Trump, rencontre depuis avril des multimillionnaires vénézuéliens exilés et des sympathisants du magnat qui gouverne les Etats-Unis.
Prince est un acteur avec un casier vierge. Une sorte de flibustier postmoderne, il nous rappelle ce personnage du film Walker mettant en vedette Ed Harris, un mercenaire du 19e siècle qui envahit le Nicaragua. Bien que l'opération conçue pour le Venezuela par ce contractuel de la CIA semble difficile à concrétiser, elle ne doit pas être sous-estimée. Pour sa participation dans l'invasion de l'Irak Blackwater a reçu de graves accusations, principalement en 2007 lorsque des sbires à sa solde ont tué 17 civils irakiens sur la place Nisour à Bagdad. Plusieurs employés de la société ont été condamnés pour meurtre.
Selon quatre sources différentes, l'enquête sur la société étasunienne cite un certain Lital Leshem, spécialiste de la sécurité et du renseignement au sein du Frontier Resource Group, basé à Hong Kong et ayant des liens commerciaux avec Blackwater. Il a confirmé l'intérêt de Prince à s'impliquer dans le pays avec les plus grandes réserves de pétrole du monde. « Il a une solution pour le Venezuela, tout comme il a une solution pour beaucoup d'autres pays », a dit Leshem. Mais Marc Cohen, porte-parole de Blackwater, a déclaré qu'il « n'a pas l'intention d'exploiter ou de mettre en œuvre une opération au Venezuela ».
L'agence a également consulté l'adjoint spécial de Trump pour les communications stratégiques, Garrett Marquis, qui a refusé de répondre à la question de savoir si Prince avait informé le gouvernement étasunien de son intention de former une force mercenaire. Elle s'intégrerait avec « les Péruviens, les Équatoriens, les Colombiens et les hispanophones », selon un informateur qui a affirmé que ces nationalités seraient, de l'avis du créateur de Blackwater, « plus politiquement acceptables que les contractuels étasuniens ».
La proximité de M. Prince avec le gouvernement des États-Unis découle de sa contribution financière à la campagne de Trump, avec 100.000 $. Le Parti républicain est également l'un de ses principaux bénéficiaires. Mais il y a un autre fait qui le lie. Sa sœur Betsy De Vos est la secrétaire à l'éducation de l'administration américaine actuelle, millionnaire et collaboratrice historique des républicains, elle a reçu beaucoup de critiques pour son poste pour lequel elle a été nommée par le président en février 2017. Au point qu'au Sénat, le vice-président Mike Pence a dû faire plier le vote sur sa nomination. Le leader de la minorité démocrate à la Chambre des représentants, Chuck Schumer, a déclaré que DeVos était « l'un des pires candidats jamais envisagés pour ce poste ». Son frère Prince, a gagné beaucoup d'argent lorsque leur mère a vendu la société de pièces automobiles fondée par leur père. Il a ensuite acheté quelques acres dans un marais de Virginie où il a installé Blackwater et a commencé sa carrière dans l'industrie militaire privée.
Pour le Venezuela, l'idéologue de l'intervention mercenaire a conçu la thèse de « l'effet dynamique », dit Reuters. Il veut sortir de l'impasse dans le conflit qui existait jusqu'à mardi dernier, quand Guaidó a lancé un appel à sortir dans les rues de Caracas contre le gouvernement depuis l'occupation d'un distributeur routier. Un coup d'État est en cours, auquel la compagnie de mercenaires pense pouvoir donner un sérieux coup de pouce. En raison de sa mauvaise réputation et des critiques qu'il a reçues pour son intervention en Irak, Prince a vendu l'entreprise en 2010 et a fondé une deuxième société qu'il a nommé Blackwater USA, qui vend des munitions, des accessoires d'armes et des couteaux. Il a gardé le nom mais l'a changé plus tard en Academi. Il s'est installé aux Émirats arabes, où il a armé les services de renseignement de ce pays et poursuit ses guerres privées au service du plus offrant. Le Yémen est l'une de ses victimes. L'ancien Premier ministre du Qatar, Abdula bin Hamad Al Attiyah, l'a également dénoncé, l'accusant de préparer une invasion mercenaire du territoire qatari.
Son expérience en tant que contractuel pour la CIA et le Département d'État américain explique la validité de Prince, qui a étendu ses activités à travers le monde. En 2014, il devient CEO du Frontier Services Group, poste qu'il occupe encore aujourd'hui selon le réseau Linkedin, dont le siège se trouve à Hong Kong. Le groupe est lié à la société d'investissement publique chinoise Citic, peut-être la porte d'entrée pour continuer à vendre sur un marché plus vaste ses services en sécurité et ses armées à la carte. Le Venezuela n'est pas son seul objectif, mais cela lui a permis de revenir sur la scène avec Blackwater.
______________________________________________________
Traduction : Venesol/Investig'Action
Source : Pagina 12
Go to Original – investigaction.net
Tags:
Chavismo
,
Conflict
,
Coup
,
Latin America Caribbean
,
Maduro
,
Politics
,
Power
,
Venezuela
,
Violence
DISCLAIMER: The statements, views and opinions expressed in pieces republished here are solely those of the authors and do not necessarily represent those of TMS. In accordance with title 17 U.S.C. section 107, this material is distributed without profit to those who have expressed a prior interest in receiving the included information for research and educational purposes. TMS has no affiliation whatsoever with the originator of this article nor is TMS endorsed or sponsored by the originator. "GO TO ORIGINAL" links are provided as a convenience to our readers and allow for verification of authenticity. However, as originating pages are often updated by their originating host sites, the versions posted may not match the versions our readers view when clicking the "GO TO ORIGINAL" links. This site contains copyrighted material the use of which has not always been specifically authorized by the copyright owner. We are making such material available in our efforts to advance understanding of environmental, political, human rights, economic, democracy, scientific, and social justice issues, etc. We believe this constitutes a 'fair use' of any such copyrighted material as provided for in section 107 of the US Copyright Law. In accordance with Title 17 U.S.C. Section 107, the material on this site is distributed without profit to those who have expressed a prior interest in receiving the included information for research and educational purposes. For more information go to: http://www.law.cornell.edu/uscode/17/107.shtml. If you wish to use copyrighted material from this site for purposes of your own that go beyond 'fair use', you must obtain permission from the copyright owner.