(Português) Holocausto: Galinhas lutam para andar, respirar e recorrem ao canibalismo em fazendas de criação
ORIGINAL LANGUAGES, 20 May 2019
ANDA Agência de Notícias de Direitos Animais – TRANSCEND Media Service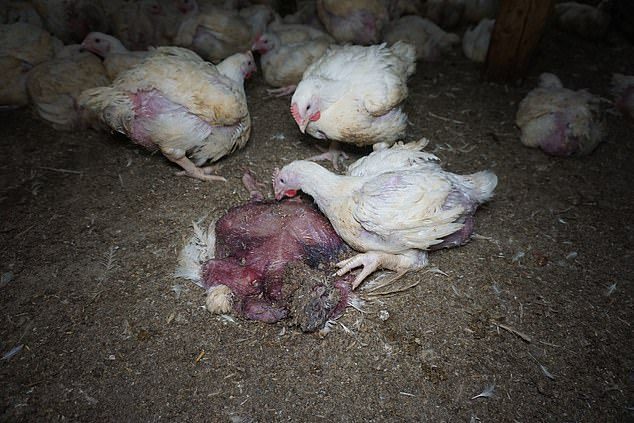 Imagens angustiantes divulgadas na segunda feira última, 13 de maio de 2019, mostram galinhas sofrendo maus-tratos, vivendo em condições desumanas, em ambientes super lotados e sujos, doentes e famintas, comendo umas as outras em fazendas de criação fornecedoras de grandes mercados.
Vídeos e fotos mostram as aves feridas e aflitas vivendo em condições precárias nos locais usados para criação em larga escala que ficam em Northamptonshire (Inglaterra), e que servem alguns dos principais supermercados do Reino Unido.
A filmagem foi divulgada pela ONG Animal Equality, que afirma que os trabalhadores podem ser vistos quebrando os pescoços das aves e deixando-as para morrer por vários minutos jogadas no chão.
O grupo também alega que as aves foram deixadas para morrer, agonizantes antes de serem bicadas e comidas por outras galinhas além de terem sido chutadas e pisadas por trabalhadores agrícolas da fazenda.
Imagens divulgadas pela ONG mostram as galinhas com as pernas abertas e batendo as asas em aflição.
As filmagens foram gravadas nas fazendas Evenley, Pimlico e Helmdon, em Northamptonshire, todas certificadas pela Red Tractor (selo de bem-estar animal) e administradas pela Avara Foods.
Investigadores dizem que encontraram sacolas cheias de galinhas mortas em uma das três fazendas durante visitas de janeiro a março, após uma denúncia.
A Animal Equity afirma que dezenas de pássaros desmoronaram sob o peso de seus "corpos anormalmente grandes" e não conseguiam nem ficar em pé, batendo as asas freneticamente em uma tentativa desesperada de se levantar.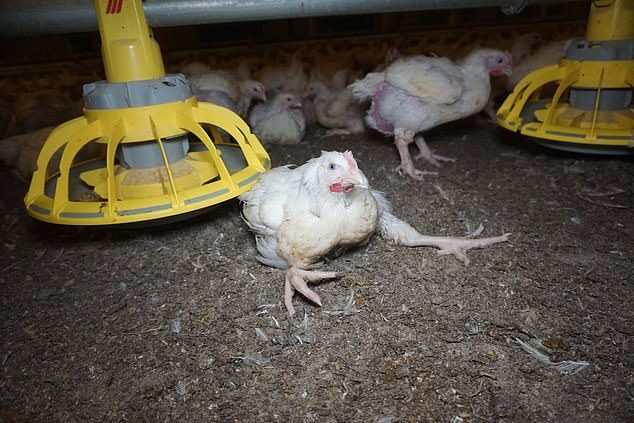 Segundo a ONG, as aves mortas ficavam apodrecendo entre as vivas, levando as galinhas ao canibalismo em pelo menos uma das fazendas, enquanto os pássaros que já estavam morrendo eram jogados em uma pilha e deixados para sofrer por horas enquanto os funcionários limpavam o galpão para realizar mais mortes.
A ONG também disse que os trabalhadores estavam "violentamente quebrando os pescoços das aves e deixando-os a convulsionar em meio às demais".
Pode-se ver pelo vídeo outras aves morrendo jogadas em uma pilha, deixados para sofrer por horas enquanto os trabalhadores limpavam o galpão.
O grupo também alega que funcionários estavam deliberadamente chutando e pisando em algumas galinhas repetidamente.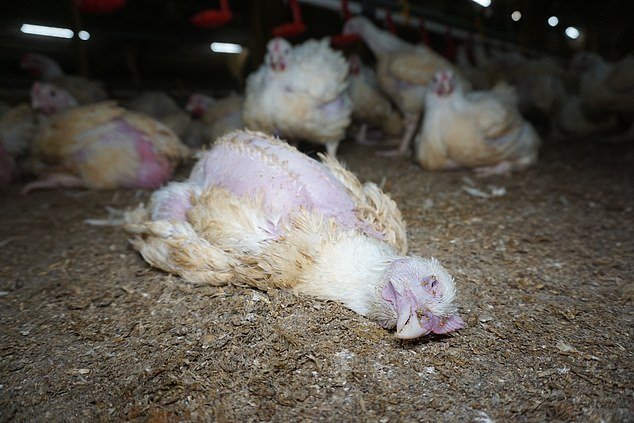 Um gerente de campanha pelo bem-estar animal da Woodhurst World Animal Protection disse: 'Infelizmente, este material perturbador é típico das baixas práticas de bem-estar em muitas fazendas industriais onde galinhas são amontoadas e tratadas de maneira tão cruel que seus corações, pernas e pulmões mal conseguem aguentar a pressão.
"Algumas morrem antes de serem assassinadas pelos funcionários das fazendas devido a exaustão ou insuficiência cardíaca".
"Ao adotar uma alimentação vegana e abrir mão da carne, as pessoas podem ajudar a terminar com o sofrimento desses animais", disse o ativista.
Após a liberação no vídeo a Agência de Saúde Animal e Vegetal (APHA) do país realizou uma inspeção ao local sem aviso prévio. O órgão público relatou estar satisfeito com a saúde e o bem-estar das aves.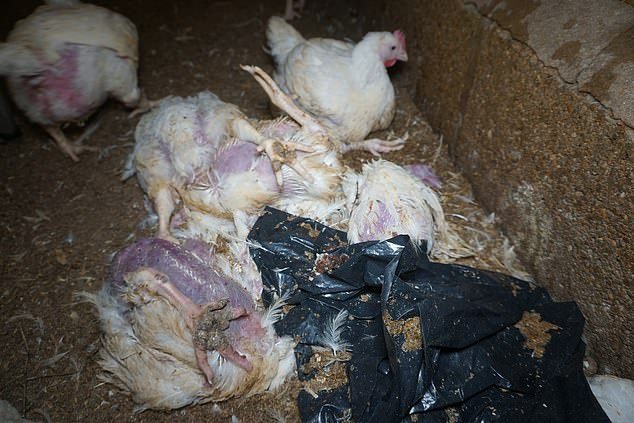 Enquanto a mentalidade especista de objetificação dos animais persistir, o sofrimento animal continuará. Galinhas são seres sencientes, extremamente inteligentes, capazes de realizar até operações matemáticas segundo cientistas, quem dirá compreender o que se assa ao seu redor.
Submetê-las a esse sofrimento é uma violência psicológica e física da qual a humanidade deve se envergonhar e eliminar o quanto antes.
Ao alimentar-se de forma vegana deixamos de alimentar essa indústria cruel e assassina.
____________________________________________

A imprensa não apenas informa. Ela forma conceitos. Modifica ideias. Influencia decisões. Define valores. Participa das grandes mudanças sociais e políticas trazendo o mundo para o indivíduo pensar, agir e ser. É justamente este o objetivo da ANDA – Agência de Notícias de Direitos Animais: informar para transformar. A ANDA difunde na mídia os valores de uma nova cultura, mais ética, mais justa e preocupada com a defesa e a garantia dos direitos animais. É o primeiro portal jornalístico do mundo voltado exclusivamente a fatos e informações do universo animal. Com profissionalismo, seriedade e coragem, a ANDA abre um importante canal com jornalistas de todas as mídias e coloca em pauta assuntos que até hoje não tiveram o merecido espaço ou foram mal debatidos na imprensa.
Tags:
Animal Justice
,
Animal Shelters
,
Animal rights
,
Cruelty
,
Public Health
,
Veganism
,
Vegetarianism
DISCLAIMER: The statements, views and opinions expressed in pieces republished here are solely those of the authors and do not necessarily represent those of TMS. In accordance with title 17 U.S.C. section 107, this material is distributed without profit to those who have expressed a prior interest in receiving the included information for research and educational purposes. TMS has no affiliation whatsoever with the originator of this article nor is TMS endorsed or sponsored by the originator. "GO TO ORIGINAL" links are provided as a convenience to our readers and allow for verification of authenticity. However, as originating pages are often updated by their originating host sites, the versions posted may not match the versions our readers view when clicking the "GO TO ORIGINAL" links. This site contains copyrighted material the use of which has not always been specifically authorized by the copyright owner. We are making such material available in our efforts to advance understanding of environmental, political, human rights, economic, democracy, scientific, and social justice issues, etc. We believe this constitutes a 'fair use' of any such copyrighted material as provided for in section 107 of the US Copyright Law. In accordance with Title 17 U.S.C. Section 107, the material on this site is distributed without profit to those who have expressed a prior interest in receiving the included information for research and educational purposes. For more information go to: http://www.law.cornell.edu/uscode/17/107.shtml. If you wish to use copyrighted material from this site for purposes of your own that go beyond 'fair use', you must obtain permission from the copyright owner.