Dispelling the Fear of Death
SPIRITUALITY, 10 Jun 2019
Stephen Knapp – TRANSCEND Media Service
It is natural to feel fear of the unknown. In regard to death, this fear may be of what might happen during the process of dying, such as the pain of a terminal illness, nausea, vomiting, or even fearing abandonment by those around you. The fear of death may also be perpetuated by the sadness of the family around the dying person, or the hopelessness of the doctor, or the nurses who feel they may have failed to keep the person alive. However, it is through death that the dying person can be released from the great burden of the diseased body.
Death is not an enemy; it is a natural fact of life, a stage of our existence, and a transition or doorway between planes of reality. Death has its own harmony with nature just as a tree loses its leaves every fall. We don't feel that it is unjust or that the tree failed to stay fully alive when it goes dormant through the winter. It is natural. Neither should doctors and nurses feel they have failed if after every endeavor a patient dies. Actually, it may be better to let a person take the opportunity to die peacefully rather than trying to force him or her to remain alive in a suffering body. In other words, it can be better to make peace with death than try to conquer it.
The process of dying can be rough, but it is temporary. The best thing to do is to focus our consciousness as much as we can in a way that will help us reach the highest realm possible after death. Of course, it always may be a little sad to leave our home and loved ones, but if we are going to a bigger and more beautiful home, then what is there to be sorry about? It is joyful to be going to a better place. This sort of joy will also help divert our attention from any pain we may be feeling.
The primary fear of death is, of course, not knowing what we will be or where we will go in the afterlife. If you are afraid of where you might go after death, be surrendered and know that fate, or God, will put you where you will best learn whatever you need to learn. The universe is based on compassion. It is not a punishment that we are here, but it is because of our desires for the experience of material existence and bodily sense pleasure. Each life is meant for us to learn more about ourselves, and about who we are. Death is not simply a matter of getting old or sick and then dying. Natural death happens when you have finished doing what you were meant to do in this life. You may have wanted to do more or not, but when you have done what you were meant to do, you will move on. Nature will arrange it that you will leave this realm. Each life is like a classroom wherein you learn a certain amount, and go through a certain number of lessons or tests. Then you graduate to the next class. We can learn willingly or unwillingly. We can cooperate or be uncooperative. We can repeatedly keep going through it until we learn all of the necessary lessons to go on to the next level. That is our choice. And if you have failed any of the tests, don't worry. You'll have the chance to try it again. Therefore, let go of any fear and let God put you where you will make the most progress.
Trust that God will take care of you. He will allow you to accomplish what you need to learn and attain. It may not be what you have in mind or expect, but it will be for your ultimate good, which means that it is always better and more than you expect, and maybe more than you can presently understand. Be open to discover what it is. Furthermore, as we get closer to leaving our bodies, many realizations will come. They can help guide you and give you a glimpse of your real spiritual purpose that you have accomplished in this life and will have in your next life. As you think about it, pray and ask for guidance. Let go of your expectations and let God show you the way.
Actually, to fear death reveals one's misunderstanding of life. It is a fear of knowing one's real self, which is beyond the bodily identification. It is that with which some people hesitate to acquaint themselves. Thus, if a person has known nothing else but one's bodily identity, losing the body can put one into fear. Yet, how can one ever think he was the body when it is plain to see that he came into this temporary world through birth and must leave it through death? All of our possessions, relationships, even our talents and skills are all temporary. So how can our body be anything more? Being afraid of death is like being afraid to give up an old and worn-out garment.
In this regard, the mind is the root cause of fear and suffering. However, this fear and anguish can be a gift because it shows where the mind gets caught in the desired model of thinking how things should be. It projects its own level of reality out on the world and its perception of things. When things are not the way we want them to be, or think they should be, the mind has difficulty accepting it and we suffer. We then often get angry, anxious, confused, or fall into fear. To enjoy freedom from suffering, we have to grow beyond our attachments, ego, and desires. Thus, the awareness of our approaching death plays an important role in helping us transcend our temporary worldly attachments, and to increase our development and qualities that are offered through our existence in different bodies or different planes of consciousness.
So an important point is that we do not have to be afraid of death, for we are all immortal. When we look around us, this is plain to see. Every winter the trees, plants and grass go dormant and practically die, yet they return to life and display their blooms in the spring. Even if a tree dies and becomes soil, we can see that out of it new life rises from the remnants of its decay. Even if the water of a pond disappears, it forms the steam from which clouds are created, which rain down the potential for new life. We witness many forms of transition of the same energy. It is an endless cycle in which we all participate. In the same way, our physical body is shed at death, but our life persists on another level. Thus, through death we also find renewal.
As it is stated in the ancient Bhagavad-gita,
"Never was there a time when I (the Supreme Being) did not exist, nor you. . . nor in the future shall any of us cease to be." (Bg.2.12)
Furthermore,
"The soul can never be cut into pieces by any weapon, nor can he be burned by fire, nor moistened by the wind. This individual soul is unbreakable and insoluble, and can be neither burned nor dried. He is everlasting, all-pervading, unchangeable, immovable and eternally the same. It is said the soul is invisible, inconceivable, immutable, and unchangeable. Knowing this, you should not grieve for the body." (Bg.2.23-25)
Thus, we can understand the soul accepts forms for its experience in the material worlds, but can never be killed nor does it die, but it goes on after such bodies are no longer useful.
While we live in this material world, death helps alleviate and release us from our accumulated attachments, positions, and superficial desires. Death shows us what is not important, and makes us give up those things which can no longer help, or which keeps us from understanding who we really are. Even though we are here to experience the innumerable aspects of material existence, if we are too caught up in it, we will never understand our spiritual identity. Thus, death is an assistant which forces us to come to grips with what is temporary, and to give it up. It is another step in the learning process, to come closer to what we really are.
Unfortunately, if one is overly attached to his or her body, position, belongings and relations, death can seem like a severe punishment. Yet, it can be a gift or even a blessing. When we realize that we are all spiritual and immortal beings, we will understand that even if the body perishes, we live on. Then our fear will leave us and we can move toward death in peace. We will see that there is no death, only an onward progression in which we become more and more perfect beings, continually engaged in preparation for a higher purpose. So in this way, death is only the end of one classroom so we can go on to the next. The only thing that slows us down in this progress is our hesitation to trust and depend on the Supreme Being.
For the materialist who is afraid of losing everything, death is like the grip that crushes; a form of the Supreme that forces our surrender. But for the spiritually advanced person, death is like the loving grasp of God who has come to take you home. Our love of God alleviates any fear of death, because death is the vehicle by which you become more united with the Supreme Friend again. With such spiritual understanding, one can find meaning in dying.
The following is a good prayer to help alleviate any fear of death and to willingly place ourselves in the hands of God.
"The Supreme Personality is certainly not known to everyone, but He is very powerful and influential. Therefore, although the serpent of eternal time, which is fearful in force, endlessly chases everyone, ready to swallow him, if one who fears this serpent of time seeks shelter of the Lord, the Lord gives him protection, for even death runs away in fear of the Lord. I therefore surrender unto Him, the great and powerful supreme authority who is the actual shelter of everyone." (Srimad-Bhagavatam 8.2.33)
* * *
In the end, there comes a time when we need to let ourselves or the person dear to us leave the body just as when a person needs to rest. It can be wrong to resist the process of death, whether it is yours or that of another. So we should not begrudge another of his death. We should not be unwilling to let him or her go. It is his opportunity to become free of his present restraints and limitations. It is his chance to enter a better realm to continue with his progress. He is not leaving us, he is simply going on before us.
Death is not an enemy; it can be like the friend who cuts the chain that holds the anchor which prevents one from sailing to greater horizons. This is the way we become closer to attaining freedom from this earthly plane, and from the dictates of the senses, the service of the body, and the impressions in the mind.
As it is explained,
"The spirit soul, the living entity, has no death, for he is eternal and inexhaustible. Being free from material contamination, he can go anywhere in the material or spiritual worlds. He is fully aware and completely different from the material body, but because of being misled by misuse of his slight independence, he is obliged to accept subtle and gross bodies created by the material energy and thus be subjected to so-called material happiness and distress. Therefore, no one should lament for the passing of the spirit soul from the body." (Srimad-Bhagavatam 7.2.22)
________________________________________________
Excerpt from Facing Death: Welcoming the Afterlife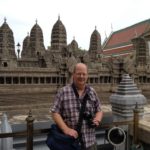 Stephen Knapp (Sri Nandanandana dasa) has dedicated himself to spreading the deepest and most practical levels of spiritual knowledge about the soul–our real identity. Though this world may give us numerous challenges, when we rise above the basic materialistic view and its limited search for solutions, our evolutionary development on all levels greatly accelerates. By recognizing that we are all spiritual beings who are, basically, attempting to achieve the same essentials for our existence–namely love, acceptance, harmony, peace, and happiness, not to mention the ordinary needs of food, water, clothing and shelter–we can reach a new level of cooperation with each other. Stephen has written many books on this and related subjects and studied with A. C. Bhaktivedanta Swami Prabhupada becoming initiated into the spiritual line of Brahma-Madhava-Gaudiya sampradaya. He is also president of the Vedic Friends Association. srinandan@aol.com
Go to Original – stephen-knapp.com
Tags:
Death
,
Life
,
Spirituality
DISCLAIMER: The statements, views and opinions expressed in pieces republished here are solely those of the authors and do not necessarily represent those of TMS. In accordance with title 17 U.S.C. section 107, this material is distributed without profit to those who have expressed a prior interest in receiving the included information for research and educational purposes. TMS has no affiliation whatsoever with the originator of this article nor is TMS endorsed or sponsored by the originator. "GO TO ORIGINAL" links are provided as a convenience to our readers and allow for verification of authenticity. However, as originating pages are often updated by their originating host sites, the versions posted may not match the versions our readers view when clicking the "GO TO ORIGINAL" links. This site contains copyrighted material the use of which has not always been specifically authorized by the copyright owner. We are making such material available in our efforts to advance understanding of environmental, political, human rights, economic, democracy, scientific, and social justice issues, etc. We believe this constitutes a 'fair use' of any such copyrighted material as provided for in section 107 of the US Copyright Law. In accordance with Title 17 U.S.C. Section 107, the material on this site is distributed without profit to those who have expressed a prior interest in receiving the included information for research and educational purposes. For more information go to: http://www.law.cornell.edu/uscode/17/107.shtml. If you wish to use copyrighted material from this site for purposes of your own that go beyond 'fair use', you must obtain permission from the copyright owner.