The Puerto Rican People and their Combative Spirit
ACTIVISM, ANGLO AMERICA, LATIN AMERICA & THE CARIBBEAN, 29 Jul 2019
Carlos Aznarez | Resumen – TRANSCEND Media Service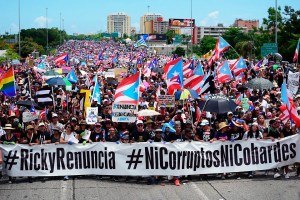 23 Jul 2019 – Current events in Puerto Rico are clear evidence that when people are challenged beyond the limits of their patience they just explode, leading to the possibility of unpredictable consequences. Yesterday Demonstrations totaled about a million people crowding not only the streets of the capital of San Juan but every large and small town in the Caribbean country. Governor Ricardo Rosello's role in the stealing of funds from schools and healthcare and his outrageous chats demeaning and mocking the suffering of the Puerto Rico population was this moment's spark but behind this insurrection is the expression of the long suffering anger and discontent of the people who are tired of years and years of forced dependence on the United States and they are sick and tired of the local puppet viceroys who are openly compliant to Washington's powers.
Ricardo Rossello, who became governor by being elected by a few who were convinced and others who, the same as in other countries, believed in opting for the lesser of evils, has now become the trigger for a rage contained for centuries. The thing is that Ricky (as he is called sarcastically on people's banners) is not only accused of corruption during the short term he has served as governor, from early 2017 up to this tumultuous moment, but this obedient assistant to Hillary Clinton's electoral campaign devoted his free time to mock any person he considered to be an adversary or critic to his political maneuvers through hundreds of chats with his supporters (or let's say closest friends). Some opposition officials and even famous artists such as Ricky Martin were involved in the scoffing.  Rossello just let himself loose in the chats and expressed the worst homophobic, racist, and xenophobic comments imaginable thinking that "nobody would hear about it." Therefore, he didn't stop but filled hundreds of chat pages, proving his high level of stupidity and provocative distain. But in a world where everything is recorded, filmed and leaked, the Governor's impertinent words suddenly reached the hands of those who decided to spread them and the bomb exploded.
Demonstrations of such magnitude had not taken place in Puerto Rico for a long long time. Thousands of young people of all social classes were originally united around the slogan of "Get out Ricky," but that was transformed into something more powerful such as "You should all quit." And what this phrase was appealing to was not just those who betrayed the mandate they were elected for but also any opportunist politician who was trying to undermine and deceive the people's great outcry. In this connection the population is now strongly questioning the bourgeois democratic form of government itself.
As the days passed, the all-powerful governor who promised he would not be removed from office by "those small groups who were not voted for by anybody" noticed that the situation was not quite that easy, so he decided to announce he would not seek re election and was splitting from the party with which he won the election. Now he just has to quit the post of governor as people are angrily demanding in the streets.
It should be noted that this uprising has some special characteristics. On the one hand, it is completely unified. On the other hand, even though Rossello's provocations achieved the miracle of uniting the diversification, it proves very well that Puerto Rico has a rich history of struggles with leaders such as Eugenio Maria de Hostos, Pedro Albizu Campos, Lola Rodriguez de Tio, and Ramon Emeterio Betances, as well as the attackers of the Capitol on January 1, 1954, among them Lolita Lebron and Rafael Cancel Miranda. But there are more fighters in its history of struggles, such as the heroic Macheteros commanded by Filiberto Ojeda Rios, killed in unequal ambush by the FBI on September 2005; or the late Avelino Gonzalez Claudio; and Oscar Lopez Rivera, who was released after more than 30 years in prison. All those small and large battles fought by brave Puerto Rican men and women are in the blood of these new generations, who are today trying to win their own struggle through very unique styles and methods. They are trying to replace the inequality that separates them from the power they are facing, making use of creative chants and slogans, trying to win more and more who are waiting on the sidelines. Original slogans can be seen denouncing the bosses of the bad government with irony and a bit of humor. Or even an outlandish local character known as "King Charlie," a motorcyclist who devotes his time to organizing motorcycle and four-track car competitions and has now become a charismatic leader of thousands and thousands of young motorcyclists who are driving through the main cities demanding "Ricky Quit."
The struggle still goes on and its ending is uncertain. Following logic, Rossello should be sneaking out the back door, as criminals do, and those who are joining efforts to oust him should also achieve a transition government with the participation of many of these new leaders so that no one can steal their victory, as it has happened before. Nevertheless, Puerto Rico's dependence imposed by the United States is the greatest problem as it has been since the 1898 invasion. No matter how long Washington has been in control of Puerto Rico it should never be considered an invincible force. When people wake up and go to the streets to win their freedom, as is happening right now, there are hopes of victory. Long Live Free Puerto Rico!
__________________________________________________
Source: Resumen Latinoamericano
Translation by North American Bureau
Go to Original – resumen-english.org
Tags:
Activism
,
Democracy
,
Geopolitics
,
Human Rights
,
Indigenous Rights
,
Occupation
,
Politics
,
Power
,
Social justice
,
Solutions
,
USA
DISCLAIMER: The statements, views and opinions expressed in pieces republished here are solely those of the authors and do not necessarily represent those of TMS. In accordance with title 17 U.S.C. section 107, this material is distributed without profit to those who have expressed a prior interest in receiving the included information for research and educational purposes. TMS has no affiliation whatsoever with the originator of this article nor is TMS endorsed or sponsored by the originator. "GO TO ORIGINAL" links are provided as a convenience to our readers and allow for verification of authenticity. However, as originating pages are often updated by their originating host sites, the versions posted may not match the versions our readers view when clicking the "GO TO ORIGINAL" links. This site contains copyrighted material the use of which has not always been specifically authorized by the copyright owner. We are making such material available in our efforts to advance understanding of environmental, political, human rights, economic, democracy, scientific, and social justice issues, etc. We believe this constitutes a 'fair use' of any such copyrighted material as provided for in section 107 of the US Copyright Law. In accordance with Title 17 U.S.C. Section 107, the material on this site is distributed without profit to those who have expressed a prior interest in receiving the included information for research and educational purposes. For more information go to: http://www.law.cornell.edu/uscode/17/107.shtml. If you wish to use copyrighted material from this site for purposes of your own that go beyond 'fair use', you must obtain permission from the copyright owner.