(Français) Démasquer la torture exercée sur Julian Assange
ORIGINAL LANGUAGES, 12 Aug 2019
Nils Meltzer | Investig'Action – TRANSCEND Media Service
La tribune libre ci-dessous a été proposée par le professeur Nils Melzer, Rapporteur spécial des Nations unies sur la torture, pour être publiée à l'occasion de la Journée internationale pour le soutien aux victimes de la torture, le 26 juin 2019, au Guardian, au Times, au Financial Times, au Sydney Morning Herald, à The Australian, au Canberra Times, au Telegraph, au New York Times, au Washington Post, à Reuters et à Newsweek. Tous ont refusé de la publier.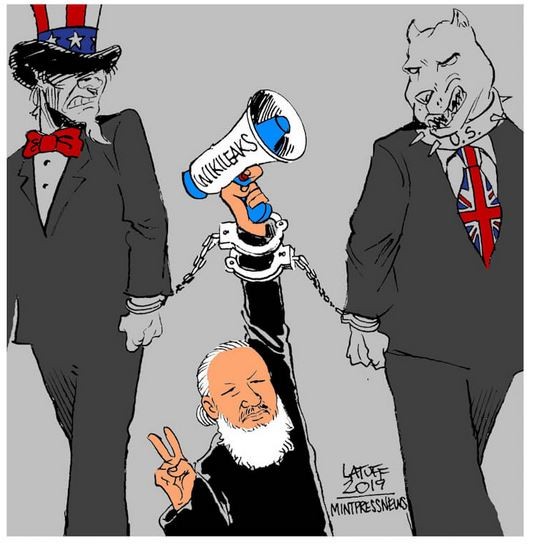 6 Août 2019 – Je sais, vous pensez peut-être que je me leurre. Comment la vie dans une ambassade avec un chat et un skateboard peut-elle être assimilée à de la torture ? C'est exactement ce que j'ai pensé, moi aussi, quand Assange a demandé protection à mon bureau. Comme la plupart des gens, j'avais été inconsciemment intoxiqué par la campagne de diffamation incessante, qui avait été menée au fil des ans. Il a donc fallu qu'on frappe une deuxième fois à ma porte pour attirer mon attention, vu ma réticence. Mais une fois que j'ai examiné les faits de cette affaire, ce que j'ai trouvé m'a rempli de répulsion et d'incrédulité.
C'est sûr, avais-je pensé, Assange doit être un violeur ! Mais ce que j'ai découvert, c'est qu'il n'a jamais été accusé d'une infraction sexuelle. Certes, peu après que les USA eurent encouragé leurs alliés à trouver des raisons de poursuivre Assange, les procureurs suédois ont informé la presse de boulevard qu'il était suspecté d'avoir violé deux femmes. Curieusement, les femmes elles-mêmes n'ont jamais affirmé avoir été violées, ni n'ont eu l'intention de porter plainte pour un crime. Imaginez donc ! De plus, l'examen médico-légal d'un préservatif présenté comme preuve, supposément porté et déchiré pendant les rapports sexuels avec Assange, n'a révélé aucune présence d' ADN, ni celui d'Assange, ni celui de la femme, ni de qui que ce soit. Allez comprendre. Une femme a même envoyé un texto disant qu'elle voulait seulement qu'Assange passe un test de dépistage du VIH, mais que la police était « très enthousiaste à l'idée de lui mettre la main dessus ». Encore une fois, allez comprendre. Dès lors, la Suède et la Grande-Bretagne ont tout fait pour empêcher Assange de faire face à ces allégations sans avoir à s'exposer simultanément au risque d'une extradition vers les USA et donc à un simulacre de procès suivi d'une peine de prison à vie. Son dernier refuge avait donc été l'ambassade de l'Équateur.
D'accord, me suis-je dit, mais Assange doit sûrement être un hacker ! Mais ce que j'ai découvert, c'est que toutes ses révélations lui avaient été divulguées librement, et que personne ne l'accuse d'avoir piraté un seul ordinateur. En fait, la seule accusation, contestable, de piratage informatique contre lui a trait à une tentative infructueuse de pirater un mot de passe qui, si elle avait réussi, aurait pu aider sa source à couvrir ses traces. Bref, une chaîne, spéculative et inconséquente d'événements isolés : un peu comme si on essayait de poursuivre en justice un conducteur qui a tenté sans succès de dépasser la limite de vitesse, mais a échoué parce que sa voiture n'était pas assez puissante.
Bon, alors, me suis-je dit, au moins on peut être sûrs qu'Assange est un espion russe, qu'il s'est ingéré dans les élections usaméricaines et qu'il a causé des morts par négligence ! Mais tout ce que j'ai trouvé, c'est qu'il publiait constamment des informations véridiques d'intérêt public sans aucun abus de confiance, manquement à un devoir ou une allégeance. Oui, il a dénoncé des crimes de guerre, de la corruption et des violations, mais ne confondons pas sécurité nationale et impunité gouvernementale. Oui, les faits qu'il a révélés ont permis aux électeurs usaméricains de prendre des décisions en meilleure connaissance de cause, mais n'est-ce pas simplement la démocratie ? Oui, il y a des discussions éthiques à avoir sur la légitimité de publications de documents secrets non expurgées. Mais si un préjudice réel avait réellement été causé, comment se fait-il que ni Assange ni WikiLeaks n'ont jamais fait l'objet d'accusations criminelles ou de poursuites civiles pour une indemnisation équitable ?
Mais alors, me suis-je retrouvé à plaider, Assange doit sûrement être un narcissique égocentrique, faisant du skate à travers l'ambassade d'Équateur et étalant des excréments sur les murs ? Eh bien, tout ce que j'ai entendu du personnel de l'ambassade, c'est que les inconvénients inévitables de son hébergement dans leurs bureaux ont été gérés avec un respect et une considération mutuels. Cela n'a changé qu'après l'élection du président Moreno, lorsqu'on leur a soudainement demandé de trouver de quoi salir Assange et, quand ils ne l'ont pas fait, ils ont été rapidement remplacés. Le Président a même pris sur lui d'étaler ses ragots urbi et orbi, et de dépouiller personnellement Assange de son asile et de sa citoyenneté équatorienne au mépris de toute  procédure légale.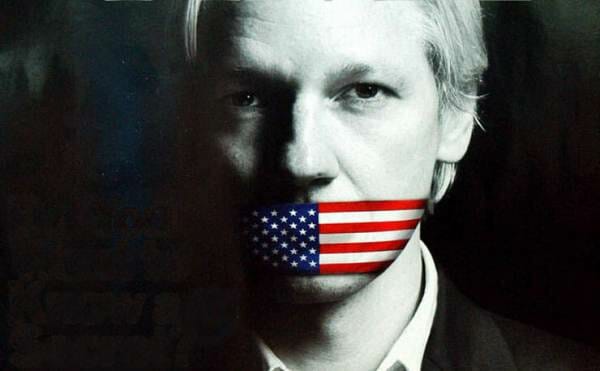 Mais j'ai finalement réalisé que j'avais été aveuglé par la propagande et qu'Assange avait été systématiquement calomnié pour détourner l'attention des crimes qu'il avait dénoncé. Une fois déshumanisé par l'isolement, les moqueries et la honte, comme les sorcières que nous avions coutume de brûler sur le bûcher, il était facile de le priver de ses droits les plus fondamentaux sans provoquer l'indignation publique dans le monde entier. C'est ainsi qu'un précédent juridique est en train d'être établi, par l'entrée de service de notre propre complaisance, qui peut être appliqué, et le sera à l'avenir, aussi bien à des révélations du Guardian, du New York Times ou d'ABC News.
Très bien, me direz-vous, mais qu'est-ce que la calomnie a à voir avec la torture ? Eh bien, c'est une pente glissante. Ce qui peut sembler n'être qu'une simple "calomnie" dans le débat public, devient rapidement une "intimidation" lorsque c'est est utilisé contre des personnes sans défense, et même de la "persécution" lorsque l'État est impliqué. Maintenant, ajoutez-y le caractère intentionnel et les souffrances pénibles, et ce que vous obtene, c'est de la  torture psychologique au sens plein du terme.
Oui, vivre dans une ambassade avec un chat et un skateboard peut sembler une bonne affaire quand on croit le reste des mensonges. Mais quand personne ne se souvient de la raison de la haine que vous endurez, quand personne ne veut entendre la vérité, quand ni les tribunaux ni les médias ne demandent de comptes aux puissants, alors votre refuge n'est vraiment qu'un canot dans bassin de de requins, et ni votre chat ni votre skateboard ne vous sauveront la vie.
Même si c'est le cas, vous direz vous peut-être, pourquoi dépenser autant d'énergie pour Assange, alors que d'innombrables autres personnes sont torturées de par le monde ? C'est parce qu'il ne s'agit pas seulement de protéger Assange, mais d'empêcher un précédent susceptible de sceller le sort de la démocratie occidentale. Car une fois que dire la vérité sera devenu un crime tandis que les puissants jouiront de l'impunité, il sera trop tard pour redresser le cap. Nous aurons abdiqué notre voix à la censure et notre destin à une tyrannie débridée.
__________________________________________________
Traduit de l'anglais par Eve Harguindey pour Tlaxcala
Source: TRANSCEND Media Service
Go to Original – investigaction.net
Tags:
Activism
,
Assange
,
Conflict
,
Democracy
,
Ecuador
,
Human Rights
,
Journalism
,
Justice
,
Media
,
Military
,
NATO
,
Nonviolence
,
Power
,
Social justice
,
Solutions
,
Spying
,
Surveillance
,
Sweden
,
Torture
,
Trump
,
UK
,
UN
,
USA
,
Violence
,
War
,
West
,
Whistleblowing
,
WikiLeaks
,
World
DISCLAIMER: The statements, views and opinions expressed in pieces republished here are solely those of the authors and do not necessarily represent those of TMS. In accordance with title 17 U.S.C. section 107, this material is distributed without profit to those who have expressed a prior interest in receiving the included information for research and educational purposes. TMS has no affiliation whatsoever with the originator of this article nor is TMS endorsed or sponsored by the originator. "GO TO ORIGINAL" links are provided as a convenience to our readers and allow for verification of authenticity. However, as originating pages are often updated by their originating host sites, the versions posted may not match the versions our readers view when clicking the "GO TO ORIGINAL" links. This site contains copyrighted material the use of which has not always been specifically authorized by the copyright owner. We are making such material available in our efforts to advance understanding of environmental, political, human rights, economic, democracy, scientific, and social justice issues, etc. We believe this constitutes a 'fair use' of any such copyrighted material as provided for in section 107 of the US Copyright Law. In accordance with Title 17 U.S.C. Section 107, the material on this site is distributed without profit to those who have expressed a prior interest in receiving the included information for research and educational purposes. For more information go to: http://www.law.cornell.edu/uscode/17/107.shtml. If you wish to use copyrighted material from this site for purposes of your own that go beyond 'fair use', you must obtain permission from the copyright owner.