Rohingya Poets Turn Words into Art of Resistance
ASIA-UPDATES ON MYANMAR ROHINGYA GENOCIDE, 12 Aug 2019
Natalie Brinham, Yuriko Cowper-Smith, and Maung Zarni | Anadolu Agency – TRANSCEND Media Service
New anthology of Rohingya poets reflects resilience of a community driven away from their homeland.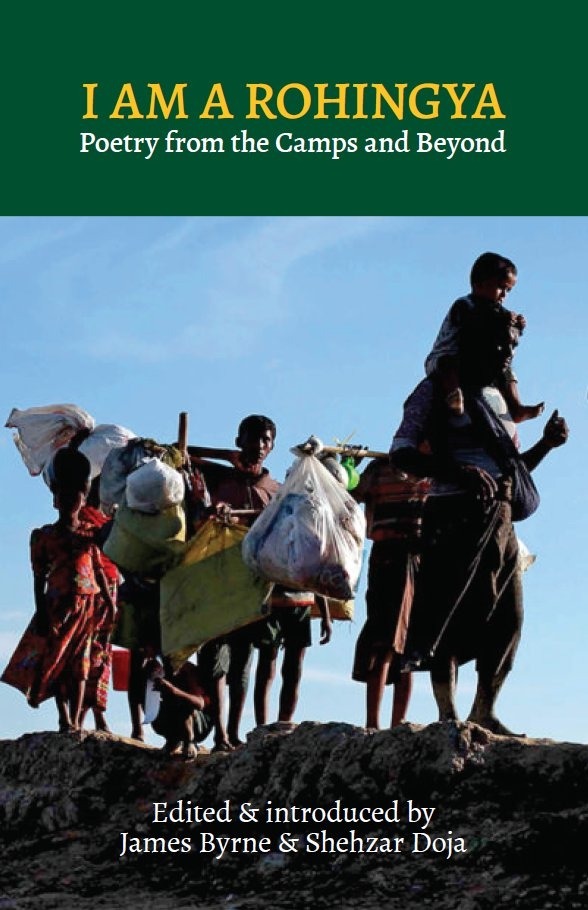 7 Aug 2019 – Rohingya poets featured in an anthology, I am Rohingya, write with an urgency and passion of genocide survivors. They reclaim their experience, their group identity and their agency from the victimhood that has framed their existence for so long.
The collection is the first of its kind to be translated and written in English, yet it speaks to the deep significance of all three languages in which the poetry was originally conceived — Rohingya, Burmese and English.
It combines the literary traditions of Rohingya song and Burmese and English poetic styles for the English language readership. The maintenance of Rohingya language traditions through song and poetry stands defiant against the cultural and historical erasure of the Rohingya as a distinct group belonging to Myanmar that has occurred as part of the genocide.
The translations of these Rohingya language songs and poetry, such as 'Love song' and 'Lament (a fisherman's song)' and 'Night blooming jasmine', explore the issues of love and marriage and invoke the age-old rhythms of life in Arakan through the thick imagery of the market places, fishing boats and wedding ceremonies.
Much of the poetry, including that translated from Burmese, highlights the mutual bonds between Rohingya and the broader nation-state of Myanmar.
It often explains the relationship between the nation-state and Rohingya people as one of parental rejection of a child or as rejected and unrequited romantic love (e.g Maung Hla Shwe, An Orphan).
Many of the poems written in the English language read as an urgent plea and protest to outside world – as Rohingya survivors attempt to process and come to terms with the failure of international bodies and governments to take action to protect them in an ongoing situation of genocide or to effectively sanction the perpetrating military and government in Myanmar, who continue to reap the benefits and riches of power.
"The world outside was too blind to see us," writes Ro B.M. Hairu.
Despite these laments, this collection encapsulates hope; it is part of a broader concerted global effort and nascent movement on the part of a generation of Rohingya survivors of genocide outside of Myanmar to lift, celebrate and take pride in the Rohingya identity, for which they have as a people paid the ultimate price.
The collection is a testament to the remarkable resilience of genocide survivors in the refugee camps of Bangladesh and elsewhere in diaspora who, despite their individual and collective trauma, use their creative voice to revive and regenerate their culture, traditions and group identity damaged over decades by Myanmar's slow-burning genocide.
Poetry is a means of self-possession, self-representation and reaffirmation. Literary traditions and creative arts have played vital roles in resistance movements in Palestine, Kashmir and amongst other disenfranchised peoples.
This poetry book is Rohingya resistance and activism at its most creative form.
As Yasmin Ullah writes:
"We self-identify as Rohingya, so we won't lose the last glimpse of history and its triumphs. How great we once were, how we have been trampled into extermination."
This collection is part of a much broader movement that aims to invigorate and replenish Rohingya identity through arts, education and culture. Even the names of the poets reassert their identities from diaspora – whether through the prefix "Ro" which is a title worn with pride to identify as Rohingya, or "Mayyu" as a name for the river and the district in Arakan that was made a Rohingya homeland after Myanmar's independence.
Broader efforts to showcase Rohingya artifacts, culture and tradition include music, cookery, language, and crafts such as weaving and wickerwork – and in diaspora from Malaysia to Canada, from India to the Republic of Ireland to explore and build Rohingya identities through visual arts team sport, and theatre.
Despite all the international talk of how genocide results in a lost generation, a lack of education, a lack of capacity and a lack of unity amongst the Rohingya, the newer generations with or without formal training are getting on with reconstructing their nation from a distance, nurturing the cut and vulnerable buds, readying themselves for a day where their identities, tenderly sewn back together in displacement, may once again cross the abundant river Naff and be planted in the fertile soil of the motherland where the natural cycle of life may begin again.
"I shall stretch out my hope all the way; along a path paved with lives I will forge ahead (Yar Tin)."
______________________________________________

Natalie Brinham is an Economic and Social Research Council (ESRC) PhD student at Queen Mary University of London researching statelessness and state crime and a member of the TRANSCEND Network for Peace Development Environment. She has worked for many years in NGOs in the UK and Southeast Asia on forced migration, trafficking and statelessness in both frontline service provision roles and research and advocacy roles. This included four years working as a research and advocacy consultant on a multi-country project on the human rights of stateless Rohingya. Under the pseudonym Alice Cowley, she co-authored a three-year study on the Slow-Burning Genocide of Myanmar's Rohingya with Maung Zarni. She holds an MA from UCL Institute of Education and a BA (Honors) from the School of Oriental and African Studies.

A Buddhist humanist from Burma, Maung Zarni is a member of the TRANSCEND Network for Peace Development Environment, former Visiting Lecturer with Harvard Medical School, specializing in racism and violence in Burma and Sri Lanka, and Non-resident Scholar in Genocide Studies with Documentation Center – Cambodia. Zarni is coordinator for Strategic Affairs for Free Rohingya Coalition and an adviser to the European Centre for the Study of Extremism, Cambridge, UK. His analyses have appeared in leading newspapers including the New York Times, The Guardian and the Times. Among his academic publications on Rohingya genocide are The Slow-Burning Genocide of Myanmar's Rohingyas (Pacific Rim Law and Policy Journal), An Evolution of Rohingya Persecution in Myanmar: From Strategic Embrace to Genocide, (Middle East Institute, American University), and Myanmar's State-directed Persecution of Rohingyas and Other Muslims (Brown World Affairs Journal). He co-authored, with Natalie Brinham, Essays on Myanmar Genocide. Zarni holds a PhD (U Wisconsin at Madison) and a MA (U California), and has held various teaching, research and visiting fellowships at the universities in Asia, Europe and USA including Oxford, LSE, UCL Institute of Education) , National-Louis, Malaya, and Brunei. He is the recipient of the "Cultivation of Harmony" award from the Parliament of the World's Religions (2015).
Yuriko Cowper-Smith is a Ph.D. scholar specializing in Myanmar genocide of Rohingya.
Tags:
Activism
,
Asia
,
Asia and the Pacific
,
Buddhism
,
Burma/Myanmar
,
Conflict
,
Ethnic Cleansing
,
Genocide
,
Geopolitics
,
History
,
Human Rights
,
Humanitarianism
,
Indigenous Rights
,
Justice
,
Military
,
Poetry
,
Power
,
Racism
,
Religion
,
Rohingya
,
Social justice
,
Solutions
,
United Nations
,
Violence
,
Violent conflict
,
War
DISCLAIMER: The statements, views and opinions expressed in pieces republished here are solely those of the authors and do not necessarily represent those of TMS. In accordance with title 17 U.S.C. section 107, this material is distributed without profit to those who have expressed a prior interest in receiving the included information for research and educational purposes. TMS has no affiliation whatsoever with the originator of this article nor is TMS endorsed or sponsored by the originator. "GO TO ORIGINAL" links are provided as a convenience to our readers and allow for verification of authenticity. However, as originating pages are often updated by their originating host sites, the versions posted may not match the versions our readers view when clicking the "GO TO ORIGINAL" links. This site contains copyrighted material the use of which has not always been specifically authorized by the copyright owner. We are making such material available in our efforts to advance understanding of environmental, political, human rights, economic, democracy, scientific, and social justice issues, etc. We believe this constitutes a 'fair use' of any such copyrighted material as provided for in section 107 of the US Copyright Law. In accordance with Title 17 U.S.C. Section 107, the material on this site is distributed without profit to those who have expressed a prior interest in receiving the included information for research and educational purposes. For more information go to: http://www.law.cornell.edu/uscode/17/107.shtml. If you wish to use copyrighted material from this site for purposes of your own that go beyond 'fair use', you must obtain permission from the copyright owner.
One Response to "Rohingya Poets Turn Words into Art of Resistance"