(Français) C'est qui, ça?
ORIGINAL LANGUAGES, 2 Sep 2019
Erik Rydberg | Investig'Action – TRANSCEND Media Service
Difficile d'imaginer un cas plus inouï que celui de Julian Assange. Il concerne tout le monde. Et tout le monde, ou presque, s'en fout. D'abord, on arrête les Juifs, puis les rouquins, comme on dit…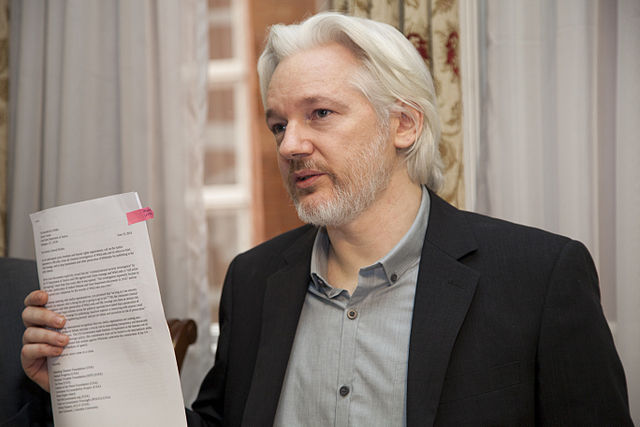 29 Août 2019 – De mémoire de, je ne pense pas avoir assisté à un scandale à ce point aussi intégralement étouffé. De mémoire de quoi, là? De journaliste, d'activiste tiers-mondiste, de publiciste, de critique de l'ordre tristement établi, que sais-je. Dans tous ces domaines, c'est silence radio, quasi.
Il y a une poignée de gens courageux qui, chaque lundi, de cinq à sept de l'après-midi, place de La Monnaie à Bruxelles, réclament la liberté pour Julian Assanger, car c'est de lui qu'il s'agit. Enfin, pas pour tout le monde: une jeune dame passant avec une canette Red Bull en main sur cette aire commerciale désolante balayée par les vents, répond comme suit à une personne lui tendant un tract: « Assange, c'est qui ça?« .
Kafkaïen…
Vrai, un type placé en prison de haute sécurité pour n'avoir pas respecté les conditions de sa libération conditionnelle, encourant une peine de 50 semaines de prison, aussitôt infligée aussi sec, cela n'a vraiment rien d'anormal. Rien à fiche. « C'est qui ça? ».
Cela n'a tellement rien d'anormal que, depuis le 11 avril 2019, jour où Assange a été ceinturé à l'ambassade de l'Équateur (où il était réfugié depuis sept ans) et transféré manu militari à sa tombe carcérale britannique, Amnesty International (créneau: le prisonnier d'opinion) et la Ligue des Droits humains (focus: les droits fondamentaux) ne se sont pas fendu du moindre communiqué indigné. Ni rien d'autre. Zéro.
Or, il est en prison pour quoi, Assange? Pour avoir rendue publique une montagne de mémos et dépêches diplomatiques états-uniens documentant la face cachée de la politique étrangère de ce grand pays allié. Notamment, comme relève le journaliste Robert Fisk, un des rares qui ne se sont pas tus, ces quelque 66.000 civils tués (« non combattants selon le jargon du Pentagon) par les États-Unis en Irak et en Afghanistan, « vingt fois plus que le nombre de victimes du 11 septembre« , précise-t-il1. Alors, quoi, on va les traîner en justice? Non, on traîne en justice Assange. Et cela n'émeut quasi personne.
Dreyfus: c'est qui ça?
Cela n'émeut surtout pas tous les journaux qui à l'époque ont, tout bénéf' (Exclusif!, Manchette!), publié ces documents secrets, du Monde au Guardian en passant par le Spiegel, El País et le Times, ce dernier allant jusqu'à publier une tribune maison clamant qu'Assange « ne mérite pas notre sympathie« .2 Hurler avec les loups, comme on dit. Ou se taire dans toutes les langues.
Le loup-alpha3, dominant, ce sont en l'espèce les États-Unis, dont le secrétaire d'État trumpien Mike Pompeo (ex-directeur de la CIA) s'est dit certain que la demande d'extradition sera suivie d'effet, le ministre de l'Intérieur (jusqu'en juillet 2019) Sajid Javid certifiant pour sa part qu'il a déjà signé l'ordonnance d'extradition. C'est entre copains? Et, puis, extradé sur la base de quel chef d'inculpation? D'espionnage, pas moins, soit 175 ans de prison, voire la peine de mort.
Si ce n'était que du roman, enfoncer Assange comme espion, ça ferait gentiment rire. Pourquoi pas, alors, aussi Ms Hillary Clinton qui avait ordonné à ses plombiers d'espionner les Nations unies et Angela Merkel, entre autres. Mais, ce n'est pas du roman. Personne ne demandera l'extradition de Ms Clinton. Ni aucun des auteurs occidentaux des atrocités en série commises au Proche et Moyen Orient, documentées par lesdits documents secrets.
Il y a ici comme un rapport de forces. Assange est un bonhomme assez seul, fatigué, embastillé, usé par des années de traque, sans beaucoup d'amis et, donc, comme cible, c'est du gâteau. « C'est qui ça? »
Liberté de la presse, bof
C'est un type qui, bien au-delà de sa personne, signe, par la persécution dont il fait l'objet, le cas exemplaire d'une atteinte d'une intensitéé rarement vue jusqu'ici contre la liberté d'expression et de la presse, orchestrée, nota bene, par des pays dits du « monde libre », dits démocratiques, dits attachés aux principes de l'État de droit. C'est, écrit le juriste étatsunien James Goodale, une procédure juridique qui, si elle devait aboutir, « ne sera pas loin d'infliger un coup mortel au journalisme d'investigation basé sur des information frappées du secret.« 4 Donc, en bonne logique, la corporation est montée aux barricades, les journalistes dont la spécialité est de faire « bouger les lignes » s'y appliquent d'un tam-tam assourdissant, sans parler des intellos abonnés aux plateaux de télé. Eh bien, non. Zéro ou presque.
Sauf cette vingtaine de courageux et courageuses dont la moyenne d'âge dépasse hélas une cinquantaine bien sonnée (pas hélas pour elles et eux, hélas pour les forces vives de demain avec leur festive cannette de Red Bull). Ils sont là, tous les lundis, d'abord devant les ambassades de Grande-Bretagne, d'Australie et des États-Unis (qui a réussi à privatiser un bout de rue), et ensuite place de La Monnaie.5 Ils ont recueilli quelque 500 signatures (toutes sur pétition en papier) et environ 850 « clics » de sympathie sur Facebook. C'est peu. Leur revendication est un peu confuse (quelle cible, comment?) et leur matériel d'agitation, venu d'outre-Manche, peut-être un peu trop anglophone – mais honneur à elles et eux! Ils sauvent un peu celui des absents.
NOTES:
1The Independent, 30 mai 2019, https://www.independent.co.uk/voices/julian-assange-trial-wikileaks-us-security-services-state-secrets-robert-fisk-a8936296.html
2The Times, 15 avril 2019.
3Invention des éthologues férus d'anthropomorphisme: les dominants d'une meute, ce sont les parents loups, et la meute, leur petite famille, voir Petra, Ahne, Wölfen, Mathhes & Seitz, Berlin, 2016.
4Harper's Magazine, avril 2019. Mentionnons ici l'action du journaliste John Pilger http://johnpilger.com/
5Ils ont une page Facebook (https://www.facebook.com/ComiteAssangeBelgium/ ) et sont, tout de même, soutenus par une cinquantaine de « bekende mensen », dont Mateo Alaluf, Pierre Galand, Eric David, Christine Pagoulle, Felipe Van Keirsbilck, Anne Morelli – surtout des hommes et pas tout jeunes…
**********************
Agenda des Prochains Rassemblements et Activités du Comité
– Prochain rassemblement: le lundi 2 septembre entre 17 et 19h. Place de la Monnaie
– Le lundi 9 septembre, rassemblement devant l'ambassade de Grande -Bretagne (10 av. d'Auderghem). 17 à 19h.
– Les autres lundis de septembre (16, 23 et 30), Place de la Monnaie. 17 à 19h.
Jeudi 5 septembre: Premier repas solidaire. Entre 18 et 21h30.
Le repas est au prix de 10,00 euros. (Inscription souhaitée, par mail à cette adresse)
Salle Aurore, 162, rue du Midi (près de la place Rouppe)
Vendredi 13 septembre: De 9 à 18h. A l'occasion de la rentrée universitaire, nous aurons une place sur le stand de Radio Campus. (Solbosh)
Samedi 14 septembre: 17h. A Louvain-la Neuve ( lieu à préciser). Distribution de tracts à la sortie de l'Université d'été d'Amnesty International.
Samedi 21 et Dimanche 22: A Bredene, Manifiesta (www.Manifiesta.be). Nous serons présents sur plusieurs stands.
Samedi 28 : Festival « Ramène ta culotte ». De 14 à 21h. Allée du Kaai: Avenue du port 53, 1000 Bruxelles.
Présence du Rickshaw, grâce au projet de cinéma mobile « Blow the whistle.
Comme il s'agit d'un festival autour de la place des Femmes dans la société, l'accent sera mis sur Chelsea Manning et des lanceuses d'alerte comme Daphne Cuarana Galizia, Irene Frachon, Reality Winner…
Vendredi 11 octobre: Nous marquerons les 6 mois de l'arrestation d'Assange à l'ambassade d'Equateur par une rassemblement devant le Palais de justice, Place Poelaert entre 17 et 19h . Objectif: être assez nombreux pour faire une chaîne humaine la plus longue possible devant le Palais de Justice!
_____________________________________________________
Source: Entre Les Lignes
A lire aussi :
Go to Original – investigaction.net
Tags:
Activism
,
Big Brother
,
Conflict
,
Democracy
,
Ecuador
,
Human Rights
,
Journalism
,
Justice
,
Media
,
Military
,
NATO
,
Nonviolence
,
Power
,
Social justice
,
Solutions
,
Spying
,
Surveillance
,
Sweden
,
Torture
,
Trump
,
UK
,
UN
,
USA
,
Violence
,
War
,
West
,
Whistleblowing
,
WikiLeaks
,
World
DISCLAIMER: The statements, views and opinions expressed in pieces republished here are solely those of the authors and do not necessarily represent those of TMS. In accordance with title 17 U.S.C. section 107, this material is distributed without profit to those who have expressed a prior interest in receiving the included information for research and educational purposes. TMS has no affiliation whatsoever with the originator of this article nor is TMS endorsed or sponsored by the originator. "GO TO ORIGINAL" links are provided as a convenience to our readers and allow for verification of authenticity. However, as originating pages are often updated by their originating host sites, the versions posted may not match the versions our readers view when clicking the "GO TO ORIGINAL" links. This site contains copyrighted material the use of which has not always been specifically authorized by the copyright owner. We are making such material available in our efforts to advance understanding of environmental, political, human rights, economic, democracy, scientific, and social justice issues, etc. We believe this constitutes a 'fair use' of any such copyrighted material as provided for in section 107 of the US Copyright Law. In accordance with Title 17 U.S.C. Section 107, the material on this site is distributed without profit to those who have expressed a prior interest in receiving the included information for research and educational purposes. For more information go to: http://www.law.cornell.edu/uscode/17/107.shtml. If you wish to use copyrighted material from this site for purposes of your own that go beyond 'fair use', you must obtain permission from the copyright owner.