Washington's Long War on Syria
ANGLO AMERICA, MILITARISM, SYRIA IN CONTEXT, 30 Sep 2019
Roberto Sirvent | Black Agenda Report – TRANSCEND Media Service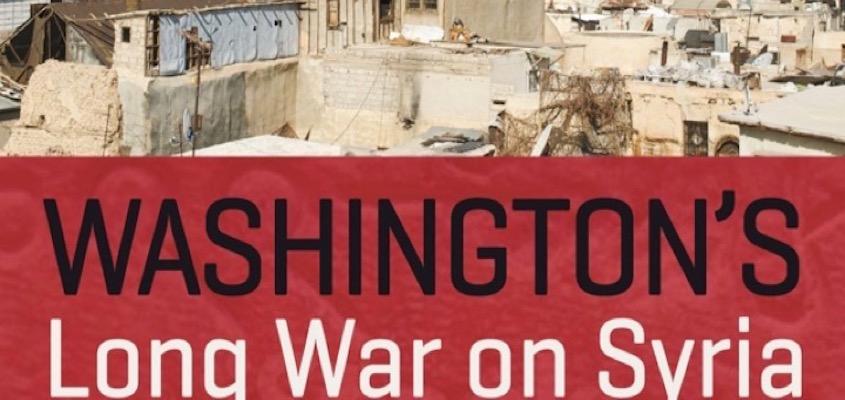 25 Sep 2019 – Three hostile foreign powers—Israel, Turkey and the United States—occupy parts of Syria in defiance of international law.
"Washington seeks to inflame sectarian divisions to prevent Arabs coalescing as an independent political force."
Stephen Gowans is an independent political analyst whose principal interest is in who influences formulation of foreign policy in the United States. His book is Washington's Long War on Syria . 
Roberto Sirvent: How can your book help BAR readers understand the current political and social climate?
Stephen Gowans: The conflict in Syria has raged for decades, but most people in the West think it began in 2011 as a simple democratic struggle between the Syrian people and a dictatorship. On the contrary, the beginning of the conflict dates to the immediate post-World War II period in the struggle of three forces for control of the Syrian state: Arab nationalists, Islamists and the United States. The book explores the political program of these three forces, showing how their goals both overlap and conflict, and how the areas of overlap have led to temporary alliances of convenience, between the United States and Sunni Islamists against the Arab nationalists, between the United States and the Arab nationalists against the Sunni Islamists, and between the Arab nationalists and Shi'ite Islamists (Iran and Hezbollah) against the United States. It also shows how the discontinuity of goals among these forces has fueled the conflict. The period from 2011 to the present is simply the latest phase of a multi-decade war whose complexity defies simple categorization as an 'Arab Spring' struggle for liberal democracy.
What do you hope activists and community organizers will take away from reading your book?
What I would hope they would take away is a basic understanding of the goals pursued by the three main parties to the conflict.
The Syrian government, under the leadership of Bashar al-Assad, is part of an Arab nationalist movement that has historically been guided by three goals, expressed in the movement's motto: unity, liberty, socialism. Specifically, the goals are overcoming the religious, sectarian and other divisions of the Arab world, transcending the Arab world's domination by foreign powers, and using state intervention in the economy to overcome underdevelopment.
The United States' goals are antithetical to those of Syria's Arab nationalists. Where the Arab nationalists seek to overcome the sectarian divisions of the Arab world, Washington seeks to inflame them to prevent Arabs coalescing as an independent political force capable of challenging US control of the Arab homeland. Where the Arab nationalists seek an Arab homeland free from foreign domination, the United States, since World War II, has sought hegemony in the petroleum-rich region, in order to enrich US oil corporations. Lastly, where the Arab nationalists seek to incubate national industry with subsidies and tariff barriers, and to bar foreign investment in strategic parts of the economy, Washington insists on an open door to US exports and investments.
"The Islamists' anti-imperialism is vastly different from that of the Arab nationalists."
As for the Muslim Brotherhood, historically the major Sunni Islamist organization in Syria, its goals, like those of the Arab nationalists, are anti-imperialist, but the Islamists' anti-imperialism is vastly different from that of the Arab nationalists. Like all fundamentalist reactions against foreign domination, the Islamist program amounts to a turning back to an identity that existed prior to the region's submission to outside control. The Islamists seek to recover a 'pure' Islam that they believe was repressed and negated by Western imperialism. They believe that if they can recuperate the world that existed prior to Islam's encounter with European colonialism, they will have overcome Western imperialism.
We know readers will learn a lot from your book, but what do you hope readers will un-learn? In other words, is there a particular ideology you're hoping to dismantle?
One of the main things I would hope they unlearn is the idea that liberal democratic institutions are a possibility for all states, including those confronting public emergencies brought about by Western aggression.
Since the 1950s, if not earlier, Syria has been in a permanent state of crisis and emergency. The crisis begins with the first of four of what we might call Zionist colonial settler wars, beginning with the war in 1948 that produced the Nakba, the disaster of Zionist expulsion of Arabs from their homeland, through Zionist colonial settler wars in 1956, 1967, and 1973, culminating in the settlers' occupation of a part of Syria, namely the Golan Heights. Syria remains in an official state of war with Israel, an aggressive, war-like, and expansionary state that is nuclear-armed and many more times powerful than Syria. The crisis continues with Islamists vowing an unending struggle to the death with the secular Arab nationalist state, accompanied by a series of bloody rebellions beginning in the mid 1960s and continuing to today. The emergency is exacerbated by US efforts, dating from the 1950s, to overthrow Arab nationalist influence in Damascus. These efforts intensified in 2003, when the Bush administration contemplated an armed invasion of Syria as a follow-up to the invasion of neighboring Iraq. The plan was abandoned as too ambitious and was succeeded by a program of sanctions—which even prior to 2011 prevented the government from providing essential services in some parts of the country—and White House meetings with Syria's Muslim Brotherhood. Today, three hostile foreign powers—Israel, Turkey and the United States—occupy parts of Syria in defiance of international law.
"Islamists vow an unending struggle to the death with the secular Arab nationalist state."
No state willingly commits suicide by allowing its political opponents to openly organize its downfall. The constitutions of liberal democracies, including that of the United States, to say nothing of international law, make provision for state authorities to assume extraordinary powers in time of public emergency which threatens the life of the nation. There is no question that Syria faces a public emergency. We should not regard the concentration of power in the Syrian executive, and restrictions on civil and political liberties, as originating in an authoritarian ideology or a libido dominandi  (lust for power), but as a rational, and, moreover, lawful, response to concrete political circumstances.  If activists and community organizers are genuinely interested in the efflorescence of liberal democratic institutions in Syria, they should work to end the Western aggression that prevents it.
Who are the intellectual heroes that inspire your work?
Anyone who is familiar with the work of Domenico Losurdo, especially his theory of class struggle as a conflict over the division of labor on three levels, not only within the workplace, but also within the home between men and women, and internationally, between developed and underdeveloped countries, will see his influence in this book. Losurdo's influence extends, too, to the book's characterization of the war in Syria as a fight for democracy on an international level against a despotic power, the United States.
My analysis of who shapes US foreign policy and to what end is heavily indebted to the work of such Marxist social scientists as Laurence Shoup and Albert Szymanksi, as well as others, who have worked outside that tradition, including William Domhoff and Thomas Ferguson.
In what way does your book help imagine new worlds?
Through its critique of the class-basis of US foreign policy, the book helps envisage an alternative foreign policy that is not an instrument of a class of wealthy investors and financiers or shaped by the imperatives of a capitalist economy.  Additionally, through its critique of Washington's negation of Syrian sovereignty by intervening in the country to bring about a political arrangement suitable to US foreign policy objectives (an affront against geography and democracy—Americans don't get to decide how Syrians organize their politics and economy), the book helps envisage an alternative international order, based on equal and sovereign states, joined by links of mutual benefit. This stands in sharp contrast to the current hierarchical international order, in which a wealthy investor class at the top of US society presides over a US-led global system of satellite states.
__________________________________________________
Roberto Sirvent  is Professor of Political and Social Ethics at Hope International University in Fullerton, CA. He also serves as the Outreach and Mentoring Coordinator for the  Political Theology Network .   He is co-author, with fellow BAR contributor Danny Haiphong, of the new book, American Exceptionalism and American Innocence: A People's History of Fake News—From the Revolutionary War to the War on Terror.
Go to Original – blackagendareport.com
Tags:
CIA
,
Conflict
,
Energy
,
Europe
,
Geopolitics
,
Hegemony
,
Human Rights
,
ISIS
,
Imperialism
,
Indigenous Rights
,
International Relations
,
Invasion
,
Israel
,
Justice
,
MATW
,
MENA
,
Media
,
Migrants
,
Military
,
Military Intervention
,
NATO
,
Occupation
,
Pentagon
,
Politics
,
Power
,
Proxy War
,
Racism
,
Refugees
,
Resistance
,
Resources
,
Russia
,
State Terrorism
,
Syria
,
Terrorism
,
Torture
,
Trump
,
UK
,
UN
,
US Military
,
USA
,
Violence
,
War
,
West
,
World
DISCLAIMER: The statements, views and opinions expressed in pieces republished here are solely those of the authors and do not necessarily represent those of TMS. In accordance with title 17 U.S.C. section 107, this material is distributed without profit to those who have expressed a prior interest in receiving the included information for research and educational purposes. TMS has no affiliation whatsoever with the originator of this article nor is TMS endorsed or sponsored by the originator. "GO TO ORIGINAL" links are provided as a convenience to our readers and allow for verification of authenticity. However, as originating pages are often updated by their originating host sites, the versions posted may not match the versions our readers view when clicking the "GO TO ORIGINAL" links. This site contains copyrighted material the use of which has not always been specifically authorized by the copyright owner. We are making such material available in our efforts to advance understanding of environmental, political, human rights, economic, democracy, scientific, and social justice issues, etc. We believe this constitutes a 'fair use' of any such copyrighted material as provided for in section 107 of the US Copyright Law. In accordance with Title 17 U.S.C. Section 107, the material on this site is distributed without profit to those who have expressed a prior interest in receiving the included information for research and educational purposes. For more information go to: http://www.law.cornell.edu/uscode/17/107.shtml. If you wish to use copyrighted material from this site for purposes of your own that go beyond 'fair use', you must obtain permission from the copyright owner.