(Français) Abu Bakr al-Baghdadi: Fabriqué et Tué par la CIA
ORIGINAL LANGUAGES, 4 Nov 2019
Marc Vandepitte | Investig'Action – TRANSCEND Media Service
31 Oct 2019 – Maintenant qu'Abou Bakr al-Baghdadi, le dirigeant de l'EI, a été éliminé, beaucoup manifestent leur joie et leur soulagement aux États-Unis et en Occident. Ce qu'ils ne disent pas, c'est que ce groupe terroriste barbare est un produit de leur propre politique étrangère dans la région.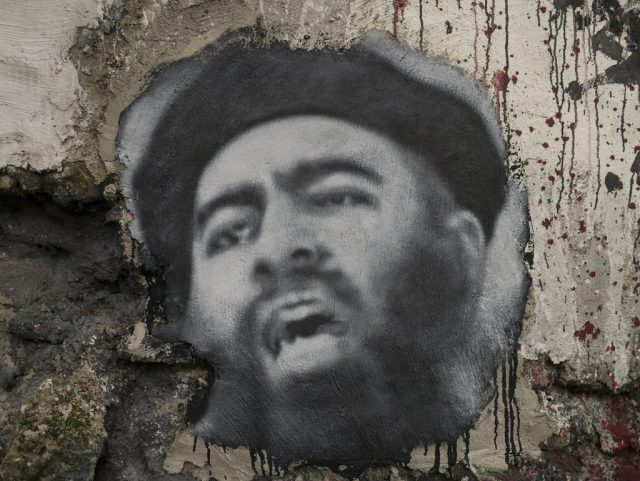 L'émergence de l'EI
En 2003, les États-Unis et la Grande-Bretagne ont envahi l'Irak. À l'époque, il était peu question d'Al-Qaïda ou d'autres groupes terroristes djihadistes dans la région. Après l'invasion, l'armée US a été confrontée à un violent soulèvement. Pour l'écraser, des escadrons de la mort ont été utilisés, exactement comme en Amérique latine, avec ce que les Américains avaient appelé «l'option Salvador». De plus, dans cette sale guerre, sunnites et chiites ont été délibérément montés les unes contre les autres, la tactique consistant à diviser pour régner. C'est dans cette orgie de violences sectaires provoquées qu'Al-Qaïda s'implanta en Irak sous le nom d' «État islamique d'Irak» (EII).
Puis vint le prétendu printemps arabe de 2011. Pour renverser Kadhafi, l'OTAN collabora avec le Groupe de combat islamique libyen (GCIL) sous la direction d'Abdelhakim Belhaj, ancien dirigeant d'Al-Qaïda en Libye. Lorsque le soulèvement a commencé en Syrie, Belhaj a envoyé des centaines de combattants armés dans ce pays pour expulser Assad du pouvoir. Les services de sécurité des États-Unis et de la Grande-Bretagne ont coopéré pour transférer les arsenaux libyens vers les rebelles syriens.
En 2012, les États-Unis, la Turquie et la Jordanie ont mis en place un camp d'entraînement pour les rebelles syriens à Safawi, dans le nord de la Jordanie. Des instructeurs français et britanniques étaient également impliqués. Certaines parties de ces groupes rebelles allaient plus tard rejoindre l'État islamique.
Il y avait de nombreux Syriens dans les rangs d'Al-Qaïda en Irak. Au début de la guerre civile en Syrie, beaucoup d'entre eux sont rentrés dans leur pays d'origine pour établir le Front al-Nusra. En avril 2013, Abou Bakr al-Baghdadi, dirigeant de l'EII, a déclaré que son groupe et Al-Nusra avaient fusionné sous le nom d'État islamique d'Irak et du Levant (EIIL), puis d'un État islamique d'Irak et de Syrie (EIIS, connu sous le nom d'ISIS en anglais). Al-Qaïda s'en est toutefois éloignée et les deux organisations terroristes ont suivi leur propre chemin.
C'est dans ce nid de guêpes qu'ISIS, appelée plus tard IS, a pris naissance et est devenu puissant. L'organisation terroriste s'est développée rapidement, a conquis beaucoup de terrain à partir de 2014 et s'est proclamée califat en juin de la même année. Les services de renseignement militaires US (DIA) savaient depuis quelque temps qu'un tel califat était en préparation. Mais, selon Michael Flynn, ancien conseiller à la sécurité nationale du président Trump, le gouvernement US a détourné le regard. Un tel califat constituait un excellent tampon sunnite pour affaiblir la Syrie et réduire l'influence de l'Iran chiite.
Graham Fuller, l'un des analystes les plus respectés du Moyen-Orient et ancien agent de la CIA, est très clair:
« Je pense que les États-Unis sont l'un des principaux créateurs d'ISIS. Les États-Unis n'avaient pas prévu la formation du groupe État islamique, mais leurs interventions destructrices au Moyen-Orient et la guerre en Irak étaient les causes fondamentales de la naissance du groupe État islamique. »
Rien de nouveau sous le soleil
Le flirt du Pentagone avec des groupes islamistes extrémistes n'est pas nouveau. Rappelez-vous les moudjahidines, à partir de 1979, ils ont été recrutés, armés et entraînés par les États-Unis pour renverser le gouvernement communiste d'Afghanistan. Rambo 3 de Sylvester Stallone est une version hollywoodienne de cette collaboration. C'est à partir de ces groupes de moudjahidines qu'Al-Qaïda et Oussama Ben Laden sont apparus plus tard.
Dans les années 90, les combattants extrémistes et encore plus violents des talibans sont devenus les partenaires privilégiés de Washington en Afghanistan. Cette coopération a pris fin lorsqu'il est devenu évident que les talibans ne pouvaient plus servir les intérêts des États-Unis.
Au cours de la guerre civile de Yougoslavie (1992-1995), des milliers de combattants d'Al-Qaïda ont été emmenés par avion du Pentagone en Bosnie, pour soutenir les musulmans de la région.
En 1996, l'Armée de libération du Kosovo (UCK) a été formée par des officiers d'Al-Qaïda juste de l'autre côté de la frontière avec l'Albanie. Au même moment, des soldats britanniques et étasuniens apportaient leur aide.
Nous avons déjà évoqué la coopération entre le Groupe de combat islamique libyen (GCIL) et l'OTAN pour renverser Kadhafi. Après 2011, cette organisation terroriste a formé une alliance avec les rebelles islamistes du Mali. Ces derniers, avec les Touaregs, ont réussi à conquérir le nord du Mali pendant plusieurs mois. Grâce aux bombardements de l'OTAN, le GCIL avait pu piller les dépôts d'armes de l'armée libyenne. Les mêmes armes que les djihadistes utilisent aujourd'hui en Syrie, en Irak, au Nigeria, au Tchad et au Mali. Le Financial Times établit un lien entre ces événements et la rivalité géopolitique avec la Chine:
«La militarisation de la politique américaine en Afrique après le 11 septembre a toujours été controversée. Elle est perçue dans la région comme une tentative de renforcer le contrôle des ressources par les États-Unis et contrer le florissant rôle commercial de la Chine.  »
Il ne peut pas non plus être exclu que les services de renseignements occidentaux soient directement ou indirectement impliqués dans les activités terroristes des Tchétchènes en Russie et des Ouïghours en Chine.
Nous parlons donc d'une politique systématique et délibérée de la part de Washington et de ses alliés pour garder le contrôle de la région.
La stratégie du chaos
Aujourd'hui, la guerre contre le terrorisme s'est transformée en son contraire: la propagation de la terreur. Les opérations ratées en Irak, en Afghanistan, en Libye et en Syrie montrent clairement que les États-Unis et l'Occident ne sont plus en mesure de modeler la région du Moyen-Orient comme ils le voudraient.
Washington et ses alliés risquent de perdre de plus en plus leur emprise et se tournent davantage vers des sous-traitants de la pire espèce. Ils soutiennent que «si nous ne pouvons pas contrôler la zone nous-mêmes, alors personne d'autre ne le fera non plus».
C'est ce que l'on pourrait qualifier de stratégie du chaos, ou peut-être mieux de «le chaos de stratégie». En tout cas, c'est le summum de l'immoralité.
Une chose est sûre. La terreur dans la région ne sera pas éradiquée par les mêmes forces qui l'ont amenée à la vie. Ou comme une source insoupçonnable telle que Dominique de Villepin, ancien ministre français de l'Intérieur et des Affaires étrangères, le dit clairement:
«Les guerres perdues en Afghanistan, en Irak et en Libye favorisent le séparatisme, les États en déroute, la loi effrontée des milices armées. Jamais ces guerres n'ont permis de vaincre les terroristes envahissant la région. Au contraire, elles légitiment les plus radicaux. … Chaque intervention occidentale crée les conditions pour la suivante. Nous devons arrêter cela.  »
_____________________________________

Philosophe et économiste belge, Marc Vandepitte est l'auteur de nombreux livres sur les relations Nord-Sud, l'Amérique latine, Cuba et la Chine.
Go to Original – investigaction.net
Tags:
Abu Ghraib
,
Big Oil
,
CIA
,
DAESH
,
Geopolitics
,
ISIS
,
Invasion
,
MATW
,
MENA
,
Military
,
NATO
,
Occupation
,
Pentagon
,
Politics
,
Power
,
Racism
,
Religion
,
Rendition
,
Resources
,
State Terrorism
,
Terrorism
,
Torture
,
UN
,
USA
,
Violence
,
War
,
War on Terror
,
West
,
World
DISCLAIMER: The statements, views and opinions expressed in pieces republished here are solely those of the authors and do not necessarily represent those of TMS. In accordance with title 17 U.S.C. section 107, this material is distributed without profit to those who have expressed a prior interest in receiving the included information for research and educational purposes. TMS has no affiliation whatsoever with the originator of this article nor is TMS endorsed or sponsored by the originator. "GO TO ORIGINAL" links are provided as a convenience to our readers and allow for verification of authenticity. However, as originating pages are often updated by their originating host sites, the versions posted may not match the versions our readers view when clicking the "GO TO ORIGINAL" links. This site contains copyrighted material the use of which has not always been specifically authorized by the copyright owner. We are making such material available in our efforts to advance understanding of environmental, political, human rights, economic, democracy, scientific, and social justice issues, etc. We believe this constitutes a 'fair use' of any such copyrighted material as provided for in section 107 of the US Copyright Law. In accordance with Title 17 U.S.C. Section 107, the material on this site is distributed without profit to those who have expressed a prior interest in receiving the included information for research and educational purposes. For more information go to: http://www.law.cornell.edu/uscode/17/107.shtml. If you wish to use copyrighted material from this site for purposes of your own that go beyond 'fair use', you must obtain permission from the copyright owner.