(Português) Brasil: Documento confidencial mostra que Cultura vai continuar pregando ideais nazistas mesmo sem o Secretário Roberto Alvim
ORIGINAL LANGUAGES, 20 Jan 2020
17 Jan 2020 – Roberto Alvim foi demitido da Secretaria Especial da Cultura após copiar um discurso do chefe da propaganda nazista, Joseph Goebbels. Mas isso não quer dizer que os colegas do dramaturgo, que continuam trabalhando e orientando a política cultural do país, pensem diferente dele.
O Intercept teve acesso a um e-mail confidencial enviado na última terça-feira a diretores de entidades como a Agência Nacional do Cinema, a Ancine, e a Fundação Nacional das Artes, a Funarte. No texto, Elton Medeiros, assessor do gabinete do secretário de Cultura, expõe detalhadamente os mesmos ideais proclamados por Alvim e que levaram à queda do dramaturgo. O e-mail, enviado em nome do secretário especial de Cultura José Paulo Martins, foi disparado dois dias antes do vídeo que cita frases de Goebbels.
Nesta sexta, Martins foi o escolhido para ocupar interinamente o cargo máximo da secretaria após a queda de Alvim. Ele era o número dois da área desde o início do governo Bolsonaro. Também já ocupara o cargo de secretário entre agosto e novembro do ano passado, após a demissão de Henrique Pires, que saiu depois de dizer que não iria "bater palmas pra censura".
No e-mail, o agora secretário interino pede aos interlocutores que organizem "objetivos e ações para 2020″ levando em consideração alguns pontos prioritários: o nacionalismo, a exaltação à família, a "profunda ligação com Deus" e a "luta contra o que degenera". Este último tópico é uma associação direta ao nazismo, que tinha o conceito de "arte degenerada" – aquela considerada imoral e perigosa por não seguir os parâmetros do regime.
Diz o texto:
Há o interesse precípuo em promover o renascimento no cenário cultural e artístico, fortalecidos por princípios e valores da nossa civilização, onde a Pátria, a Família, a determinação e, em especial, a nossa profunda ligação com Deus, norteie o que nos propomos a realizar. Que o nosso trabalho tenha as virtudes da fé, da lealdade, da coragem e da luta contra o que degenera; e que estas virtudes sejam alcançados ao território sagrado das obras de arte. Uma Cultura com obras que configurem toda a importância para a harmonia dos brasileiros com a sua terra e sua natureza, elevando a nação acima de interesses particulares.
Em seguida, Martins fala do "desafio de reformular o ambiente da cultura em nossa sociedade, há anos influenciada por uma conduções [sic] impróprias aos propósitos aqui mencionados" e cita a "nova visão que vamos implementar para a cultura brasileira".
Email Secretaria da Cultura (clique para ler as 6 páginas)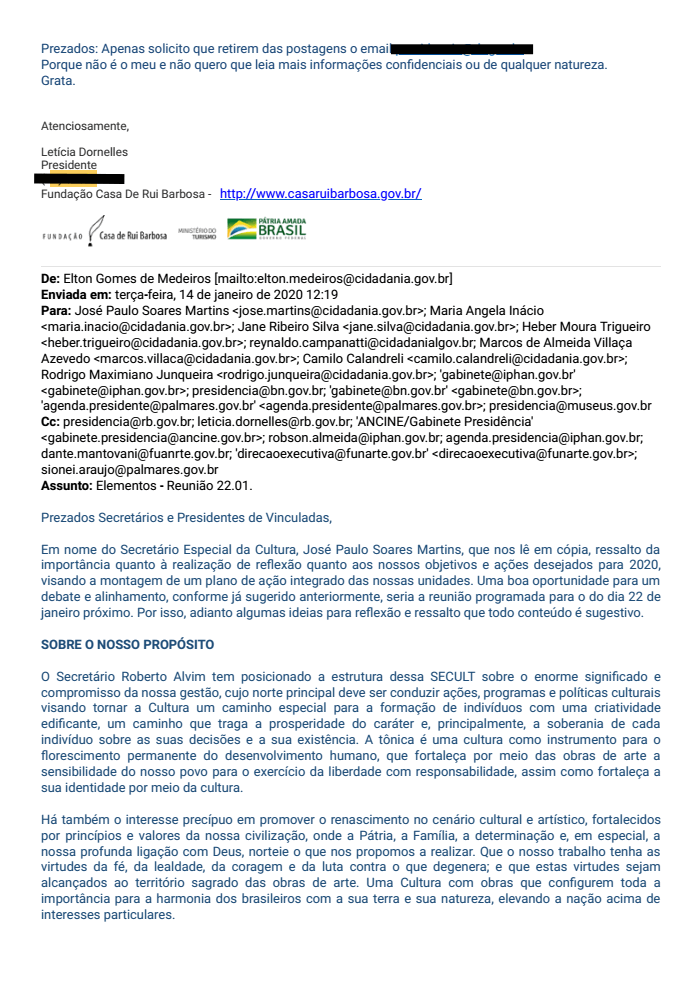 O comunicado demanda dos órgãos vinculados à Secretaria de Cultura que tenham uma visão única, "mais eficaz e sinérgica". Ou seja: as entidades terão que repensar sua programação cultural para 2020 levando em conta os ideais exaltados pelo governo Bolsonaro de pátria, família e religiosidade – os mesmos evocados por Goebbels e os nazistas.
Além da cúpula do Ministério da Cidadania, ao qual a Secretaria de Cultura é ligada, também receberam as ordens os diretores da Funarte, Ancine, Iphan, Biblioteca Nacional, Fundação Palmares, Instituto Brasileiro de Museus, Fundação Palmares e Casa de Rui Barbosa.
'Coincidência retórica'
Roberto Alvim foi demitido após explicitar as semelhanças entre as visões do bolsonarismo e do nazismo para a cultura num vídeo em que anunciou o programa Prêmio das Artes, que distribuirá R$ 20 milhões para projetos culturais pré-aprovados pelo governo.
A fala do secretário não apenas copiou Goebbels, mas também a estética nazista – Alvim falou sentado em uma mesa com uma imagem do líder, uma cruz e tendo ao fundo uma composição de Richard Wagner, idolatrado por Adolf Hitler e conhecido principalmente pelas óperas de cunho nacionalista. Flagrado, tentou se esquivar. Primeiro ele disse ter havido uma "coincidência retórica". Mais tarde, assessores afirmaram que ele sabia da possível associação com o nazismo.
Mesmo bolsonaristas fanáticos consideraram que o ex-secretário havia passado dos limites. Nem Olavo de Carvalho defendeu o pupilo – o ideológo do governo de extrema direita, ele mesmo autor de textos pouco elogiosos aos judeus, disse que Alvim "talvez não esteja muito bem da cabeça". Também pesou para a demissão a pressão da Confederação Israelita do Brasil – para agradar evangélicos, que acreditam em profecias bíblicas sobre Jerusalém, Bolsonaro fez do governo de Tel Aviv um aliado preferencial.
Segundo Alvim, Bolsonaro entendeu que 'não houve má intencionalidade'.
Não fosse isso, provavelmente Alvim continuaria no cargo. Na quinta, ele foi elogiado pelo presidente e chamado de "um secretário da Cultura de verdade" durante a live em que anunciaram o Prêmio Nacional das Artes. Mesmo na sexta pela manhã, após a repercussão negativa do vídeo, o ex-secretário foi tranquilizado por Bolsonaro: "Expliquei a coincidência retórica. Ele entendeu que não houve má intencionalidade e que eu não sabia a origem da menção", disse Alvim.
Até agora não há nada que indique que o governo interromperá o Prêmio das Artes. O projeto vai financiar óperas, peças de teatro, exposições de pintura, CDs de música e histórias em quadrinhos. Apesar de rejeitarem o rótulo de censuradores, tanto Bolsonaro como Alvim indicaram que haveria uma filtragem do conteúdo das obras para privilegiar aquelas "alinhadas ao conservadorismo nas artes" e que "dignifiquem o ser humano".
Goebbels foi importante para a consolidação do nazismo ao criar uma base ideológica, direcionando dinheiro e esforços para criar obras artísticas e de propaganda que enalteciam o regime. Aparentemente era esse o papel que Alvim se via desempenhando no governo Bolsonaro. Se era isso, ele pode se congratular: as políticas que almejou para a cultura brasileira continuarão de pé, e nada indica que o posicionamento da pasta irá mudar.
A diferença é que Martins, Regina Duarte ou qualquer outro ocupante da cadeira deverão tomar mais cuidado com referências explícitas demais a regimes que usaram a cultura e as artes para justificar ideologias extremistas.
Atualização – 18 de janeiro de 2020: O texto foi atualizado para deixar mais claro o cargo do secretário José Paulo Martins.
______________________________________________

Amanda Audi – amanda.audi@​theintercept.com
Go to Original – theintercept.com
Tags:
BRICS
,
Bolsonaro
,
Brasil
,
Cultural violence
,
Culture
,
Culture of Violence
,
Joseph Goebbels
,
Latin America Caribbean
,
Neo-Nazis
,
Politics
,
Propaganda
DISCLAIMER: The statements, views and opinions expressed in pieces republished here are solely those of the authors and do not necessarily represent those of TMS. In accordance with title 17 U.S.C. section 107, this material is distributed without profit to those who have expressed a prior interest in receiving the included information for research and educational purposes. TMS has no affiliation whatsoever with the originator of this article nor is TMS endorsed or sponsored by the originator. "GO TO ORIGINAL" links are provided as a convenience to our readers and allow for verification of authenticity. However, as originating pages are often updated by their originating host sites, the versions posted may not match the versions our readers view when clicking the "GO TO ORIGINAL" links. This site contains copyrighted material the use of which has not always been specifically authorized by the copyright owner. We are making such material available in our efforts to advance understanding of environmental, political, human rights, economic, democracy, scientific, and social justice issues, etc. We believe this constitutes a 'fair use' of any such copyrighted material as provided for in section 107 of the US Copyright Law. In accordance with Title 17 U.S.C. Section 107, the material on this site is distributed without profit to those who have expressed a prior interest in receiving the included information for research and educational purposes. For more information go to: http://www.law.cornell.edu/uscode/17/107.shtml. If you wish to use copyrighted material from this site for purposes of your own that go beyond 'fair use', you must obtain permission from the copyright owner.