(Italiano) Ribbon – un lungo nastro di speranza per questi giorni (in)quieti
ORIGINAL LANGUAGES, 30 Mar 2020
Elena Camino | Centro Studi Sereno Regis - TRANSCEND Media Service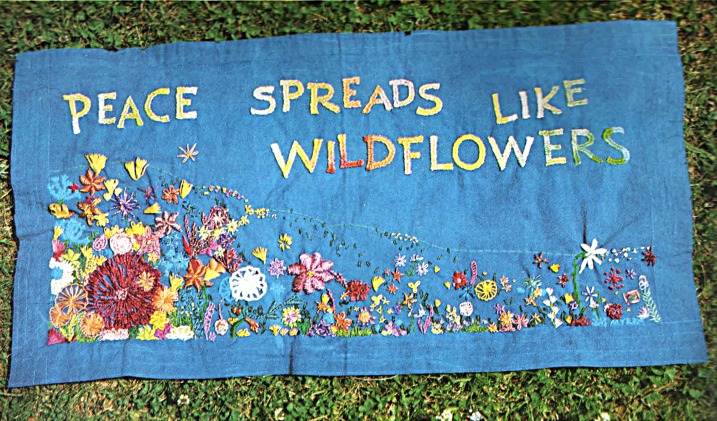 17 Marzo 2020 – The Ribbon è una associazione non governativa con sede negli Stati Uniti, fondata nel 1982 da Justine Merritt, una ex- insegnante, mamma e nonna, appena rientrata da una visita in Giappone all'Hiroshima Peace Memorial Museum. Per coinvolgere e impegnare altre persone in dimostrazioni e azioni a favore della pace, del disarmo e della cura per l'ambiente le venne l'idea di proporre – prima alle persone a lei vicine e poi allargando sempre più la cerchia – di produrre a mano dei teli o pannelli di 1 metro per mezzo metro, che si potessero poi cucire insieme a formare un lungo nastro.
A parte le misure, da rispettare per poter unire i pezzi insieme, ogni pannello poteva essere realizzato liberamente con stoffe di vario colore, lavori a maglia, ricami, patchwork, scritte… Il tema che inizialmente fu suggerito era di esprimere nel pannello "ciò che non posso pensare di perdere per sempre, se scoppiasse una guerra nucleare".
La proposta ebbe tale successo che nel 1985 un lunghissimo nastro, lungo 15 miglia, fu srotolato intorno agli edifici del Pentagono,  Negli anni successivi – spesso in occasione del 4 agosto, giorno dell'anniversario del bombardamento di Hiroshima –molti nastri furono srotolati intorno a luoghi simbolici, come per esempio il Memoriale a Hiroshima e ground zero a New York, e in vari Paesi.
I pannelli si sono moltiplicati, e hanno girato il mondo, sia in occasione di manifestazioni antinucleari, sia per essere esibiti in convegni e mostre.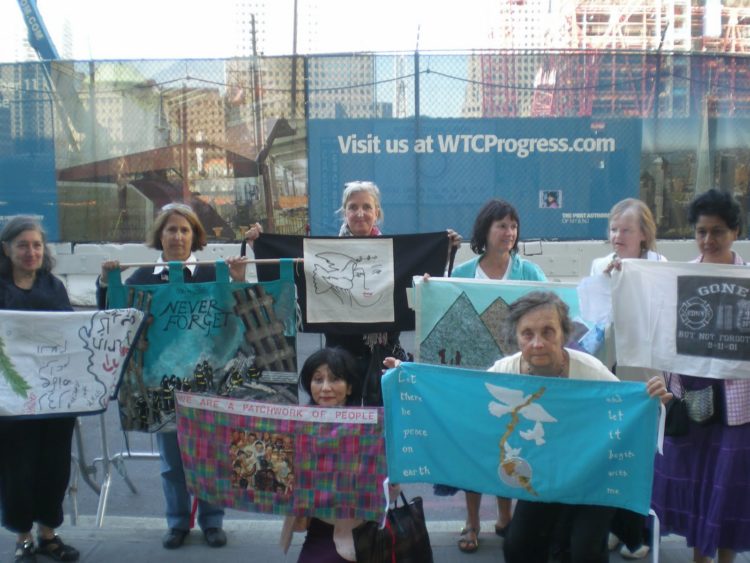 Cancellati gli eventi pubblici, cresce la consapevolezza
In questi giorni silenziosi e strani, mentre la vita sociale in Italia (e non solo…) è congelata e dominano le notizie – un po' ripetitive – dei media, si rischia di perdere di vista tutto ciò che non riguarda le difficili gestioni familiari e il coronavirus. Soprattutto sembrano scomparse le grandi problematiche internazionali: le guerre in corso, le tragedie dei migranti, i traffici di armi, il controllo informatico del settore militare… E invece sono proprio le grandi problematiche su cui dovremmo interrogarci: se una pandemia come quella in corso, con un tasso di mortalità basso e uno scarso impatto (salvo il carico sul sistema ospedaliero) sulle infrastrutture portanti della società mondiale – trasporti, comunicazioni, fonti energetiche – ha bloccato il mondo, che scenario si aprirebbe in caso di esplosione nucleare, voluta o accidentale?
In queste lunghe giornate in casa la prospettiva di fare con le proprie mani un pannello 'antinucleare'  forse può aiutarci a mantenere un po' di equilibrio e di serenità, e a concentrare energie e creatività per creare una tangibile protesta contro la follia degli armamenti nucleari.
I dati più recenti (febbraio 2020) pubblicati dal Bulletin of Atomic Scientists ci aggiornano sugli arsenali atomici di due grandi potenze, USA e Russia:
Il Dipartimento della Difesa USA dichiara una scorta di 3.800 testate nucleari, di cui 1.750 pronte all'uso, e 2.500 di riserva. A queste si aggiungono circa 2.000 altre testate nucleari che sono in attesa di essere disattivate e smontate.  In totale, dunque, 5.800 testate nucleari.
All'inizio del 2020 si stima che la Russia abbia un arsenale di circa 4.310 testate nucleari, di cui 1.570 pronte all'uso, in parte su missili balistici a terra, in parte su sottomarini, e in parte conservate in basi atomiche. Anche i russi hanno circa 2.000 testate già ritirate, ma non ancora smantellate.
Insomma, ciascuna delle due potenze ha costruito e tiene pronto un arsenale capace di distruggere la vita sull'intero pianeta non una ma migliaia di volte.  E negli ultimi decenni i Paesi che si sono dotati di armi atomiche sono aumentati, incrementando così il potere distruttivo e i rischi…  e spendendo soldi, materie prime, energia che sarebbero preziosissime per riprendere le attività pacifiche di tante comunità dopo questa pandemia.
Prossimo appuntamento:  agosto 2020
Il 1° agosto 2020 l'Associazione The Ribbon International intende organizzare degli eventi, a New York e in altre città del mondo, per ricordare che sono trascorsi 75 anni dalle tragedie di Hiroshima e Nagasaki, senza che i potenti della Terra siano stati indotti, convinti, obbligati a smantellare gli arsenali atomici. Costruire pannelli con messaggi di pace, e intanto progettare azioni collettive da mettere in atto nei prossimi mesi, può essere un'attività creativa realizzabile in questi giorni di 'sospensione'.  Ci si può scambiare consigli, istruzioni, condividere disegni, tenendo presenti le istruzioni fornite dalle responsabili dell'Associazione, che suggeriscono di:
tagliare un pannello di tessuto robusto, doppio spessore, di qualsiasi colore
la dimensione, a lavoro finito, deve essere di un metro (larghezza) per mezzo metro (altezza)
cucire ai 4 angoli delle strisce di nastro (20 cm) per poter legare i pannelli tra loro
su ciascun pannello cucire, ricamare, bordare, dipingere, incollare ciò che si desidera per esprimere qualcosa che si ama tantissimo del mondo e che di vuole proteggere
sul retro chi lo desidera può scrivere un messaggio e/o il proprio nome.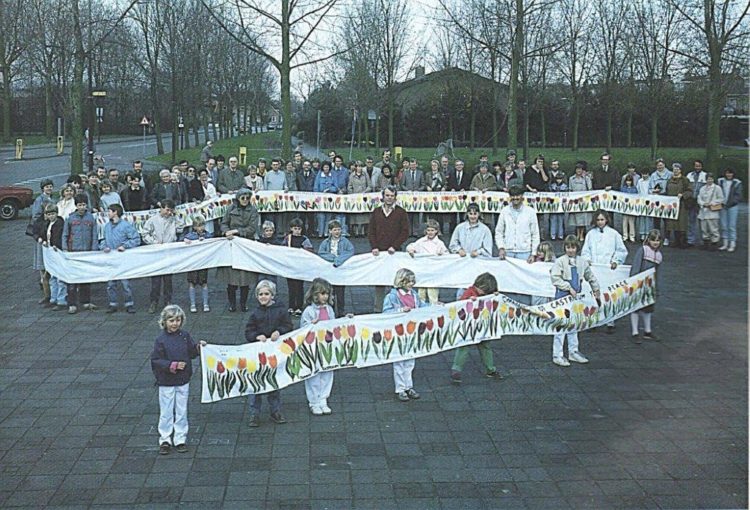 Se questa piccola proposta incontra l'adesione di qualcuna/o, ci si può poi coordinare per stabilire un punto di raccolta dei pannelli e per organizzare iniziative locali, riaffermando con forza la volontà di abolire le armi nucleari dal mondo.
_______________________________________________
Elena Camino è membro della rete TRANSCEND per la Pace, Sviluppo e Ambiente e Gruppo ASSEFA Torino.
Go to Original – serenoregis.org
Tags:
Culture of Peace
,
Nuclear Abolition
,
Nuclear Weapons
,
Peace
DISCLAIMER: The statements, views and opinions expressed in pieces republished here are solely those of the authors and do not necessarily represent those of TMS. In accordance with title 17 U.S.C. section 107, this material is distributed without profit to those who have expressed a prior interest in receiving the included information for research and educational purposes. TMS has no affiliation whatsoever with the originator of this article nor is TMS endorsed or sponsored by the originator. "GO TO ORIGINAL" links are provided as a convenience to our readers and allow for verification of authenticity. However, as originating pages are often updated by their originating host sites, the versions posted may not match the versions our readers view when clicking the "GO TO ORIGINAL" links. This site contains copyrighted material the use of which has not always been specifically authorized by the copyright owner. We are making such material available in our efforts to advance understanding of environmental, political, human rights, economic, democracy, scientific, and social justice issues, etc. We believe this constitutes a 'fair use' of any such copyrighted material as provided for in section 107 of the US Copyright Law. In accordance with Title 17 U.S.C. Section 107, the material on this site is distributed without profit to those who have expressed a prior interest in receiving the included information for research and educational purposes. For more information go to: http://www.law.cornell.edu/uscode/17/107.shtml. If you wish to use copyrighted material from this site for purposes of your own that go beyond 'fair use', you must obtain permission from the copyright owner.