HUFUD-Humanity United For Universal Demilitarisation Now in Africa
ANNOUNCEMENTS, 17 Aug 2020
Alberto Portugheis | HUFUD - TRANSCEND Media Service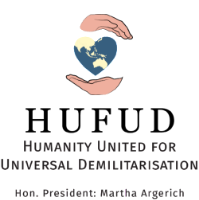 15 Aug 2020 – It is with great joy and excitement that I announce the launch of HUFUD Africa, with Head Offices in Uganda. I hope that Black Lives Matter will help broadcast the news to all their followers and media outlets.
The director is Moses Tokwiny, a graduate of Community Psychology from Makerere. Moses witnessed firsthand the atrocities committed by innocent people on behalf of warlords who control them: in turn, the warlords themselves controlled by foreign representatives of military manufacturers, who use ethnicity, religion, patriotism and nationalism to promote weapon sales.
This results in the never-ceasing cycle of violence and the misery of the entire one and a half billion African population.
Millions die every year in Africa from AIDS and malaria, as well as from many perfectly curable medical conditions, because of an acute shortage of hospitals, medical centres, doctors, nurses, medical equipment, and medicines. However, there is no shortage of guns, bullets, landmines, grenades, bombs, rockets, tanks, mortars and, in the last few years, killing drones.
Millions of Africans live on the streets. Illiteracy is rampant – around 50% in many countries, with Togo reaching over 60% illiteracy. However, there is no lack of education for those joining the armed forces, which for many, is the only job opportunity, even for children, if they want to eat at the end of the day.
Millions die every year from malnutrition, yet food outlets all over Europe are packed with African products. This, to me, is like treating Africans as if they still were the slaves of Europeans, working day and night to grow beautiful fruits and vegetables for the European masters to enjoy. I find this situation, not only unfair, but also immoral.
Nothing will ever change if the world does not stop designing, developing, manufacturing and selling military ware forever. Weapons are not a deterrent. If they were, there wouldn't be a single armed conflict in the world. Weapons and explosives are made exclusively for killing.
I hope you will all help HUFUD and especially Moses–a first-hand witness of what I'm telling you is the truth–to make Africa the first continent on our beautiful planet to be free of armed forces and of dictators (or democratically elected governments) who work for the benefit of military manufacturers and traders.
The whole of Africa should say to Europe and America, "Pay for our oil, gold and other precious minerals with money, not with guns and bombs". Africa will then lead the entire earth by example.
www.hufud.org (English, Spanish and Swahili)
______________________________________________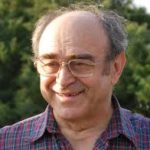 Alberto Portugheis is a member of the TRANSCEND Network for Peace Development Environment. By profession a concert pianist and pedagogue, he is an active peace campaigner, whose anti-military stance earned him a nomination for the 2008 Nobel Peace Prize. As a result, Portugheis wrote Dear Ahed…..The Game of War and a Path to Peace – a book that has received critical acclaim.  Another successful book followed: $$$$$s In Their Hearts. In 2015 he founded the Movement HUFUD-Humanity United For Universal Demilitarisation, which has many followers worldwide.  In 2018 HUFUD Latin America was born, based in Bogotá, Colombia. In Portugheis' writings, speeches, thoughts, ideas and reflections transpire his desire "to make people think" and not take for granted what they read or hear, "no matter where."
Tags:
Anti-militarism
,
Arms Industry
,
Arms Race
,
Arms Trade
,
Demilitarization
,
Military
,
Military Industrial Complex
,
Weapons
This article originally appeared on Transcend Media Service (TMS) on 17 Aug 2020.
Anticopyright: Editorials and articles originated on TMS may be freely reprinted, disseminated, translated and used as background material, provided an acknowledgement and link to the source, TMS: HUFUD-Humanity United For Universal Demilitarisation Now in Africa, is included. Thank you.
If you enjoyed this article, please donate to TMS to join the growing list of TMS Supporters.


This work is licensed under a CC BY-NC 4.0 License.