(Italiano) Cappellani militari e obiettori di coscienza: da che parte stare
ORIGINAL LANGUAGES, 7 Sep 2020
Antonino Drago | Centro Studi Sereno Regis – TRANSCEND Media Service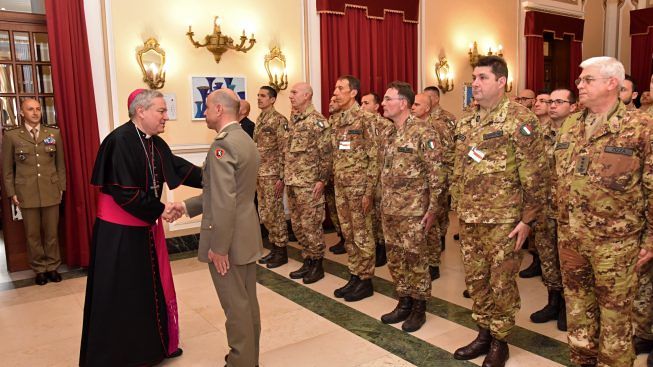 1 Settembre 2020 – Il 19 agosto sera sono rimasto addolorato. Mi preparavo a recitare il rosario del mercoledì assieme a mia moglie quando ho scoperto che esso veniva recitato dalla Diocesi militare, ovvero castrense.
La cosa mi fa male perché quella diocesi è esclusiva, riguarda solo dei professionisti. Quante altre diocesi allora ci dovrebbero essere? Perché non una diocesi di insegnanti di religione nelle scuole? E, di questi tempi, una diocesi dei medici?
Inoltre è esclusiva perché i cappellani militari sono anche ufficiali dell'esercito; quindi sono separati dai civili.
È esclusiva anche perché nell'esercito italiano non sono ammessi cappellani militari di altre religioni.
Tempo fa esistevano i cappellani di fabbrica. Poi i padroni non li hanno pagati più e questo tipo di cappellani è stato eliminato. Che succederebbe della diocesi castrense se lo Stato italiano non la finanziasse più?
Quella diocesi è esclusiva anche perché, anche dopo più di cinquant'anni, non ha compiuto nessun atto di riconciliazione con gli obiettori tutti, dopo averli insultati come "vili e fuori del Vangelo", né con Don Milani che li aveva difesi e per questo è stato processato.
Oggi la Chiesa si onora di avere obiettori di coscienza, a cominciare da Jagestatter, beatificato, e poi le decine di migliaia di giovani obiettori che hanno fatto servizio nella Caritas. Se ne sono accorti i cappellani militari?
Infine quella diocesi è esclusiva anche perché, andando contro la Costituzione (che, come la Corte Costituzionale ha sentenziato una decina di volte, prevede una "difesa della Patria" senza armi posta alla pari della difesa con le armi) non ha alcuna compartecipazione con i giovani del Servizio Civile, che pure anche loro fanno difesa nazionale e anche loro avrebbero bisogno di una pastorale specifica.
E poi prima del rosario il vescovo castrense ha ricordato le missioni di pace dei militari all'estero, quando a tutti è noto che questa dizione è propaganda, perché ad esempio gli interessi dell'ENI in Iraq e in Nigeria (senza mandato internazionale) non si possono onestamente chiamare di Pace. Invece la Pace oggi richiederebbe, se si ha il coraggio di dire "sì, sì e no, no" al proprio finanziatore, di seguire Papa Francesco nella obiezione di coscienza radicale all'illegale presenza a Ghedi e ad Aviano di 90 bombe nucleari, al loro potenziale uso italiano in una guerra e alla loro sorveglianza quotidiana.
Inoltre mi ha fatto tristezza vedere le crocerossine; giustamente in italiano le si chiama con una specie di diminutivo. La Croce rossa è nata per iniziativa civile proprio per contrastare le guerre; e invece oggi, specie in Italia, è strettamente legata alle operazioni militari, tanto da farsi programmare preventivamente il suo intervento. Che differenza con Emergency che non accetta finanziamenti da chi le guerre le fa e assiste tutti senza distinguere tra compatrioti e nemici! Quanta generosità e spirito di sacrificio mal direzionati nella Croce rossa! Dov'è qui la pastorale dei cappellani militari se convivono con questa stortura?
Chiariamoci. Io voglio anche pregare e fare la comunione assieme ai militari (tra i quali ho avuto anche amici), ma nella chiarezza, senza travestimenti da quattro soldi per approfittarsi della ingenuità della gente, senza farmi pensare che i cappellani militari non sanno più presentarsi con la schiena dritta; come era invece ai tempi del papa San Giovanni XXIII, il quale fu cappellano, ma volontario senza gradi militari durante la guerra in trincea.
E che invece ora si ritrova a fare il santo patrono di una diocesi esclusiva, anti-ecumenica, mantenuta dallo Stato e pronta a mettere la Pacem in terris al di sotto di ogni strategia di supremazia militare del nostro tempo, quel tipo di strategia che lui, come altri cappellani (volontari) del tempo (P. Pio, D. Minzoni, ecc.) chiamava da "vampiri".
La diocesi castrense abbia il coraggio di presentarsi in un dibattito pubblico per dire alla gente (che è quella che la paga con le sue tasse) le sue ragioni per mantenere questo tipo di pastorale che a tanti appare anti-ecclesiale (se ecclesia significa essere uniti in una assemblea); non si nasconda dietro il fatto che per parlare in pubblico i cappellani militari, come ufficiali, debbono avere il permesso dal Ministero della Difesa, il quale di solito ci mette due anni a concederlo.
_______________________________________
Lettera inviata a TV 2000

Antonino Drago è stato professore associato di Storia della Fisica all'Università di Napoli, in pensione dal 2004, è membro della Rete TRANSCEND per la Pace, Sviluppo e Ambiente, e insegna presso la TRANSCEND Peace University-TPU.
Go to Original – serenoregis.org
Tags:
Conscientious Objector
,
Military
,
Religion
DISCLAIMER: The statements, views and opinions expressed in pieces republished here are solely those of the authors and do not necessarily represent those of TMS. In accordance with title 17 U.S.C. section 107, this material is distributed without profit to those who have expressed a prior interest in receiving the included information for research and educational purposes. TMS has no affiliation whatsoever with the originator of this article nor is TMS endorsed or sponsored by the originator. "GO TO ORIGINAL" links are provided as a convenience to our readers and allow for verification of authenticity. However, as originating pages are often updated by their originating host sites, the versions posted may not match the versions our readers view when clicking the "GO TO ORIGINAL" links. This site contains copyrighted material the use of which has not always been specifically authorized by the copyright owner. We are making such material available in our efforts to advance understanding of environmental, political, human rights, economic, democracy, scientific, and social justice issues, etc. We believe this constitutes a 'fair use' of any such copyrighted material as provided for in section 107 of the US Copyright Law. In accordance with Title 17 U.S.C. Section 107, the material on this site is distributed without profit to those who have expressed a prior interest in receiving the included information for research and educational purposes. For more information go to: http://www.law.cornell.edu/uscode/17/107.shtml. If you wish to use copyrighted material from this site for purposes of your own that go beyond 'fair use', you must obtain permission from the copyright owner.