(Français) Bolivie : le triomphe du MAS, c'est le triomphe d'un projet collectif des organisations sociales
ORIGINAL LANGUAGES, 26 Oct 2020
Denise Godoy | NODAL - TRANSCEND Media Service
21 oct 2020 – Ce dimanche 18 octobre, la Bolivie a enfin tenu ses élections présidentielles. Elles avaient été reportées à trois reprises. Les décomptes officieux indiquent une victoire retentissante de Luis Arce avec plus de 51% des voix, devant ses principaux adversaires Carlos Mesa et Luis Camacho. Le journaliste bolivien Julio Peñaloza Bretel explique les raisons de cette victoire historique, alors que le scrutin avait été reporté à trois reprises et que la droite au pouvoir après le putsch contre Evo Morales s'était lancée dans une campagne acharnée contre le MAS.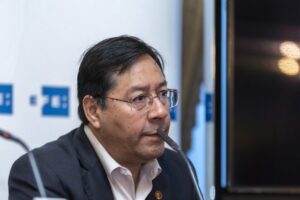 Pourquoi pensez-vous que le MAS a encore gagné les élections ?
Principalement, c'est parce que la base du Mouvement vers le Socialisme – Instrument Politique pour la Souveraineté du Peuple (MAS-IPSP) a été réorientée. Les indigènes de Bolivie ont fait corps. Même Felipe Quispe, leader indigène connu pour être un opposant d'Evo Morales, s'est prononcé en faveur du MAS. Il a déclaré: « Nous devons voter pour un de nos frères, David Choquehuanca, candidat à la vice-présidence, et parce que le MAS a montré comment construire l'unité face à la fragmentation de la droite qui, comme si cela ne suffisait pas, manquait de contenu programmatique ». Toujours réactive et anti-MAS, la droite a cherché des votes utiles, voulant profiter des faiblesses du MAS. Mais elle n'a pas été capable de développer son propre potentiel politique. C'est l'un des facteurs fondamentaux pour comprendre le résultat. Ils n'ont jamais su s'unir. Même en additionnant les voix de Carlos Mesa à la deuxième place et celles de Luis Camacho à la troisième, ils n'auraient pas pu vaincre le MAS. Bien sûr, Camacho a empêché Mesa d'obtenir un meilleur score. Mais même en additionnant tous les votes de l'opposition, cela n'aurait pas été suffisant, car le MAS a réussi à surmonter la barrière des 51%. L'unité a pris le pas sur la fragmentation.
Comment expliquez-vous une victoire aussi éclatante ?
Il y a eu un vote caché qui est apparu de manière persistante dans tous les sondages d'opinion. Entre 5 à 7 % des sondés ne voulaient pas répondre qu'ils allaient voter pour le MAS. Il s'agit d'un projet politique historique, avec un profond sens de la communauté qui transcende le «caudillo». Ainis, ceux qui pensaient que la présence d'Evo ou non sur les bulletins de vote était une question de vie ou de mort, ont aujourd'hui pu vérifier que l'enjeu a transcendé la figure d'Evo Morales, le leader charismatique, et qu'il s'agit d'un projet collectif des organisations sociales, qui s'exprime fondamentalement à travers la Confédération des paysans, les organisations indigènes, les «bartolinas» paysannes et indigènes, les paysans migrants qui vont de l'ouest à l'est du pays et la Centrale Ouvrière Bolivienne qui rassemble les travailleurs des villes. Il s'agit d'un projet communautaire et collectif, national et populaire. La droite ne l'a pas vu venir parce qu'ils ont sous-estimé les indigènes, qui constituent la base fondamentale de ce pays et qui s'expriment à travers les 36 nationalités et peuples indigènes qui font aujourd'hui de la Bolivie, du point de vue juridique, non pas une République, mais un État plurinational.
Quelle est votre analyse de l'échec de la droite bolivienne près d'un an après le coup d'État ?
Elle est fondamentalement due aux erreurs, à l'ineptie et à la corruption, en plus de l'illégitimité avec laquelle Jeanine Áñez est arrivée à la présidence. Ils ont mis l'accent sur la persécution politique des dirigeants du MAS, ils ont commis une série d'outrages, dont des atrocités qui incluent les massacres de Senkata et Sacaba, deux villes semi-rurales ayant subi un siège militaro-policier fortement répressif. Les putschistes pensaient pouvoir contrôler le coronavirus en militarisant les rues plutôt que de miser sur le travail des médecins et des infirmières. Leurs calculs ont échoué, car si les élections avaient eu lieu en mars, ils auraient probablement pu se battre au moins pour un second tour. Ce dicton de l'adage populaire selon lequel « le danger est dans le retard » s'est fidèlement réalisé, car l'élection a été reportée à trois reprises et cela a donné au MAS du temps et de l'espace pour se réarticuler. Ils ont également favorisé certaines accusations, étrangères à la droite, mais liées au contexte général, contre Evo Morales, ce qui lui a fait baisser un peu le ton. Cela a permis au MAS de réaliser une campagne plus autonome en Bolivie, moins dépendante des instructions qui venaient ou partaient de Buenos Aires. Je pense que cet ensemble d'éléments explique l'échec de la droite. Les candidats de droite ne savaient pas comment lire cela et lorsque Jeanine Áñez est sortie de la course à la présidence, il était déjà trop tard. Je pense qu'ils ont raté le coche. Leur défaite est due à leur obsession anti-MAS, anti-Evo Morales. Ils étaient plus préoccupés par la poursuite du MAS que par la réflexion sur un projet alternatif de leur cru.
Comment le processus de transition devrait-il se dérouler ?
Le processus de transition devrait avoir lieu le 4 novembre avec la présentation des pouvoirs des députés et sénateurs élus, et la semaine suivante verrait l'inauguration du président et du vice-président. Il est prévu d'organiser une table de coordination de la transition entre les gouvernements élus et sortants. Espérons qu'il n'y aura pas trop de bruits ou d'interférences. Cela dépendra beaucoup de la prudence avec laquelle le MAS jouera le jeu. Une chose très importante à garder à l'esprit est que les résultats officiels devraient être publiés à 100 % le mercredi 21 octobre. Espérons que c'est le cas et que cette affaire se termine afin que nous puissions consolider les données et rendre la victoire du MAS officielle.
___________________________________________
Source originale: Nodal
Traduit de l'espagnol par R. Morgantini pour Investig'Action
Go to Original – investigaction.net
Tags:
Bolivia
,
Bolivian Coup
,
Capitalism
,
Conflict
,
Economics
,
Evo Morales
,
Geopolitics
,
Hegemony
,
Human Rights
,
Imperialism
,
Indigenous Rights
,
Latin America Caribbean
,
Lithium
,
Military Intervention
,
Neocolonialism
,
Politics
,
Power
,
Racism
,
Resources
,
USA
,
Violence
DISCLAIMER: The statements, views and opinions expressed in pieces republished here are solely those of the authors and do not necessarily represent those of TMS. In accordance with title 17 U.S.C. section 107, this material is distributed without profit to those who have expressed a prior interest in receiving the included information for research and educational purposes. TMS has no affiliation whatsoever with the originator of this article nor is TMS endorsed or sponsored by the originator. "GO TO ORIGINAL" links are provided as a convenience to our readers and allow for verification of authenticity. However, as originating pages are often updated by their originating host sites, the versions posted may not match the versions our readers view when clicking the "GO TO ORIGINAL" links. This site contains copyrighted material the use of which has not always been specifically authorized by the copyright owner. We are making such material available in our efforts to advance understanding of environmental, political, human rights, economic, democracy, scientific, and social justice issues, etc. We believe this constitutes a 'fair use' of any such copyrighted material as provided for in section 107 of the US Copyright Law. In accordance with Title 17 U.S.C. Section 107, the material on this site is distributed without profit to those who have expressed a prior interest in receiving the included information for research and educational purposes. For more information go to: http://www.law.cornell.edu/uscode/17/107.shtml. If you wish to use copyrighted material from this site for purposes of your own that go beyond 'fair use', you must obtain permission from the copyright owner.