Why the UN Can't Eliminate Nuclear Weapons
WEAPONS OF MASS DESTRUCTION, 19 Oct 2020
Roger Kotila, PhD | Democratic World Federalists – TRANSCEND Media Service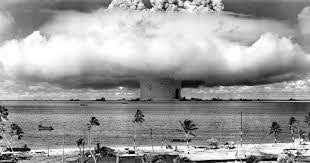 15 Oct 2020 – Is the UN's attempt to eliminate nukes a lesson in futility?  It may be, unless we can identify nations that will work with us for the needed Charter Review with the Earth Constitution as a potential guide and model for a "new UN" (this strategy is known as the San Francisco Promise).
The UN and peace activists know that nukes are a horrible danger. But they are trying to solve the problem by remaining within the current UN geopolitical paradigm. This means relying on persuasion for cooperation between the nations, getting an international legal ban on nukes (which can't be enforced), and signing treaties ("multilateralism") agreeing to disarm and eliminate nukes.
What's wrong with this picture? Treaty agreements (to ban nukes) are like building on quicksand — they can't be trusted. The UN must face reality and become a world government. Hence, this well-meaning, helpful strategy during the UN 75th should be seen as an interim step — but not penetrating deeply enough to get the job done.
Here is where Democratic World Federalists, the Center for UN Constitutional Research, and WCPA-India/Earth Constitution Institute must lead the way. We must convince some of the nations at the UN (those that fear nukes) to join THE SF PROMISE which requires a review of the obsolete UN Charter to open the door to a new Charter. The Earth Constitution (earth-constitution.org) can be the guide and model for forming a "new UN".
Frankly, the UN General Assembly should take over decision-making from the UN Security Council (P-5 veto powers) which has shown that it can't do the job. The UNGA could be the House of Nations (see Earth Constitution) in the initial stage of forming a World Parliament.
The UN Security Council P-5 in my opinion is blocking nuclear disarmament and world peace. This is a bitter truth backed up by its history of failures. I don't think the UNSC can be considered legitimate as it is not representative of the world community,… and the P-5 are the leading weapons dealers in the world.
Violations of international law and UN conventions are routine by the P-5. They reject law and order for themselves. They mock the International Criminal Court. They are above the Law as they hide behind the "sovereignty" granted them in the defective UN Charter.
I believe there is an opportunity to get concerned nations on board with us to make the changes that are needed.  It is time for world federalists to quit kicking the can down the road.
_____________________________________________

Roger Kotila, Ph.D. is a psychologist (ret.) with many years of clinical experience with the California Dept. of Corrections doing psychiatric diagnosis and treatment with inmates. President of Democratic World Federalists and Editor of Earth Federation News & Views, he supports a "new UN" under the Earth Constitution.  Email: earthstarradio@aol.com
Tags:
Alamogordo New Mexico
,
Atomic Weapons
,
Hibakusha
,
ICAN-International Campaign to Abolish Nuclear Weapons
,
Manhattan Project
,
Nuclear Abolition
,
Nuclear Arms in Space
,
Nuclear Ban Treaty
,
Nuclear Disaster
,
Nuclear Weapons
,
Nuclear club
,
Nuclear war
,
Pentagon
,
USA
,
WMD
,
WWII
This article originally appeared on Transcend Media Service (TMS) on 19 Oct 2020.
Anticopyright: Editorials and articles originated on TMS may be freely reprinted, disseminated, translated and used as background material, provided an acknowledgement and link to the source, TMS: Why the UN Can't Eliminate Nuclear Weapons, is included. Thank you.
If you enjoyed this article, please donate to TMS to join the growing list of TMS Supporters.


This work is licensed under a CC BY-NC 4.0 License.