Trump's Twitter Ban May Be Justified, but That Doesn't Mean Tech Giants' Power Isn't Scary
MEDIA, 18 Jan 2021
Alan MacLeod | FAIR Fairness & Accuracy In Reporting – TRANSCEND Media Service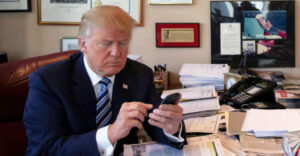 15 Jan 2021 – In the wake of the dramatic storming of the Capitol last week, a host of big media companies, including Facebook, Reddit, Pinterest, Twitch, YouTube, Snapchat, Instagram and TikTok, have all taken measures against Donald Trump. Making the most headlines, however, was the decision of the president's favorite medium, Twitter (8 Jan 21), to permanently suspend him "due to the risk of further incitement of violence."
It's difficult to argue that Trump did not repeatedly violate Twitter's rules against "threaten[ing] violence" and "glorification of violence," justifying his ban. But we urgently need to rethink the power of these social media behemoths, because there are plenty of other examples where their enforcement of their rules has been arbitrary and non-transparent.
Whether one saw the assault on the halls of Congress as a coup attempt (e.g., Atlantic, 1/6/21; Buzzfeed News, 1/6/21; Guardian, 1/6/21), a "riot" (MSNBC, 1/10/21; Wall Street Journal, 1/12/21) or "protests" (Fox News, 1/7/21, 1/8/21), there is no doubt that Trump did incite the crowd to invade the seat of government. Instructing his followers to "fight like hell" to stop a "stolen election," he insisted: "You'll never take back our country with weakness. You have to show strength, and you have to be strong."
The media reaction to the social media ban was varied. Writing in tech publication ZDNet (1/7/21), Steven J. Vaughan-Nichols supported the decision. "The right to free speech doesn't give you the right to right to shout fraud in a fractured country," he said. "Twitter should have suspended Trump's account years ago," wrote Sarah Manavis in the New Statesman (1/7/21):
For years the president has been allowed to tweet anything he wants, with deadly consequences…. The case for kicking one of its highest-profile users off the platform is self-evident.
Meanwhile, Chris Stevenson in the London Independent (1/11/21) argued that privately owned websites have every right to remove their services from users.
Jessica J. González, co-CEO of the media advocacy group Free Press (1/9/21) and co-founder of the anti-hate speech Change the Terms coalition, hailed the ban as a victory for media activism:
Twitter's decision to permanently suspend Donald Trump is a victory for racial-justice advocates who have long condemned his continued abuse of the platform.

From the launch of his presidential campaign when he defamed Mexicans as rapists, criminals and drug dealers, to the desperate last gasps of his presidency as he has egged on white supremacists to commit violence and insurrection, Trump had used his Twitter account to incite violence, lie about the election outcome, encourage racists and spread conspiracy theories. He did not deserve a platform on Twitter, or on any other social or traditional media.
Others were not so heartened by the news. Writing in Politico (1/10/21), European Union official Thierry Breton worried:
The fact that a CEO can pull the plug on POTUS's loudspeaker without any checks and balances is perplexing. It is not only confirmation of the power of these platforms, but it also displays deep weaknesses in the way our society is organized in the digital space.
National leaders like German Chancellor Angela Merkel and Mexican President Andrés Manuel López Obrador also characterized the move as a blow against free speech. New York Times columnist Michelle Goldberg (1/11/21) was in the middle, stating that tech giants were right to ban Trump, but worried about the "scary power" they were amassing.
Perhaps the most histrionic reaction came from Donald Trump Jr., who tweeted (1/9/21):
The world is laughing at America & Mao, Lenin, & Stalin are smiling. Big tech is able to censor the President? Free speech is dead & controlled by leftist overlords.
In reality, of course, actual, self-described leftist and Communist figures are routinely purged from the site. Twitter shut down virtually the entire Cuban state media apparatus in 2019, removed tens of thousands of accounts it claims were linked to the Chinese Communist Party, and has suspended Venezuelan President Nicolás Maduro's account multiple times without explanation. These moves failed to elicit handwringing condemnations and essays on the nature of free speech, however.
With the power that he wields as president, Trump is undoubtedly the most belligerent user in Twitter history, using the platform to threaten genocide against Iran and threaten North Korea with "total destruction" (presumably nuclear in nature). So blatant were his violations of the site's anti-violence rules that it had to craft new "public-interest exemptions" to justify not kicking him off. Although they couched their decisions in the language of free speech, the president's wild proclamations were always a huge money spinner; Twitter lost $3.4 billion in market value overnight after announcing the ban last week.
While Trump's actions clearly breached the company's terms of service by not only calling for but producing violence, the affair brings up bigger questions about private ownership of public forums and the massive power social media giants like Facebook and Twitter hold over the public sphere. Sixty-eight percent of American adults use Facebook and 25% use Twitter. Both platforms are huge gateways and distributors of news around the world. Facebook is by a long way the most widely used news source in the United States, and both platforms have user bases far larger than the collective circulation of all daily US newspapers. They also give ordinary people the opportunity to share information and build communities, making them immensely important parts of the modern public square.
A free press is the cornerstone of any open, democratic society. But like it or not, in just a few short years, massive online companies have far surpassed the reach of legacy media outlets, with news generally being broken on Twitter before anywhere else. Companies like Google and Facebook have become monopolies by design, squeezing out or buying up the competition. There are no practical alternatives of any size to these behemoths, raising questions of whether they should be in private ownership at all, given their importance to the public discourse.
Western governments already exercise considerable control over the content of social media, but for their own interests, not ours. In 2018, Facebook announced it would be working closely with the Atlantic Council to help it curate its news feeds and stamp out false information (FAIR.org, 5/21/18). The Atlantic Council is a NATO cutout organization funded by the State Department and allied foreign governments. Its board of directors includes high-ranking Bush-era officials like Condoleezza Rice and Colin Powell, US military generals and no fewer than eight former CIA chiefs. When organizations such as these influence the most influential means of global communication, that is coming close to state censorship on a worldwide scale.
Meanwhile, in 2019, a senior Twitter executive was unmasked as an officer in the British Army's psychological operations and online warfare division. Corporate media reacted with a collective yawn, the news covered by only one US outlet of any note (Newsweek, 10/1/19; see FAIR.org, 10/24/19)—a response that raises many troubling questions about the relationship between deep state and fourth estate. The journalist who covered the story resigned a few weeks later, citing stifling top-down censorship.
Perhaps this helps explain why the online media giants' primary targets of censorship have always been the domestic left and foreign enemies of Washington. Facebook has shut down pages belonging to a myriad of anti-establishment groups, such as Occupy London and the anti-fascist No Unite the Right, while suspending those of alternative media like TeleSUR English and Venezuelanalysis.
Last year it also announced that, since President Trump had designated the Iranian Revolutionary Guard Corps (IRGC) a terrorist organization, all posts presenting recently slain General Qassem Soleimani in a positive light would be immediately deleted across its platforms (Instagram, WhatsApp, etc.). "We operate under US sanctions laws, including those related to the US government's designation of the IRGC and its leadership," a company spokesperson said. Taking into account that Soleimani had a more than 80% domestic approval rating, this meant that one pronouncement from Trump effectively barred Iranians from sharing their overwhelmingly popular opinion online with each other.
Facebook has also deliberately changed its algorithm in an attempt to throttle traffic to left-wing news sites. Last year, the Wall Street Journal (10/16/20) reported that Mark Zuckerberg personally approved changes that would hit "left-leaning" political news sites harder than previously planned. Meanwhile, conservative and far-right commentators dominate the site, despite their constant and well-documented violations of the terms of service.
Twitter has also purged hundreds of thousands of Russian, Chinese, Turkish and Venezuelan accounts, while constantly suspending antiwar voices and publications. Like with Facebook, left-wing independent news site Venezuelanalysis is a favorite target.
Private companies probably should not be hosting the largest online forums. However, if they do, there need to be transparent and enforced rules in place to deal with grave breaches of conduct. In this sense, it was a prudent decision from social media companies to suspend or ban the president, who has flagrantly disregarded those rules for years.
However, Silicon Valley corporations are far from neutral moral arbiters, and have a history of abusing their power. In 2018, it took barely 24 hours for big tech companies to shift their ire from conservative conspiracy theorist Alex Jones to the left (FAIR.org, 8/22/18), deleting and suspending accounts with little rhyme or reason. Don't expect this to be the last highly controversial censorship decision they make.
______________________________________________

Alan MacLeod is an academic and journalist. He is a staff writer at Mintpress News and a contributor to Fairness and Accuracy in Reporting –FAIR. He is the author of Bad News from Venezuela: Twenty Years of Fake News and Misreporting.
Tags:
Social media
,
Trump
,
Twitter
DISCLAIMER: The statements, views and opinions expressed in pieces republished here are solely those of the authors and do not necessarily represent those of TMS. In accordance with title 17 U.S.C. section 107, this material is distributed without profit to those who have expressed a prior interest in receiving the included information for research and educational purposes. TMS has no affiliation whatsoever with the originator of this article nor is TMS endorsed or sponsored by the originator. "GO TO ORIGINAL" links are provided as a convenience to our readers and allow for verification of authenticity. However, as originating pages are often updated by their originating host sites, the versions posted may not match the versions our readers view when clicking the "GO TO ORIGINAL" links. This site contains copyrighted material the use of which has not always been specifically authorized by the copyright owner. We are making such material available in our efforts to advance understanding of environmental, political, human rights, economic, democracy, scientific, and social justice issues, etc. We believe this constitutes a 'fair use' of any such copyrighted material as provided for in section 107 of the US Copyright Law. In accordance with Title 17 U.S.C. Section 107, the material on this site is distributed without profit to those who have expressed a prior interest in receiving the included information for research and educational purposes. For more information go to: http://www.law.cornell.edu/uscode/17/107.shtml. If you wish to use copyrighted material from this site for purposes of your own that go beyond 'fair use', you must obtain permission from the copyright owner.