Endogenous Racism against People of African Origins–Tulsa and Sharpeville: Parallels in History (Part 2)
IN FOCUS, 21 Jun 2021
Prof Hoosen Vawda – TRANSCEND Media Service
The Eternal, Global Injustices towards Black People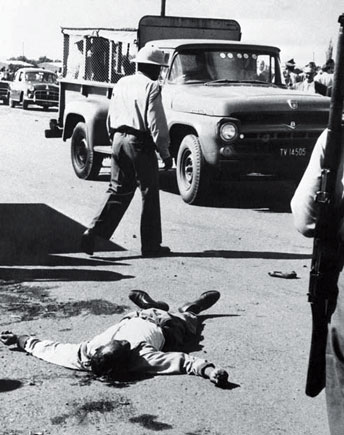 16 Jun 2021 – Historically, the month of June in the Gregorian calendar is significantly important in terms of liberation of the Black people, globally.  The United States Congress approves a bill, marking "Juneteenth: June 19th, a federal holiday, formally marking the end of slavery, and reflects the story of pain, separation, human bondage and highlights the bigotry of African chiefs who sold their own subjects to white colonial slavers for a few trinkets. This was an easy mechanism, in the early days of African history, to eradicate dissidents and anybody who was not a favourite with the Chieftains, forever.  It is also reported by African, oral historian, that if the local chief eyed somebody else's wife, the husband was captured and sold for export abroad, to fulfil the chief's evil desires and lust.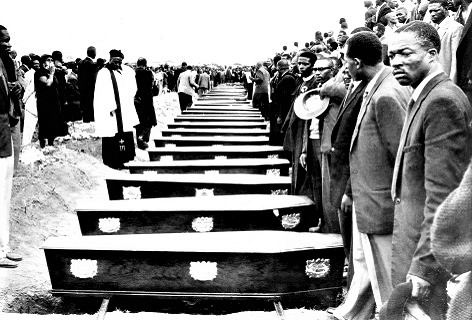 The period between May 30th and June 01st also marks the centennial of the Tulsa Race Massacre in Oklahoma in the States, as well, which sets the stage for highlighting racial discrimination against African Americans.[1]
President Joe Biden called on Americans to 'eradicate systemic racism' in Juneteenth proclamation. "I call upon the people of the United States to acknowledge and celebrate the end of the Civil War and the emancipation of Black Americans and commit together to eradicate systemic racism that still undermines our founding ideals and collective prosperity,"[2] he said in a proclamation issued on 18 June. On Thursday, 17th June 2021, a hundred years and 17 days later, the President of the United States signed into law a measure that creates Juneteenth, which commemorates the end of enslavement in Texas and is now widely recognised as a celebration of African American emancipation, as the nation's 11th  federal holiday.
The name "Sharpeville"[3] for all South Africans is synonymous with suffering, oppression and murder of disenfranchised people of South Africa by the White, racists South Africans. In South Africa June 16th, 2021 marks a sad day in South African history, when in 1976, unarmed, peaceful, Black protesters were mercilessly gunned down by the forces of the much hated, white, racist, apartheid government in Sharpeville, an African township, south of the Golden City and financial hub of South Africa, Johannesburg.
Sharpeville was the centre of two different, major protests by the so-called Non-White people of South Africa[4], the Blacks, as officially designated in the legislature of the country. The first major protest was on, 21st March 1960[5] which resulted in the Sharpeville Massacre, overarching a background of simmering discontent against racial inequalities inflicted by white immigrants who come to the South Africa, initially from Europe and expropriated the land of the indigenous African people.  These colonialists' invaders subjugated the Black tribes and enslaved them in their own land, as they did in the Americas, the Indian peninsula, the East and even far afield, in places like New Zealand where the British occupiers cut off both hands of the Maori Chiefs, starving them to death.[6]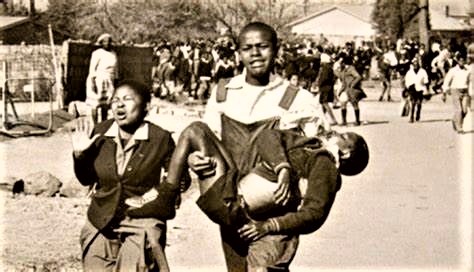 The second major protest emanating from Sharpeville, was on 16th June 1976, when thousands of Black school children in Soweto initiated a protest against the oppressive, white regime.
This day is also a bank holiday in South Africa, which has the greatest number of bank holidays, per annum, in any country in the world, to commemorate the death of Black, indigenous South African, who suffered under the oppressive white colonials, from the arrival of Jan van Riebeeck[7] to the present-day Cape Town in 1652, as the first white man of Dutch origins.  Since then, the white colonialists occupied the land of the Black indigenous people , murdered then, enslaved then, disenfranchised them, under successive regimes from the Dutch, through to the British and finally the Nationalist Party of the Afrikaner whites[8], officially from 1948 until 27th April 1994, when Nelson Rolihlahla Mandela[9] was appointed as the first democratically elected President of the country, ending the oppression of the minority white rule over people of colour of over 50 million indigenous people.
The holiday is called Youth Day[10] to honour the future South Africans, but ironically, while South Africans have achieved democracy and freedom of inter-racial marriages, which was previously prohibited under the Draconian Immorality Act in the legislation of the Nationalist, apartheid government, where it was considered immoral if a black married a white and vice versa.  There was also freedom from the Group Areas Act where each racial group had their own designated residential areas, often with the prime geographical areas allocated to whites and faraway townships were created for the black and brown peoples of South Africa in major cities great distances away from their workplaces. Similarly, religious freedom and freedom of expression is almost possible after 1994, the freedom to integrate, the freedom of access to healthcare facilities, noting that previously there were separate hospitals for Blacks, Browns and Whites, as well as separate cinemas, theatre, restaurants, hotels and even places of worship where different racial groups could not attend and mix.  Similarly, the businesses were separated, banks had different entrances for people of colour and law courts were also segregated.  Superior government funded schools were provided for whites, with excellent sporting facilities while Black scholars had to play football on the township streets.  These large Black townships such as Soweto near Johannesburg and Guguletu[11] in Cape Town are still large, sprawling black townships which have become sites of foreign tourist visitations, crime dens, gang syndicates, drug addiction, "chop shops"[12], dismantling hijacked and stolen cars in the major cities surrounding these townships, often a no go for emergency workers[13] as well as law enforcement officers.  Today, these liberated townships also have large population of patients with HIV[14], Aids, TB, alcoholism and malnutrition as well as morbid obesity. There is no freedom from systemic corruption, at the highest level of the South African government, when the Health Minister was placed on leave following allegations of corruption[15] with procurement grafts during the Covid Pandemic[16], recently, crime, massive unemployment of youth, illiteracy, skills acquisition, and substance addiction as well as personal safety and security although political freedom has been achieved after years of subjugation and oppression, by racist white government, which left an indelible mark on the communities of colour, from which they have not recovered, even after 27 years of liberation and establishment of a democratically elected government.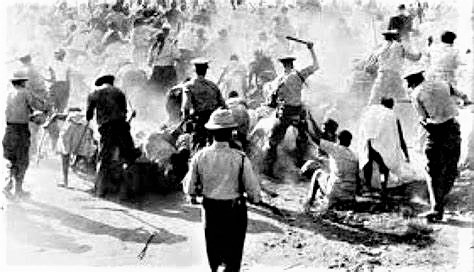 It is opportune to briefly describe the Sharpeville Massacre of 21st March 1960 to realise  how the Black lives were lost in the liberation struggle and how today only lip service is paid to the liberation heroes, without subscribing to the values the activists espoused and the high moral and ethical grounds they stood on by the present day South Africa, which has become a cesspool of corruption, compromised personal safety and security, factionalism, violence against women and children as well as amassment of wealth by a few elite Black people, to the continued suffering, no service delivery to the masses, who are actually worse off than they were under apartheid, according to some rural Blacks.
To review the sentiments of the Black people, who had to carry a "Dom Pass"[17] on their person at all times, at the risk of being arrested and jailed, way back in 1960, the South African Blacks, at the annual conference of the African National Congress (ANC) held in Durban on 16th December 1959, the President General of the ANC, Chief Albert Luthuli[18], announced that 1960 was going to be the "Year of the Pass."[19] Through a series of mass actions, the ANC planned to launch a nationwide anti-pass campaign on 31 March, the anniversary of the 1919 anti-pass campaign.[20]
A week later, a breakaway group from the ANC, the Pan Africanist Congress (PAC) held its first conference in Johannesburg. At this conference, it was announced that the PAC would launch its own anti-pass campaign, demonstrating the disunited factionalism even more than 60 years ago.  It is thought, even at that time, the white forces has infiltrated the Black liberation organisations using the Blacks as informers to sow dissension amongst the group as whole.  This was done to achieve their agenda of a disjointed Black community. This was not evident amongst the African American movement for equal Black rights in the States as is the factionalism in South African government following the recall of President Zuma[21] and "stepping aside" of many senior members of the ruling party, the African National Congress[22], in power since 1994.
However, early in 1960 both the ANC and PAC embarked on a concerted drive to prepare their members and Black communities for the proposed nationwide campaigns. The PAC called on its supporters to leave their passes at home on the appointed date and gather at police stations around the country, making themselves available for arrest. The campaign slogan was "NO BAIL! NO DEFENCE! NO FINE!" The PAC argued that if thousands of people were arrested, then the jails would be filled and the economy would come to a standstill. Although the protests were anticipated, no one could have predicted the consequences and the repercussions this would have for South African and world politics. An article entitled "PAC Campaign will be test," published in the 19 March 1960 issue of Contact, the Liberal Party newspaper, described the build up to the campaign.
At a press conference held on Saturday 19th March 1960, PAC President Robert Sobukwe[23] announced that the PAC was going to embark on an anti-pass campaign on Monday the 21st March 1960.  Circulars were printed and distributed to the members of the organisation and on the 21st of March, a Monday, in obedience to a resolution they had taken, the members of the Pan Africanist Congress surrendered themselves at various police stations around the Country.  At the press conference Sobukwe emphasized that the campaign should be conducted in a spirit of absolute non-violence and that the PAC saw it as the first step in Black people's bid for total independence and freedom by 1963[24].  Early on the 21st March 1960, the local PAC leaders first gathered in a field not far from the Sharpeville police station, when a sizable crowd of people had joined them they proceeded to the police station – chanting freedom songs and calling out the campaign slogans "Izwe lethu" (Our land); "Awaphele amapasti" (Down with passes); "Sobukwe Sikhokhele" (Lead us Sobukwe); "Forward to Independence, Tomorrow the United States of Africa."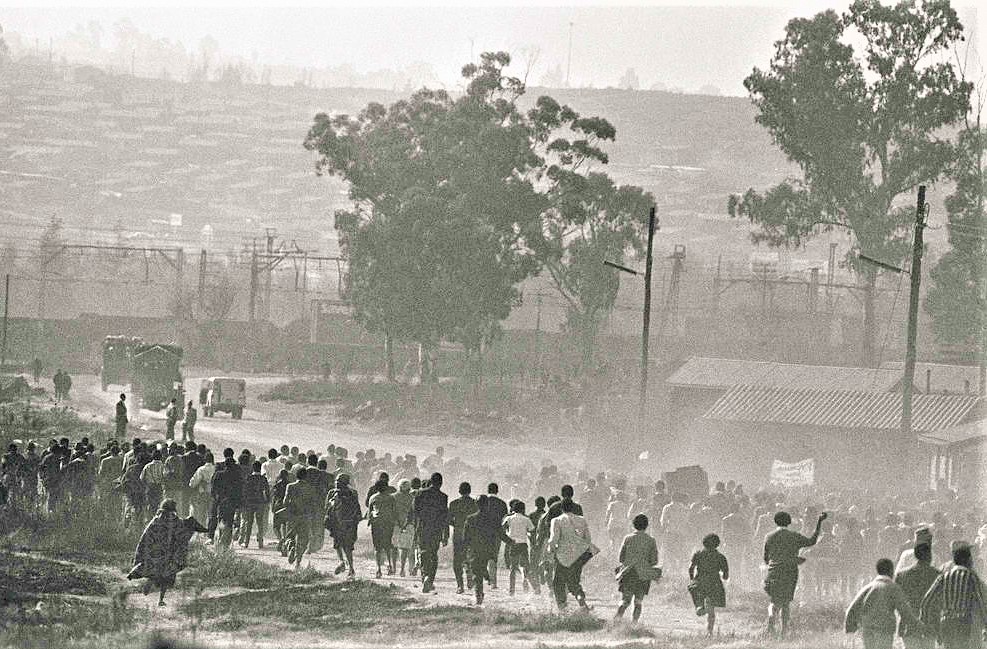 When the marchers reached Sharpeville's police station a heavy contingent of policemen were lined up outside, many on top of British-made Saracen armored[25] cars. Mr. Tsolo and other members of the PAC Branch Executive[26] continued to advance – in conformity with the novel PAC motto of "Leaders in Front" – and asked the White policeman in command to let them through so that they could surrender themselves for refusing to carry passes. Initially the police commander refused but much later, approximately 11h00, they were let through; the chanting of freedom songs continued and the slogans were repeated with even greater volume. Journalists who rushed there from other areas, after receiving word that the campaign was a runaway success confirmed "that for all their singing and shouting the crowd's mood was more festive than belligerent"[27]
By mid-day approximately 300 armed policemen faced a crowd of approximately 5000 people. At 13h15 a small scuffle began near the entrance of the police station. A policeman was accidently pushed over, and the crowd began to move forward to see what was happening.  According to the police, protesters began to stone them and, without any warning, one of the policemen on the top of an armoured car panicked and opened fire. His colleagues followed suit and opened fire. The firing lasted for approximately two minutes, leaving 69 people dead and, according to the official inquest, 180 people seriously wounded. The policemen were apparently jittery after a recent event in Durban where nine policemen were shot.
Unlike elsewhere on the East Rand where police used baton when charging at resisters, the police at Sharpeville used live ammunition. Eyewitness accounts attest to the fact that the people were given no warning to disperse. Eyewitness accounts and evidence later led to an official inquiry which attested to the fact that large number of people were shot in the back as they were fleeing the scene. The presence of armoured vehicles and air force fighter jets overhead, very much as reported in the Tulsa Massacre in 1921[28], also pointed to unnecessary provocation, especially as the crowd was unarmed and determined to stage a non-violent protest, according to an account from Humphrey Tyler, the assistant editor at Drum magazine[29]:-
The police have claimed they were in desperate danger because the crowd was stoning them. Yet only three policemen were reported to have been hit by stones and more than 200 Africans were shot down. The police also have said that the crowd was armed with 'ferocious weapons', which littered the compound after they fled.
I saw no weapons, although I looked very carefully, and afterwards studied the photographs of the death scene. While I was there, I saw only shoes, hats and a few bicycles left among the bodies. The crowd gave me no reason to feel scared, though I moved among them without any distinguishing mark to protect me, obvious with my white skin. I think the police were scared though, and I think the crowd knew it. Within hours the news of the killing at Sharpeville was flashed around the world.  When the news of the Sharpeville Massacre reached Cape Town a group of between 1000 to 5000 protestors gathered at the Langa Flats bus terminus[30] around 17h00 on 21 March 1960. This was in direct defiance of the government's country-wide ban on public meetings and gatherings of more than ten persons. The police ordered the crowd to disperse within 3 minutes. When protesters reconvened in defiance, the police charged at them with batons, tear gas and guns. Three people were killed, and 26 others were injured. Langa Township was gripped by tension and in the turmoil that ensued, In the violence that followed an employee of the Cape Times newspaper[31] Richard Lombard was killed by the rioting crowd.[32]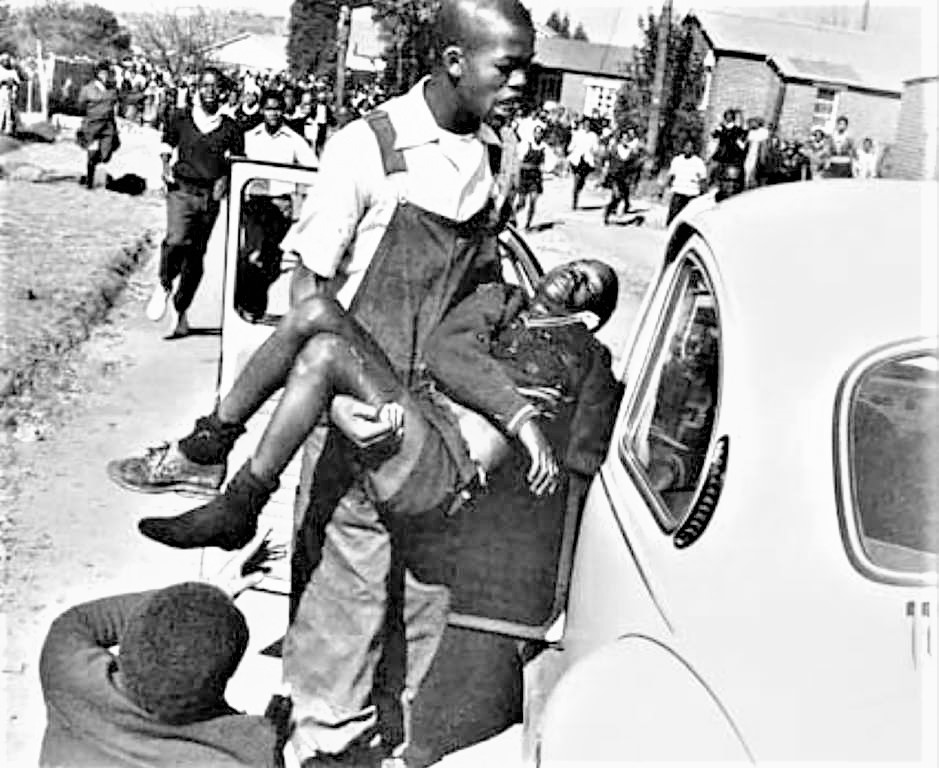 The summary of this peaceful confrontation at Sharpeville Police Station[33] on 21st March 1960, aimed at eradicating the Dom Pass laws, was horrific.  There were 249 casualties in total, including 29 children.[34] Many were shot in the back as they fled.  The unarmed Black people were killed by the South Africa White police at the Sharpeville Police Station in cold blood. The massacre was photographed by Ian Berry, who initially believed the police were firing blanks.[35]  The official figures are that 69 people were killed, including 8 women and 10 children.  It was also reported that 180 injured, including 31 women and 19 children. Many were shot in the back as they turned to flee, causing some to be paralysed.[36]
Post liberation in 1994, 21st March has been commemorated as Human Rights Day[37] in South Africa.[38]  Furthermore, Sharpeville was the site selected by President Nelson Mandela for the signing into law of the Constitution of South Africa on 10 December 1996.[39]  In 1998, the Truth and Reconciliation Commission [40](TRC) found that the police actions constituted "gross human rights violations in that excessive force was unnecessarily used to stop a gathering of unarmed people."[41]
The second racial massacre in South Africa, committed by the White apartheid forces, was on 16th June 1976, called the "uprising".  This was a great turning point in the South African liberation struggle.  The end result of this uprising, based on the refusal of Black scholars against the compulsory teaching of Afrikaans[42] in schools. was recorded as 171 students died that day.  However, official statistics say there were 23 deaths that first day, and as the extremely violent riots escalated countrywide, the death toll escalated to 176.[43]
There is pride and joy on this occasion, but also the burden of remembrance of those brave individuals who in 1976 protested against the use of Afrikaans as the medium of instruction in schools across South Africa and paid a heavy price.  We also look back to Mbuyisa Makhubu[44] carrying the lifeless body of 12-year-old Hector Pieterson[45] after he was shot during the Soweto uprising in which youth lost their lives. The photograph was taken by the late icon Sam Nzima[46].
The present-day youth in the States, but more so in South Africa, noting the countless community improvement efforts and initiatives, are caught in the politics of a poor educational system, increasing unemployment, criminal gangs, substance abuse and drug addiction, all of which augurs for a very bleak future.  The youth of yesteryear were faced with the brutality of racial injustices, while the youth of today and the future, face a compound challenge of racism and other social maladies of an unsurmountable nature.
Commenting on the first-quarter labour force survey released in late May 2021, former Statistician-General Dr Pali Lehohla[47] pointed out that "the share of employment for the youth aged 15-34 proportionately and in absolute terms has been gutted in favour of their parents"[48]. He captured the tragedy of our situation in his inimitable way, writing: "The mother cat is devouring the kittens".[49] Even during his tenure, Lehohla made the point that our education system is failing not just the youth, but the entire nation. In 2016, he argued that the current generation of youth was underperforming relative to their parents in education and employment outcomes.
The problems in our education system have worsened during Covid-19, affecting even early childhood development. [50]
The bottom line is that in Tulsa and Sharpeville, unarmed Black people, including women, elderly and children were killed by white forces all in the name of achieving liberation.  Nearly 161 years in total have elapsed, if calculated in life years of humanity and all to no avail.  The reforms that were subsequently brought about in the United States were not sufficient and even today, Black persons like Mr George Floyd and others must die, a hundred years later, for the US government to recognise that "Black Lives Matter".  Similarly in South Africa, while the lives lost in the 1960 and 1976 massacres of black people in Sharpeville and other places, including youth have, changed the history of South Africa, the masses of African South Africans are still disempowered and suffering.  Only history will be the judge to decide if their deaths were worth the changes that were subsequently effected.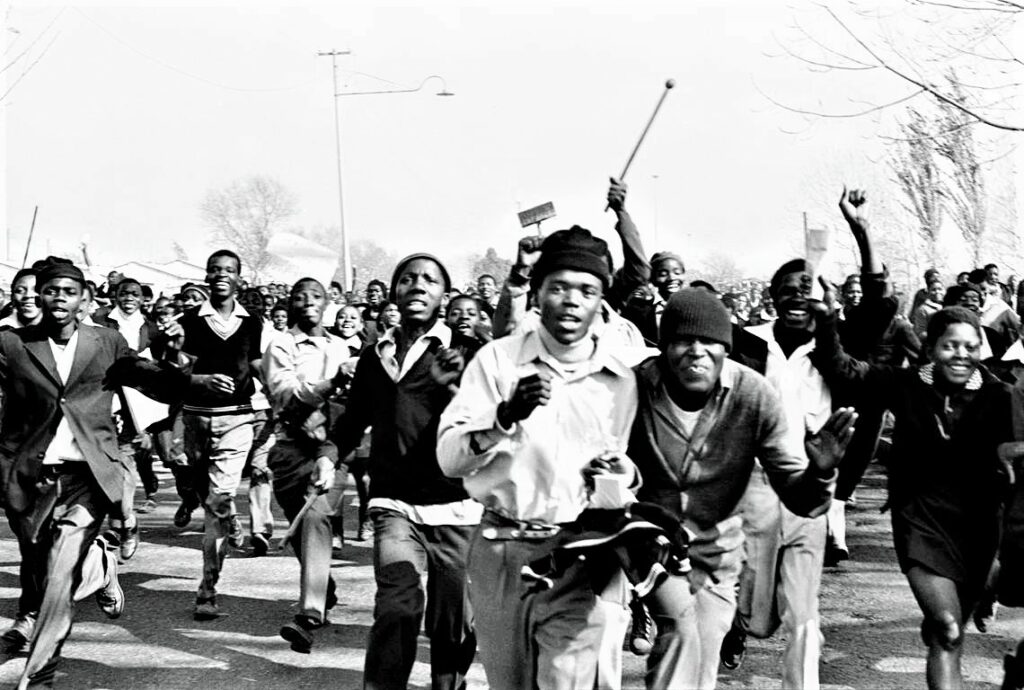 References:
[1] https://www.transcend.org/tms/2021/06/endogenous-racism-against-people-of-african-origins-tulsa-and-sharpeville-parallels-in-history-part-1/
[2] https://www.msn.com/en-za/news/world/biden-calls-on-us-to-eradicate-systemic-racism-in-juneteenth-proclamation/ar-AALbZae?ocid=msedgntp
[3] https://en.wikipedia.org/wiki/Sharpeville
[4] https://www.history.com/topics/africa/apartheid
[5] https://en.wikipedia.org/wiki/Sharpeville_Massacre
[6] https://www.summaryplanet.com/history/Ancestors-of-the-Maori.html
[7] https://en.wikipedia.org/wiki/Jan_van_Riebeeck
[8] https://www.sahistory.org.za/article/national-party-np
[9] https://www.sahistory.org.za/people/nelson-rolihlahla-mandela
[10] https://www.gov.za/youth-day
[11] https://www.sahistory.org.za/place/gugulethu-township
[12] http://www.702.co.za/articles/4428/police-raid-chop-shops-in-new-national-operation
[13] https://www.dispatchlive.co.za/news/2020-06-06-eastern-cape-emergency-workers-down-tools-after-attack/
[14] https://www.verywellhealth.com/hiv-around-the-world-south-africa-48673#:~:text=%20HIV%20Statistics%20in%20South%20Africa%20%201,versus%200.3%25%20of%20South%20African%20whites.%20More%20
[15] https://www.bing.com/news/search?q=Health+Minister+was+placed+on+leave+following+allegations+of+corruption+zweli+mkhize&qpvt=Health+Minister+was+placed+on+leave+following+allegations+of+corruption+zweli+mkhize&FORM=EWRE
[16] https://www.gov.za/anti-corruption/fighting-corruption-during-covid-19
[17] https://toursducap.com/en/2015/03/20/the-infamous-dompas-of-apartheid/
[18] https://en.wikipedia.org/wiki/Albert_Lutuli
[19] https://en.wikipedia.org/wiki/Pass_laws
[20] https://sahistory.org.za/article/sharpeville-massacre-21-march-1960
[21] https://en.wikipedia.org/wiki/Jacob_Zuma
[22] https://www.iol.co.za/news/politics/here-are-some-of-the-senior-anc-members-who-have-to-step-aside-from-zuma-to-magashule-178f50bb-e8e9-4576-9e24-551aee1f7094
[23] https://sahistory.org.za/dated-event/robert-sobukwe-first-pac-president-dies
[24] https://www.sahistory.org.za/people/robert-sobukwe
[25] https://de.zxc.wiki/wiki/FV603_Saracen
[26] https://sahistory.org.za/article/sharpeville-massacre-21-march-1960
[27] https://www.nytimes.com/1979/06/13/archives/david-m-sibeko-40-south-african-exile-murdered-in-tanzania-helped.html
[28] https://www.history.com/news/1921-tulsa-race-massacre-planes-aerial-attack
[29] https://www.facebook.com/Yfm99.2/posts/550928918285673
[30] https://www.sahistory.org.za/article/increasing-repression-and-turn-armed-struggle
[31] https://www.capetimes.co.za/
[32] http://www.sedibeng.gov.za/heritage.html
[33] https://reviewonline.co.za/257236/10-things-need-know-sharpeville-massacre/
[34] Reeves, Rt. Reverend Ambrose. "The Sharpeville Massacre – A watershed in South Africa". sahistory.org.za. Archived from the original on 7 July 2013.
[35] Macdonald, Fiona. "The photos that changed history – Ian Berry; Sharpeville Massacre". www.bbc.com.
[36] http://content.time.com/time/magazine/article/0,9171,869441,00.html
[37] https://en.wikipedia.org/wiki/Human_Rights_Day
[38] http://www.info.gov.za/acts/1994/a36-94.pdf
[39] "Mandela signs SA Constitution into law". South African History Online. 10 December 1996
[40] https://en.wikipedia.org/wiki/Truth_and_Reconciliation_Commission_(South_Africa)#:~:text=The%20Truth%20and%20Reconciliation%20Commission%20%28TRC%29%20was%20a,experiences%2C%20and%20some%20were%20selected%20for%20public%20hearings.
[41] http://able.wiki.up.ac.za/index.php/Sharpeville_Memorial,_Theunis_Kruger_Street,_Dicksonville,_Sharpville
[42] https://www.culturalsurvival.org/publications/cultural-survival-quarterly/language-policy-and-oppression-south-africa#:~:text=In%201955%2C%20a%20policy%20of%20teaching%20in%20both,carried%20out%20in%20only%2026%25%20of%20the%20schools.
https://www.unbannedbiblepublications.com/index_files/Page37091.htm#:~:text=The%20outcome%20of%20%E2%80%9CYouth%20Day%2C%E2%80%9D%2016%20June%201976,while%20some%20wildly%20allege%20that%20700%20were%20massacred.
[44] https://en.wikipedia.org/wiki/Mbuyisa_Makhubo
[45] https://en.wikipedia.org/wiki/Hector_Pieterson
[46] https://www.sahistory.org.za/people/masana-sam-nzima
[47] https://smesouthafrica.co.za/pali-lehohla-former-statistician-general-south-africa-joins-22-sloane/#:~:text=Former%20Statistician%20General%2C%20Dr%20Pali%20Lehohla%2C%20joins%2022,team%20of%20researchers%20working%20with%20startups%20at%20Sloane
[48] https://www.iol.co.za/business-report/opinion/our-jobless-youth-what-is-to-be-done-south-africa-a8dc2790-9c96-42c1-b2db-3ec5959cbe5c
[49] https://www.businesslive.co.za/bd/opinion/columnists/2021-06-15-yacoob-abba-omar-are-we-devouring-our-kittens-as-we-celebrate-youth-day/
[50] https://www.oecd.org/education/the-impact-of-covid-19-on-education-insights-education-at-a-glance-2020.pdf
______________________________________________

Professor G. Hoosen M. Vawda (Bsc; MBChB; PhD.Wits):
Director: Glastonbury Medical Research Centre; Community Health and Indigent Programme Services; Body Donor Foundation SA.
Principal Investigator: Multinational Clinical Trials
Consultant: Medical and General Research Ethics; Internal Medicine and Clinical Psychiatry:UKZN, Nelson R. Mandela School of Medicine
Executive Member: Inter Religious Council KZN SA
Public Liaison: Medical Misadventures
Activism: Justice for All
Email: vawda@ukzn.ac.za
Tags:
Anglo America
,
Black America
,
Black Wall Street
,
History
,
KKK
,
Racism
,
Tulsa Massacre 1921
,
USA
,
White Supremacy
This article originally appeared on Transcend Media Service (TMS) on 21 Jun 2021.
Anticopyright: Editorials and articles originated on TMS may be freely reprinted, disseminated, translated and used as background material, provided an acknowledgement and link to the source, TMS: Endogenous Racism against People of African Origins–Tulsa and Sharpeville: Parallels in History (Part 2), is included. Thank you.
If you enjoyed this article, please donate to TMS to join the growing list of TMS Supporters.


This work is licensed under a CC BY-NC 4.0 License.