Syrian Monologues
REVIEWS, 7 Jun 2021
René Wadlow – TRANSCEND Media Service
Review of two books of poems related to the armed conflict in Syria:
Grave Seas by Hussan Eddin Baramo, Palewell Press, London (2021)
From Glasgow to Damascus by David Forrest, Palewell Press, London (2021)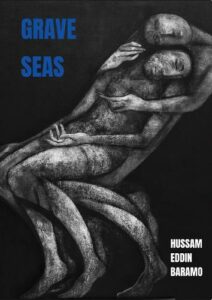 Hussan Eddin Baramo is a Syrian journalist and writer now living in England. As an 8-year-old child his family moved to Lebanon until the 1975 outbreak of the Lebanese Civil War when the family moved back to Damascus where he became active in Marxist clandestine action. Having endured the repression that imprisoned many of his friends, in 1989 he left Syria. Thus the themes of moving and loss are the major themes of these monologues structured as poems.
« We then sat hopeless at the gloomy shores waiting for our boats to take us back again. »
From his early travels and friendships, he is aware of the interconnections of the Mediterranean world of which the current Syria is a part, but he recalls the Ottoman Syria which is now also Lebanon, Jordan and Palestine. As he writes,
 « The creation of these states became the cause and the field of several wars, civil wars and continuous political, economic, sociological and military turmoil, gigantic tragic consequences in the region and the whole world. »
He compares Syria to a cemetery with the uneasy dead.
«The soldiers who were buried in haste try daily to hide their arms and flee to their wives… Some people are meeting to decide what to do with the cemetery, witnesses and sightseers are, cheerfully, watching. »
He underlines the ways the war has divided the Syrian society.
«My brother will not be merciful with me. One of us has to be defeated before he himself is defeated in turn so that the president in a faraway palace may win.»
There is no hope for a better future.
«We are dragging our light slight bodies on an endless journey towards the final loss.»
********************************************************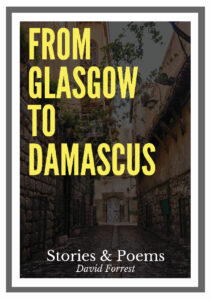 David Forrest is a Scottish writer and spoken word artist based in Glasgow. With friends, he created a group called Love and Aid which ran a series of events to raise money for international aid agencies supporting refugee camps outside Syria. As he writes,
 « I met a lot of Syrians in a short space of time who challenged me. They shared perspectives on family, home, politics, friendship, loyalty. Sometimes there were common threads, sometimes they were contradictory. »
In these poetic monologues, David Forrest is inspired by the stories of these friends and in a sense, he has incarnated in the lives and views of these friends. Thus they are written in a first person style as if the Syrian in exile was speaking.
One of the first and moving pieces is « One, Two …Ten » which is a picture of the 10 years of the civil war.
« They tortured children for painting slogans on a wall. This is how it began. Children painting slogans. They threw them in prison and the counting began… In Year Three. Perhaps because we had no oil, the west did not intervene. But others did. Islamic State did. We didn't know them. They came from outside. They had never lived with us but they fought us and killed us, for what ? For the pleasure of fighting Assad? Brothers please, go back to your families. We have nothing left to steal ».
Most of the monologues are reflections of the views of Syrians living in Glasgow.
« When writing about Syria you must leave things out – replace the things you cannot understand with silence and then call the silence news. People write the news but they do not feel it. Not because they don't understand the bombing but because they do not understand what is being bombed. The Syria that I wish they would write about is celebrated every week in Glasgow, in late, late, late dinners with friends from Aleppo, Damascus and Homs. It is passed around in Friday night shisha sessions with the guys and played at high volume through neighbouring flats. This isn't home but for a few hours each week it almost feels like Aleppo. »
David Forrest ends on a more optimistic note than Hussan Baramo.
« I want you to remember so that next time, when it happens, you will kick your door open, you will throw your arms wide so that people cannot be bombed, so that humanity cannot be violated or a country quietly removed without us somehow feeling it. »
______________________________________

René Wadlow is a member of the TRANSCEND Network for Peace Development Environment. He is President of the Association of World Citizens, an international peace organization with consultative status with ECOSOC, the United Nations organ facilitating international cooperation and problem-solving in economic and social issues, and editor of Transnational Perspectives.
Tags:
MENA
,
Poetry
,
Reviews
,
Syria
This article originally appeared on Transcend Media Service (TMS) on 7 Jun 2021.
Anticopyright: Editorials and articles originated on TMS may be freely reprinted, disseminated, translated and used as background material, provided an acknowledgement and link to the source, TMS: Syrian Monologues, is included. Thank you.
If you enjoyed this article, please donate to TMS to join the growing list of TMS Supporters.


This work is licensed under a CC BY-NC 4.0 License.