Graphene Oxide: A Toxic Substance in the Vial of the COVID-19 mRNA 'Vaccine' (w/ Video)
DEBATES ON COVID - VACCINES, 26 Jul 2021
Michel Chossudovsky | Global Research - TRANSCEND Media Service
17 Jul 2021 – We bring to your attention this important interview with Ricardo Delgado Martin, Founder and Director of Quinta Columna. Ricardo is responsible for coordinating the Spanish research team's analysis of the impacts of graphene oxide nano-particles contained in the vial of the mRNA vaccine.
The results of their analysis by electron microscopy and spectroscopy are far-reaching. Graphene oxide is a toxin which triggers thrombi and blood coagulation. It also has an impact on the immune system. Graphene oxide accumulated in the lungs can have devastating impacts.
The results of the Spanish study suggest, yet to be fully confirmed, that the recorded vaccine related deaths and "adverse events" (e.g. published in the US by the CDC and in the EU) are attributable to the presence of graphene oxide nano-particles contained in the Covid vaccine vial.
Of significance, (acknowledged by national health authorities) graphene oxide is also contained in the face mask.
Graphene has electromagnetic properties which have been detected in people who have been vaccinated. These effects have been amply documented and confirmed. See the study conducted by the European Forum for Vaccine Vigilance
Ricardo Delgado Martin is specialized in biostatistics, clinical microbiology, clinical genetics and immunology.
For further details on this project see the report by  Prof. Dr. Pablo Campra Madrid, specialized in Chemistry and Biology, Escuela Superior de Ingenería, University of Almería.
See summary of their report entitled Graphene Oxide Detection in Aqueous Suspension, Observational study in Optical and Electron Microscopy.
Speaking on behalf of the Spanish research team, Ricardo Delgado Martin recommends that the covid-19 experimental mRNA vaccine should be cancelled and discontinued immediately.
***
This is a controversial study. There are scientists and medical doctors who disagree with the results of the Spanish study.
The evidence has to be ascertained and corroborated. What is required is that independent scientists and health professionals conduct their own lab analysis of the contents of the vaccine vial.
Similarly, we call upon the national health authorities of the 193 member states of the UN which are currently vaccinating their people, to conduct their own study and analysis of the vaccine vial. And if graphene-oxide is detected, the vaccination program should immediately be discontinued.
Video:
***
Confirmed by Health Canada, Graphene-Oxide particles are also contained in the Face Mask which is intended to protect you.
Face Masks Contain Graphene, A Poisonous Substance
By Prof Michel Chossudovsky, July 14, 2021
"The wearing of the face mask started in the immediate wake of the covid-19 lockdown on March 11, 2020. Worldwide, people have been instructed to wear the mask for more than a year.
And then one year later, we are told that in some cases it may contain a poisonous substance.
According to Health Canada: "There is a potential that wearers could inhale graphene particles from some masks, which may pose health risks.""
See also
Nanotechnology-derived Graphene in Face Masks — Now There Are Safety Concerns
By Andrew Maynard, July 12, 2021
"Given all that we know about the pulmonary toxicity of engineered nanoparticles, and the uncertainty over the inhalation risks of graphene, surely someone should have asked this question when developing graphene-containing masks.
When airborne nanoparticles are inhaled and penetrate to the lower regions of the lungs (the alveolar region), they can elicit a response that's more closely associated with the number or surface area of the particles than their mass. And because of this, very small quantities of material have the potential to cause a lot of harm — much more than you might imagine from the mass of material alone."
***
Graphene Oxide has electromagnetic properties which have been detected in people who have been vaccinated.
See the study conducted by the European Forum for Vaccine Vigilance:
Study on Electromagnetism of Vaccinated Persons in Luxembourg
By Mamer and Amar Goudjil, July 08, 2021
_______________________________________________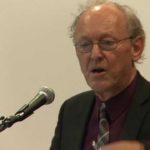 Michel Chossudovsky is an award-winning author, Professor of Economics (emeritus) at the University of Ottawa, Founder and Director of the Centre for Research on Globalization (CRG), Montreal, Editor of Global Research.  He has taught as visiting professor in Western Europe, Southeast Asia, the Pacific and Latin America. He has served as economic adviser to governments of developing countries and has acted as a consultant for several international organizations. He is the author of eleven books including The Globalization of Poverty and The New World Order (2003), America's "War on Terrorism" (2005), The Global Economic Crisis, The Great Depression of the Twenty-first Century (2009) (Editor), Towards a World War III Scenario: The Dangers of Nuclear War (2011), The Globalization of War, America's Long War against Humanity (2015). He is a contributor to the Encyclopaedia Britannica.  His writings have been published in more than twenty languages. In 2014, he was awarded the Gold Medal for Merit of the Republic of Serbia for his writings on NATO's war of aggression against Yugoslavia. He can be reached at crgeditor@yahoo.com
Go to Original – globalresearch.ca
Tags:
AstraZeneca Vaccine
,
Big Pharma
,
COVID-19
,
Conflict
,
Coronavirus
,
Corruption
,
Elites
,
Johnson & Johnson vaccine
,
Medical Industrial Complex
,
Moderna vaccine
,
Pfizer vaccine
,
Vaccine Apartheid
,
Vaccines
DISCLAIMER: The statements, views and opinions expressed in pieces republished here are solely those of the authors and do not necessarily represent those of TMS. In accordance with title 17 U.S.C. section 107, this material is distributed without profit to those who have expressed a prior interest in receiving the included information for research and educational purposes. TMS has no affiliation whatsoever with the originator of this article nor is TMS endorsed or sponsored by the originator. "GO TO ORIGINAL" links are provided as a convenience to our readers and allow for verification of authenticity. However, as originating pages are often updated by their originating host sites, the versions posted may not match the versions our readers view when clicking the "GO TO ORIGINAL" links. This site contains copyrighted material the use of which has not always been specifically authorized by the copyright owner. We are making such material available in our efforts to advance understanding of environmental, political, human rights, economic, democracy, scientific, and social justice issues, etc. We believe this constitutes a 'fair use' of any such copyrighted material as provided for in section 107 of the US Copyright Law. In accordance with Title 17 U.S.C. Section 107, the material on this site is distributed without profit to those who have expressed a prior interest in receiving the included information for research and educational purposes. For more information go to: http://www.law.cornell.edu/uscode/17/107.shtml. If you wish to use copyrighted material from this site for purposes of your own that go beyond 'fair use', you must obtain permission from the copyright owner.