South Africa Is Burning: The Legacy of Mandela Is Dead for a Nation of Thieves
AFRICA, 19 Jul 2021
Prof Hoosen Vawda – TRANSCEND Media Service
 "Like Gandhi in India, Mandela Has Become a Mere Myth in South Africa"[1]
12 Jul 2021 – It is indeed ironic that South Africa is "celebrating" Mandela Day[2], on 18th July, marking the birthday of the great international icon, amid serious civil unrest, resulting in the deaths of 72 South Africans.[3]  In reality, the week has become a period of national mourning and reflection on the profound legacy left by the Great Madiba[4], as did Mahatma Gandhi[5] in India, at the time of Partition[6] when sectarian violence caused the butchering of millions.  Division of British India[7] into Pakistan[8] and India was specifically designed by the departing British colonials[9] to create a rift between Hindus[10] and Muslims[11] on religious grounds.  Similarly, South Africa is experiencing a divided citizenry, not based on religious grounds, but on their political affiliations, within the ruling Party, of the glorious liberation movement, the African National Congress[12], writing its darkest chapter in history, ever, of the country. The present civil unrest is generated for the protection of the former President Jacob Zuma[13], himself a respected liberationist, who was sentenced for 15 months in prison[14], in contempt of his own constitutional law in South Africa.[15]
In South Africa, post 1994, when liberation from the discriminative, White apartheid government was achieved by former President F.W. de Klerk[16], the leader of the whites only National Party[17], in collaboration with the former, first democratically elected Black President Nelson R. Mandela[18], in a bloodless transition, little both these men of dignity and honour, as well as former enemies, men who were jointly awarded a Nobel Prize for Peace in 1993[19], knew that the new government under the ruling part of highly respected Africa National Congress would bring such great dishonour and international loss of reputation leading to the pronouncement of a 15 months sentence of incarceration for the third president of South Africa, Jacob Zuma.  The political cynics in South Arica said at the time, "that to be a parliamentarian[20] or to hold any civil office, one of the criteria is that, the person must have had a prison record, to qualify for an official post in the new government" While at the time of the post-liberation euphoria, this statement was laughed off as a racist remark from the members of the White community in South Africa, who were excluded from holding government positions on the basis of affirmative action and equity.  However, 27 years later, the statement tragically echoes what has happened in South Africa, post-freedom.
The proceedings of the Zondo Commission of Enquiry[21], into the scandal of State Capture, perpetrated by the internationally infamous Gupta Brothers[22], from India, for whom the Interpol[23] are looking for and are on their "Red Alert"[24] list, South Africa is clearly dealing with a general failure of public accountability and the perpetrators of the present civil unrest want that modus operandi to be perpetuated, resulting in total anarchy and lawlessness.
Disruption of services, caused by rioting and burning of property, offered by all sectors, is now a major problem, together with SAR Cov-2 pandemic, which is compounding the life of all South Africans, causing further deterioration of the sinking economy, nationwide. Tiger Brand[25], a major food production company, in South Africa, tallies its losses, due to property destruction and looting, amounting to 150 million Rands and has suspended all its operations in the province of KwaZulu-Natal. The Automobile Association of South Africa[26] has halted all its roadside assistance activities, as well, endangering private vehicles having a breakdown on the dangerous roads, including inter-provincial motorways[27], as of 15th July 2021. In Isipingo, south of the city of Durban, the fresh produce, Isipingo Market[28] was also torched, at night and razed to the ground.
In the meantime, 2355 of new SARS Cov-2[29] infections are recoded, on the average, each day, with 377 deaths, on 16th July 2021, as the country is attacked by the highly contagious and infective Delta strain[30], with total cases of infections tallying at 2,269,179[31], as the provinces of Gauteng and KwaZulu-Natal are rocked by generalised chaos and mayhem.  The Premier of KwaZulu-Natal[32] was shown on national television channels physically assaulting a young looter, whom the accompanying police could not apprehend when he ran off into the bush showing their ill prepared physical attributes as a member of law enforcement team protecting the Premier while on a visit to the areas affected by violence.
It is also sad, that more than 30 public schools were totally vandalised[33] by the Black looters and one school was irreparably torched and burnt.  It is ironic that the community and mentality of the Black looters do not appreciate the philosophy of education left by Madiba.
The South African Council of Churches[34] proposes amnesty for the looters, after causing billions of Rands of damage to property and theft of merchandise, ranging from daily essential food, to high end electronic good such as 105 inch, high resolution 4K television[35] sets looted from the large stores and carted way on forklifts, in the presence of security and law enforcement officers who were powerless.  Numerous videos of such activities are posted daily, on local and international media as well as social communication platforms.
It is to be noted that the South African army[36] was deployed after the event, while the law enforcement services could not maintain law and order, the systematic looting and burning down of public and private properties, including shopping malls, which provided employment to millions of disadvantaged people, have resulted in serious social impact on the communities throughout South Africa which it was uplifting, serving and providing job security, income, medical care and transport.
All these aspects of social life ranging, from schooling to chronic medication for the elderly and sickly nation afflicted by HIV Aids[37] at 20% in adult South Africa, Tuberculosis[38] as well as chronic lifestyle diseases[39] such as Obesity, Coronary Artery Disease, Diabetes Mellitus Hypertension and arthritis of various types, all on an overarching basis of the rampant spread of SARS Cov-2 Delta virus infections has left South Africa totally incapacitated in all aspects of general, daily life.  Long queues are at petrol stations for motorists waiting to fill up their tanks, the large Black taxi industry, has shut down overnight, as a mass transport mechanism for the Black South Africans, who were transported great distances from the African townships, situated far away from their workplaces in major cities, as purposefully designed by the apartheid government in the early 1960s' under the Group Areas Act of 1950.[40]  The major cities of Johannesburg and Durban are essentially deserted, except for the long queues, at food stalls and fuel stations.  The global retailer, Woolworths SA[41], have formally closed their outlets, including food halls, until further notice.
Medical services at private and public hospitals are severely constrained, even in the Emergency Departments, to provide an adequate service to patients due to healthcare professional unable to travel to their workplaces as they are threatened by the rioters. Absence of laboratory technicians has impacted om the ability to perform vital blood tests on seriously ill patients.  It was also reported that Afrox, a national supplier of medical oxygen is transporting large oxygen tankers under military escort to hospitals for seriously ill covid patients. The looting of pharmacies to supply Anti-Retroviral medication for the miscreant looters who mix these vitally needed medication, as HIV and Aids has its epicenter in the province of KwaZulu-Natal, is now used to produce a dangerous cocktail of Marijuana and Anti-retroviral drugs called Whoonga[42].  This is used extensively by Blacks as a part of their drug addiction intake. The situation is so dire that nurses at HIV Aids Clinics are stealing this medication and selling them to the drug dealers, at a handsome profit and several healthcare workers were arrested.  It was also reported that some patients are also selling their monthly chronic medication to generate personal funds for their use, for other purposes, including the purchase of airtime.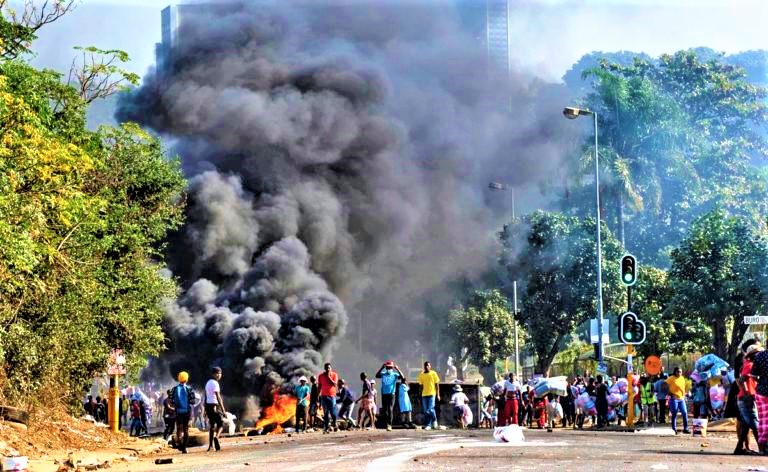 The mobile phone industry[43] is generating billions from the Black consumers, as these devices are in great demand, either, stolen or officially purchased. Doctors' and dental surgeries are systematically attacked, looted, stripped of computers, medical and expensive dental equipment, as well as the confidential, patient medical files, leaving no services for their patients, most of whom are geriatrics and cannot travel to adjoining areas to seek medical attention for any acute or chronic ailments, including Covid infections.  This will have a greater ripple effect on the wellbeing of all patients in South Africa.
Furthermore, liquor stores[44] were stripped of all alcohol, which was taken away in supermarket trolleys, after forced, destructive entries into such retail and wholesale outlets.  This was a free shopping for the criminals, who were still under Covid lockdown restriction, when the riot commenced.  Those criminals who were not party to free alcohol, decided to brew home beers, using pineapples[45] and whatever, the homebrewers could find to add to their fermented concoctions.  This act alone has resulted in multiple group deaths due to toxic liver damage,[46] especially in the rural areas and townships in South Africa. The looting and burning of schools built by government or philanthropists, in all areas, to educate and uplift the disadvantaged Black pupils have been destroyed by looters and thieves from their own communities, leaving the scholars without the much-needed educational facilities.
All these criminal activities, as denounced by the legendary anti-apartheid activist, Ronnie Kasrils[47],  on the part of the Black rioters, are attributed by the government, NGOs' and sociologists on the field, to poverty and inequality, often justifying the rampant destruction and razing of property, to the ground. There are also hidden agenda afoot, to apportion the blame, to the minorities for the maladies associated with the pillaging and destruction of property, by the Black mob of rioters, nationwide.  These well-coordinated mobs even blocked interprovincial freeways in South Africa with huge rocks and burning tyres.  The situation was so bad, that the South African Defence force members were deployed to guard freeways and highways.  It is reported that large trucks which brought down 40,000 loaves of bread from the province of Gauteng, to KwaZulu-Natal, by members of the Islamic community[48], to feed the masses, since food security was compromised, with the total emptying and incineration of extremely large supermarkets and hypermarkets, destroyed the food supply chain, was done under the escort of private security.
Needless to mention that in the total absence of law enforcement or the incompetence of the forces, various community protection bodies have been activated, overnight, out of dire and a democratic right and need, to protect their personal properties in various neighbourhoods, against the looters. These are now looked upon as vigilante groups and disapproved, while the looting continues in areas where businesses belong to minority groups.
In summary the looting and burning is a re-enactment of the massive property destruction and loss of life of the 1949 riots against the Indian South Africans[49] by the Black plundering mobs.  The present rampage also reminds the minorities of the 1985 riots against the Indian South Africa[50] communities, who first arrived into South Africa in 1860 as indentured sugar cane labouers[51] to work on the farms brought in by the British Government at the time to work under draconian conditions, akin to slavery being abolished.  If fact the system of indentured labourers was a guise for slavery which was replaced by the new system of exploitation of humanity.
Admittedly. The Black communities were exploited, as well and subjected to harsh conditions during the apartheid era, but presently, 27 years post freedom, there are no constraints on their progress and development whatsoever after the liberation of 1994.  These previously disadvantaged group of "non-whites"[52] as officially designated by law prior to 1994, have been afforded opportunities in the form of Broad-Based Black Economic Empowerment,[53] Affirmative Action[54], and equity by the new government in South Africa, to the detriment of other minorities, is considered by some as "Reverse Apartheid"[55] yet the present rioting and acts of burning of property by the Black people of South Africa is a stark reminder of their dissatisfaction with the ruling party's dispensation.
It is interesting to note that while freedom has been achieved by the Black peoples of South Africa, the economic empowerment of Black communities has only been achieved by the elite, to the total deprivation of the masses.  This is compounded by corruption at the highest level of government including, in the South African Police force[56] and Ministry of Health[57], where the Minister[58] himself was subject to a corruption enquiry, in the midst of Covid pandemic and placed on leave.  The same problem and subsequent arrest of the former President Jacob Zuma is the basic reason for the present civil unrest.  The supporters of former president Jacob Zuma have orchestrated the national riot to rescind his sentencing, for contempt of the court and incarcerate the 79-year-old[59] for that crime.[60]
The Bottom line is aptly summarised by Prof Antonio C. S. Rosa[61] of Transcend Media Service Peace Journal: "I suppose. my faith in humanity at large diminishes by the hour, but I will never stop the struggle for its betterment. What else, right?"[62].  While South Africa is literally burning, caused by the very people that were given democracy, have become looters and the country has literally transformed into a "nation of thieves"[63] with 2.2 billion Rands looted to the deprivation of the masses of poor, disempowered South African, "with the most unscrupulous enablers in official positions, all too ready to feast on the relief meant for the most vulnerable in our society.." President Cyril Ramaphosa[64] has stated that, the attempted insurrection has failed and vowed to fight corruption[65]. The widespread corruption, ranges from the highest levels of government to the lowest level of the ordinary citizenry of 59,572,622[66] million people, who have justifiably robbed businesses, as it is now considered a "constitutional' right.  "If the president has stolen, why cannot I do so?"[67].  Indeed, a nefariously proud legacy which Madiba would not have cherished.
References:
[1] Personal correspondence with the author by Antonio C. S. Rosa in a private e-mail Monday 12 Jul 2021 6:38 AM
[2] https://www.mandeladay.com/
[3] https://www.msn.com/en-us/news/technology/south-african-riots-death-toll-hits-72-unrest-explained/ar-AAM8scw?ocid=uxbndlbing
[4] https://igwewritesonpurpose.wordpress.com/2013/12/06/the-great-madiba/comment-page-1/
[5] https://en.wikipedia.org/wiki/Mahatma_Gandhi
[6] https://www.thoughtco.com/what-was-the-partition-of-india-195478#:~:text=The%20Partition%20of%20India%20was%20the%20process%20of,majority%20Hindu%20section%20became%20the%20Republic%20of%20India.
[7] https://en.wikipedia.org/wiki/British_India
[8] https://en.wikipedia.org/wiki/Pakistan
[9] https://encyclopedia2.thefreedictionary.com/British+colonialism
[10] https://en.wikipedia.org/wiki/Hindu
[11] https://en.wikipedia.org/wiki/Muslim
[12] https://www.anc1912.org.za/
[13] https://en.wikipedia.org/wiki/Jacob_Zuma
[14] https://www.bing.com/news/search?q=sentence+of+president+Zuma&qpvt=sentence+of+president+Zuma&FORM=EWRE
[15] https://constitutionallawofsouthafrica.co.za/
[16] https://www.britannica.com/biography/F-W-de-Klerk#:~:text=F.W.%20de%20Klerk%2C%20in%20full%20Frederik%20Willem%20de,a%20transition%20to%20majority%20rule%20in%20his%20country.
[17] https://en.wikipedia.org/wiki/National_Party_(South_Africa)
[18] https://www.history.com/this-day-in-history/nelson-mandela-inaugurated
[19] https://www.nobelprize.org/prizes/peace/1993/mandela/biographical/
[20] https://www.parliament.gov.za/members-of-parliament
[21]https://en.wikipedia.org/wiki/Zondo_Commission
[22] https://www.republicworld.com/world-news/africa/south-africa-riots-how-jacob-zumas-connection-to-gupta-brothers-triggered-violence.html
[23] https://www.eaglesvine.com/world-news/interpol-issues-red-notice-against-south-africas-gupta-brothers-associates/264399/
[24] https://interpolnoticeremoval.com/interpol-red-notice-wanted-list/
[25] https://www.sabcnews.com/sabcnews/tiger-brands-says-loss-of-stock-due-to-looting-is-estimated-at-more-than-r-150-million/#:~:text=South%20Africa%E2%80%99s%20largest%20food%20manufacturer%20Tiger%20Brands%20says,damage%20caused%20by%20looting%20in%20KZN%3A%20Sifiso%20Skenjana
[26] http://www.thegsa.co.za/associations/1939-the-automobile-association-of-south-africa-aa
[27] https://citizen.co.za/news/covid-19/2279302/motorists-permitted-to-complete-inter-provincial-travel-during-curfew-times/
[28] https://citizen.co.za/news/south-africa/protests/2571022/watch-isipingo-market-set-alight-overnight/
[29] https://coronavirus.jhu.edu/map.html
[30] http://www.msn.com/en-au/news/australia/the-highly-contagious-delta-strain-explained/ar-AAKLZMf#:~:text=Formerly%20known%20as%20B.1.617.2%2C%20or%20the%20Indian%20strain%2C,which%20is%20also%20known%20as%20the%20UK%20variant.
[31] https://coronavirus.jhu.edu/map.html
[32] http://www.kznpremier.gov.za/
[33] https://theworldnews.net/za-news/news24-com-unrestsa-around-30-schools-vandalised-in-kzn-looting-one-destroyed-in-fire
[35] https://en.wikipedia.org/wiki/4K_resolution#:~:text=Samsung%20UN105S9%20105-inch%20%282%2C700%20mm%29%20ultra-high-definition%204K%20television,was%20targeted%20at%20the%20bit-mapped%20desktop%20publishing%20market.
[36] https://en.wikipedia.org/wiki/South_African_Army
[37] https://www.verywellhealth.com/hiv-around-the-world-south-africa-48673#:~:text=1%20The%20HIV%20rate%20among%20adults%20is%20more,600%2C000%20orphaned%20children%20as%20a%20result%20of%20AIDS.
[38] https://www.spotlightnsp.co.za/2017/09/06/10-things-know-tb-south-africa/#:~:text=Tuberculosis%20%28TB%29%20remains%20a%20crisis%20in%20South%20Africa.,but%20it%20is%20not%20happening%20nearly%20fast%20enough.
[39] http://www.humangenetics.uct.ac.za/hg/research/chronic_diseases
[40] https://www.sahistory.org.za/article/group-areas-act-1950
[41] https://www.news24.com/fin24/Companies/woolworths-has-had-to-close-stores-in-kzn-for-three-days-due-to-unrest-20210715#:~:text=Clothing%20and%20grocery%20retailer%20Woolworths%20says%20it%20had,president%20Jacob%20Zuma%27s%20incarceration%20escalated%20over%20the%20weekend.
[42] https://globalhealth.org/whoonga-the-cruelest-drug-of-south-african-slums/
[43] https://www.pressreader.com/south-africa/sunday-tribune-south-africa/20210228/282265258157924
[44] https://www.bizcommunity.com/Article/196/182/217950.html
[45] https://www.timeslive.co.za/sunday-times/lifestyle/food/2020-04-17-how-to-easily-brew-your-own-beer-using-pineapple-ginger-or-sorghum/#:~:text=%20How%20to%20brew%20it%3A%20%201%20Remove,longer%20you%20leave%20the%20mixture%20the…%20More%20
[46] https://aminoco.com/blogs/health/liver-failure-death
[47] https://popularbio.com/ronnie-kasrils/
[48] https://en.wikipedia.org/wiki/Islam_in_South_Africa
[49] https://www.sahistory.org.za/article/1949-anti-indian-pogrom-durban
[50] https://www.latimes.com/archives/la-xpm-1985-08-09-mn-2323-story.html
[51] https://zululandobserver.co.za/129031/history-of-indian-indentured-labourers/#:~:text=The%20first%20342%20of%20these%20came%20on%20board,also%20as%20indentured%20coal%20miners%20and%20railway%20workers.
[52] http://www.swarthmore.edu/Humanities/tkitao1/non-white.html
[53] http://www.thedtic.gov.za/financial-and-non-financial-support/b-bbee/broad-based-black-economic-empowerment/
[54] http://www.thedtic.gov.za/financial-and-non-financial-support/b-bbee/broad-based-black-economic-empowerment/
[55] https://www.shoutoutuk.org/2018/09/11/the-perversity-of-reverse-apartheid-in-south-africa/
[56] https://www.saferspaces.org.za/uploads/files/Corruption_in_the_South_African_Police_Service_-_Civilian_Perceptions_and_Experiences.pdf
[57] https://academic.oup.com/heapol/article/31/2/239/2355603
[58] https://www.aljazeera.com/news/2021/6/8/south-africa-health-minister-put-on-leave-over-corruption-allegations
[59] https://www.news24.com/citypress/voices/jacob-zuma-when-did-erstwhile-south-african-revolutionary-lose-his-way-20210706-3
[60] https://www.sahistory.org.za/people/jacob-gedleyihlekisa-zuma
[61] https://www.transcend.org/tms/2018/01/meet-antonio-c-s-rosa-pioneer-in-peace-journalism/comment-page-1/
[62] Personal correspondence to the author by Antonio C. S. Rosa in a private e-mail Monday 12 Jul 2021 6:38 AM
[63] https://www.thesouthafrican.com/news/covid-corruption-south-africa-what-companies-how-much-stolen/
[64] https://www.bing.com/news/search?q=President+Cyril+Ramaphosa&qpvt=President+Cyril+Ramaphosa&FORM=EWRE
[65] https://www.techfinancials.co.za/2020/07/26/covidpreneurs-these-are-not-black-businesses-but-thieves/#:~:text=%E2%80%9CSouth%20Africa%20is%20becoming%20a%20nation%20of%20thieves%2C,measures%20to%20fight%20corruption%20during%20the%20COVID-19%20pandemic.
[66] https://countrymeters.info/en/South_Africa#:~:text=The%20population%20of%20South%20Africa%20will%20be%20increasing,South%20Africa%20was%20estimated%20to%20be%2059%2C572%2C622%20people.
[67] https://www.reddit.com/r/southafrica/comments/leh6i4/the_anc_has_stolen_more_than_our_money_it_has/
______________________________________________

Professor G. Hoosen M. Vawda (Bsc; MBChB; PhD.Wits):
Director: Glastonbury Medical Research Centre; Community Health and Indigent Programme Services; Body Donor Foundation SA.
Principal Investigator: Multinational Clinical Trials
Consultant: Medical and General Research Ethics; Internal Medicine and Clinical Psychiatry:UKZN, Nelson R. Mandela School of Medicine
Executive Member: Inter Religious Council KZN SA
Public Liaison: Medical Misadventures
Activism: Justice for All
Email: vawda@ukzn.ac.za
Tags:
Africa
,
Corruption
,
Gandhi
,
Jacob Zuma
,
Nelson Mandela
,
Riots
,
South Africa
,
Violence
This article originally appeared on Transcend Media Service (TMS) on 19 Jul 2021.
Anticopyright: Editorials and articles originated on TMS may be freely reprinted, disseminated, translated and used as background material, provided an acknowledgement and link to the source, TMS: South Africa Is Burning: The Legacy of Mandela Is Dead for a Nation of Thieves, is included. Thank you.
If you enjoyed this article, please donate to TMS to join the growing list of TMS Supporters.


This work is licensed under a CC BY-NC 4.0 License.