Ethiopian Mystery: The Case of the 428 Disappearing Food Aid Trucks
TRANSCEND MEMBERS, 4 Oct 2021
Ann Garrison | Black Agenda Report – TRANSCEND Media Service
For nearly a year, warmonger and USAID administrator Samantha Power has been shrieking about famine in Ethiopia's Tigray, and demanding the humanitarian corridor that 428 massive food aid trucks have now mysteriously disappeared into.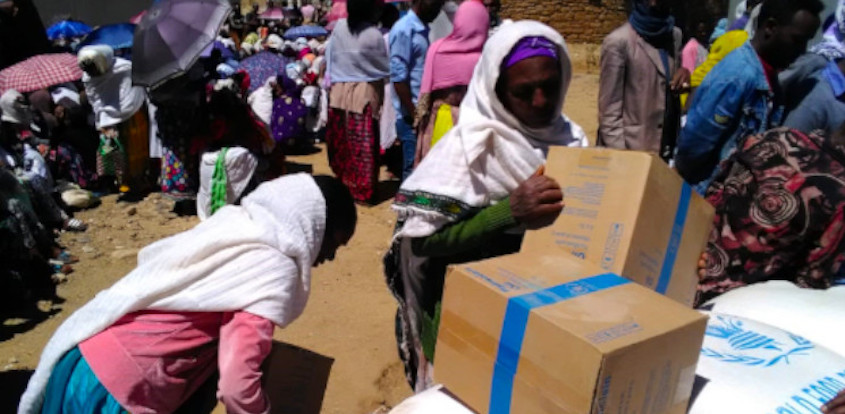 29 Sep 2021 – Since July 12, the UN World Food Program (UNWFP) has sent 466 food aid trucks into Ethiopia's war torn Tigray region, but only 38 have returned. That's 428 missing or stranded trucks, and these aren't pickups. They're massive six-wheelers and more, usually pulling more massive cargo loads behind. They're not cheap. Whether they're owned by the UNWFP or private contractors, that's a lot of pricey trucks.
The BBC reports, "We've asked the UN where the trucks are, but they haven't yet been able to provide clarification."
Really? There's no satellite intelligence that could spot more than 400 massive trucks on the ground even though it can spot every house on every block in the world these days? There are no truck drivers with satellite phones to stay in touch with the UNWFP, even if Tigray's communications infrastructure is down? The UNWFP can afford to lose hundreds of these trucks, but can't afford sat phones for the drivers?
Or are the trucks underground, and if so, why?
Are they perhaps full of Tigrayan Peoples' Liberation Front (TPLF) troops and ammunition on their way to and from the war's front lines? There's no hard evidence of that, but it's a theory as good as any the BBC is floating. And the BBC does, at least briefly, quote the Ethiopian government saying that fuel shortages are not the problem, and suggesting that the trucks may have been seized by the TPLF.
Of the 38 trucks that returned, all returned before September 16, meaning 279 trucks were missing at that time. Nevertheless, the UNWFP sent another 149 trucks last week, the third week of September. Why? Because the situation is so desperate that they disregarded hundreds of massive missing trucks? Unlikely. But none of the 149 have returned.
Does the UNWFP have so many massive trucks that they needn't worry about hundreds getting lost? And so many truck drivers who don't fear driving into a black hole?
Once again according to the BBC:
"Tigrayan forces fighting the Ethiopian government and its allies have laid the blame at the door of the Ethiopian government. 'The truck drivers are provided with fuel that's only [enough] for a one-way trip to Tigray. They are not provided [with] reserve fuel [to return] that is customary on such trips,' the Tigray People's Liberation Front (TPLF) said in a statement."
If that were true, how could the UNWFP send 466 massive aid trucks into Tigray without knowing that all but 38 lacked the fuel to return? Why would they send another 149 trucks without a refueling plan if hundreds had indeed lacked the fuel to return?
And again, what about the truck drivers? Would all but 38 of 466 drive into Tigray knowing that they lacked the fuel to return? Never fear, the BBC has another possible answer:
"It [the TPLF] also says truck drivers—many of them ethnic Tigrayans—complain of violence and intimidation during inspections at checkpoints manned by the Ethiopian military and local security officials outside Tigray. It says they are not willing to go through these again to make the return journey.

"There are also restrictions on the amount of cash that can be carried, and with banking services suspended inside Tigray, there is no money available for them when they arrive."
Well, again, if any of this were true, why did the UNWFP send another 149 trucks in during the third week of September? Why had they continued to send hundreds of trucks between July 12 and September 16 if only 38 had returned?
The BBC assigned "BBC Reality Check" staffers to investigate the case of the missing trucks, so why haven't they asked these questions?
Why do the missing trucks matter?
For one, no individual or institution should ever give the donor-dependent UNWFP another dime if they've lost track of more than 400 massive aid trucks in Tigray or anywhere else, or if they were stupid or devious enough to keep sending hundreds of trucks when only 38 had returned. The US, UK, and Germany fund the majority of the UNWFP budget, with more contributions coming from individuals and corporations. Are any of them asking questions, and if not, why not?
For two, the near starvation of the Tigrayan people has been the rallying cry of USAID Chief Samantha Power, Secretary of State Antony Blinken, and the rest of the humanitarian interventionist gang in the US and EU and their stenographic press. If they're really so distraught, can't they find a way to make sure these food aid trucks return for more? They have a lot of sway with the TPLF, their former puppets, who control the trucks' destination, Tigray.
For three, can't the UNWFP and/or donor nations make sure that the truck drivers have satellite phones so the UNWFP and the rest of us can at least know where they've gone and why they haven't returned? Their safety would seem to be a concern for both the UNWFP and its donors.
For four, was the food distributed to its intended recipients in Tigray before 428 of 466 trucks disappeared? Or did it disappear with the trucks?
_______________________________________________

Ann Garrison is an independent journalist based in the San Francisco Bay Area. She attended Stanford University and is a member of the TRANSCEND Network for Peace Development Environment. In 2014 she received the Victoire Ingabire Umuhoza Democracy and Peace Prize for her reporting on conflict in the African Great Lakes region. She can be reached at @AnnGarrison, ann@kpfa.org, ann@anngarrison.com.
Go to Original – blackagendareport.com
Tags:
Africa
,
Corruption
,
Ethiopia
,
USAID
DISCLAIMER: The statements, views and opinions expressed in pieces republished here are solely those of the authors and do not necessarily represent those of TMS. In accordance with title 17 U.S.C. section 107, this material is distributed without profit to those who have expressed a prior interest in receiving the included information for research and educational purposes. TMS has no affiliation whatsoever with the originator of this article nor is TMS endorsed or sponsored by the originator. "GO TO ORIGINAL" links are provided as a convenience to our readers and allow for verification of authenticity. However, as originating pages are often updated by their originating host sites, the versions posted may not match the versions our readers view when clicking the "GO TO ORIGINAL" links. This site contains copyrighted material the use of which has not always been specifically authorized by the copyright owner. We are making such material available in our efforts to advance understanding of environmental, political, human rights, economic, democracy, scientific, and social justice issues, etc. We believe this constitutes a 'fair use' of any such copyrighted material as provided for in section 107 of the US Copyright Law. In accordance with Title 17 U.S.C. Section 107, the material on this site is distributed without profit to those who have expressed a prior interest in receiving the included information for research and educational purposes. For more information go to: http://www.law.cornell.edu/uscode/17/107.shtml. If you wish to use copyrighted material from this site for purposes of your own that go beyond 'fair use', you must obtain permission from the copyright owner.