(Norwegian – Norsk) Det andre Afghanistan
ORIGINAL LANGUAGES, 18 Oct 2021
René Wadlow – TRANSCEND Media Service
I høst endte det militære engasjementet i Afghanistan like ydmykende som da USA trakk seg ut av Vietnam i 1975. Mange ble overrasket da sunni-islamske Taliban tok makten og regjeringsstyrkene flyktet med halen mellom beina. De nye makthaverne ga frist for evakuering av alle styrker og rådgivere til 31. august, etter at vestlige land i to årtier hadde brukt milliarder av dollar i forsøk på å opprette et demokratisk land. Krigen i Afghanistan har kostet Norge mer enn 20 milliarder kroner i militær og sivil bistand fra årsskiftet 2001/2002 til utgangen av april 2021. Hele 9 000 norske soldater tjenestegjorde i landet, hvorav ti ble drept. Forfatteren kommenterer forholdene i dette fattige, krigsherjede landet.
Siden 15. august 2021, da Talibans væpnede styrker tok kontroll over Kabul, har det vært en mange kommentarer om hvorvidt USAs og NATOs metoder var passende eller tilstrekkelige til å løse de utfordringene de sto overfor. Utfordringene var klare fra starten, selv om de ikke ble formulert av den amerikanske regjeringen som årsak til intervensjonen. Alle afghanske sentralregjeringer har møtt de samme utfordringene. Kamp mellom regjeringene og de omkring 60 ekstremt uavhengige stammegruppene har vært et vedvarende tema i afghansk politisk liv. Enhver afghansk regjering som har prøvd å sentralisere makten, har møtt samme problemer.
Verdistrukturer og sosial praksis er gjennomsyret av stammeholdninger og lojalitet selv i urbane omgivelser. Det er motsetninger mellom stammer med forskjellig etnisk og språklig bakgrunn, de største med pashtunere, som regner Afghanistan som sitt opprinnelige hjemland, og andre etniske gruppene. Andre stammer har mislikt og motsatt seg å bli dominert av pashtunere. Nedenstående kart viser utbredelsen av 'stammer' i Afghanistan.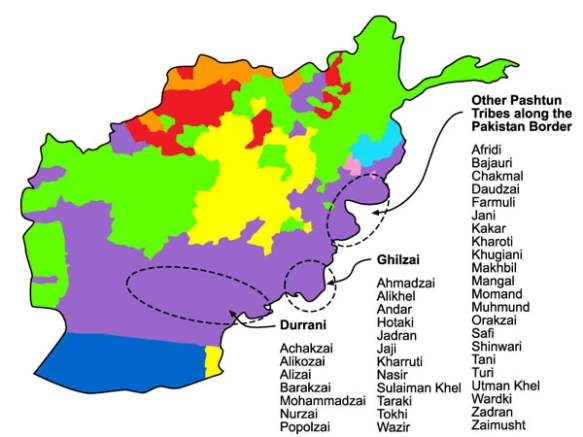 Inni denne kompliserte nasjonale mosaikken har utenlandske regjeringer siden slutten av andre verdenskrig drevet sin egen interessepolitikk: Sovjetunionen og USA, Pakistan og India, Iran og Kina. I tillegg til formelle regjeringer har flere etterretningsbyråer, slik som CIA i USA og pakistanske militære etterretningsbyråer (ISI), spilt uavhengige roller ved å støtte visse fraksjoner med penger og våpen. Den iranske revolusjonen i 1979 og den økte innflytelsen til Saudi-Arabia og gulfstatene har fått flere utenlandske stater til å delta i det politiske spillet. Med den sovjetiske intervensjonen i 1980 vokste det fram fundamentalistiske islamske motstandsgrupper, hvorav noen dannet grunnlaget for dagens Taliban.
Det meste er som før
Tjue år med tilstedeværelse i USA og NATO og seriøst arbeid fra mange ikke-statlige organisasjoner så vel som FNs institusjoner hadde ikke endret de grunnleggende politiske og sosiale forholdene i landet. Bildet av Kabul-flyplassen med de som forlot landet, de som ønsket å reise og de som ble igjen, forblir et bilde av fiasko. En fortsatt militær tilstedeværelse ga lite håp om et mer rettferdig samfunn med felles mål. Det er sannsynlig at bildet av Kabul flyplass vil forbli i offentlighetens tanker på samme måte som evakueringen av USAs ambassade i Vietnam i april 1975 etter de mange årene med intervensjon.
Et annet bilde
Det kunne ha vært et bilde av et annet Afghanistan, illustrert av den siste sekvensen i filmen "Meetings with remarkable men" fra 1979, regissert av briten Peter Brook. f. 1925) med skuespilleren Terence Stamp (f. 1938). Filmen var basert på boka med samme navn av den gresk-armenske mystikeren Georgij Ivanovitsj Gurdjieff (1866–1949). Scenen viser tempeldansene eller bevegelsene som Gurdjieff lærte i sufiklostre i Afghanistan og andre deler av Sentral-Asia. Jeanne de Salzmann (1889–1990), en nær medarbeider av Gurdjieff, ga filmregissøren råd om utførelse av bevegelsene, som har som mål å utvikle selvbevissthet.
I samme tankegang kunne den tyrkiske regjeringen, i stedet for å sende 600 soldater for å hjelpe til med å vokte flyplassen under den siste evakueringen, ha sendt 600 dansere fra den sufiske Mevlevi-ordenen med sin klassiske tyrkiske musikk for å vise Taliban at musikk ikke er anti-islamsk.
Afghanistan og grenseområdet med Pakistan har lenge vært et senter for sufiers fordypning i metoden for å nå et Høyere Selv. Kanskje ville et større antall mennesker som hadde utviklet større selvbevissthet, ikke ha forsvunnet før Taliban tok over, slik det amerikansk-trente afghanske militæret gjorde.
For de av oss som er aktive i fredsbygging, krever den afghanske situasjonen evaluering og en vilje til å vurdere nye tilnærminger, akkurat som USAs utenriksdepartement og Pentagon vil gjøre. Vi kan nå si at militære styrker ikke er opplært eller sosialisert i å få til et demokratisk liberalt samfunn. Imidlertid må vi kanskje være klarere på hvilke fredsbyggende tiltak som kunne ha utgjort en reell forskjell i et så komplekst og splittet samfunn som Afghanistan. Jeg er redd for at Afghanistan ikke betyr slutten på slike utfordringer.
__________________________________________________

René Wadlow (f. 1934) fra Genève har en bachelor fra Princeton Universitet (europeisk sivilisasjon), en mastergrad fra Universitetet i Chicago (internasjonal politikk) og deretter studert betydningen av folkehøgskoler i rurale strøk ved den internasjonale folkehøgskolen i Elsinor (Danmark). Han er professor emeritus og forskningsdirektør ved Graduate Institute of Development Studies (IHEID) og leder av Association of World Citizens, en internasjonale fredsorganisasjon med status som rådgiver for FNs økonomiske og sosiale råd (ECOSOC. Wadlow har også vært initiativtaker til det europeiske nettverket av utviklingsinstitutter (AEDI). Han er medlem av TRANSCEND og redaktør for tidsskriftet Transnational Perspectives. E-post: rene.wadlow@gmail.com.
Oversatt/tilrettelagt Dag Viljen Poleszynski
Original in English:  The Other Afghanistan  – TRANSCEND Media Service
Tags:
Afghanistan
,
NATO
,
Norway
,
Taliban
,
Warfare
This article originally appeared on Transcend Media Service (TMS) on 18 Oct 2021.
Anticopyright: Editorials and articles originated on TMS may be freely reprinted, disseminated, translated and used as background material, provided an acknowledgement and link to the source, TMS: (Norwegian – Norsk) Det andre Afghanistan, is included. Thank you.
If you enjoyed this article, please donate to TMS to join the growing list of TMS Supporters.


This work is licensed under a CC BY-NC 4.0 License.