Dr. Young Seek Choue: An Apostle of Peace
BIOGRAPHIES, 22 Nov 2021
Dr. Surya Nath Prasad – TRANSCEND Media Service
Dr. Young Seek Choue, Initiator of UN International Year and Day of Peace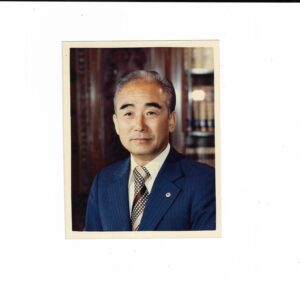 22 Nov 2021 is the 100th Birth Anniversary of Dr. Young Seek Choue, who died on 18 Feb 2012. Though Dr. Choue is not present among us physically, he is always with us through his vision and mission of peace as guiding principles.
A world renowned peace thinker and practitioner Dr. Yong Seek Choue of South Korea dreamed thought and developed a very novel idea and realizable concept that is Oughtopia. He tried to create a new type of wholesome Global Common Society. Dr. Choue considered Plato's Ideal States, Leibnitz's The Best World, More's Utopia, Kant's Theological Kingdom, Confucius's Great Cooperation Society, Mencius's The Kingly Way, and Hsunpzu's The Good World, and many utopian Schemes as utter failure due to inability to view the world holistically and multi-dimentionally. According to him, all utopians expresses partial view, hence their diagnoses did not work. Dr. Choue employs Chui-Saengsong to analyze the present and to forecast the future. "Unlike utopia", Dr. Choue said, "Oughtopia is the ideal, necessary society of society of ought-to-be (sollen).
Herein lies the major difference between the two. Whereas the former aspired towards unrealizable ideal society, the later combines both ideal and reality. It is not a land of dream or illusion, but a goal to realize a paradise on earth." Here the author of these lines would like to refer to read the article: Dr. Young Seek Choue's Oughtopia: a Peace Dream to a Peace Reality written by Dr. Suman Shukla, (published in Peace Education: An International Journal, Vol. 14, Jan-Dec, 2006, and again in Vol. 18, Feb. 2018 in its Special issue on the theme: Choueology as Peace Education in his perpetual memory) to be enlightened more about the concept of Oughtopia of Dr. Young Seek Choue.
The article: DR. YOUNG SEEK CHOUE: AN APOSTLE OF PEACE is in his dedication on his 100 Birth Anniversary on 22 November 2021, and is based on an article written by this author on him and published in Peace Education Miniseries, September 1998, and also published as opening article with more than 100 articles written on Dr. Young Seek Choue by the highly distinguished persons of the world around in the grand two Volumes: Who Is Dr. Young Seek Choue: The Global Leader with Great Vision, Kyung Hee University Press, 1999.  
The author of these lines felt honored by nominating Dr. Young Seek Choue for Nobel Peace Prize in 2002 considering his peace activities meet all the three criteria, viz. for fraternity between nations, for helping in the abolition and reduction of standing armies, and for holding and promoting peace conferences, even though he was not awarded Nobel Peace Prize.
Young Seek Choue like Buddha, Jesus, Saint Francis of Assisi, Socrates, Mahatma Gandhi and other notables, was a true and great Apostle of Peace. And his concept of peace is more creative, social as well as personal including international based on justice, equity, non-violence, tolerance, trusteeship and altruism.
I Came to know this great personality: Dr. Young Seek Choue in 1993 when I read a news about his The Graduate Institute of Peace Studies which was recipient of UNESCO Prize for Peace Education, and about Dr. Choue who was its founder, he upon receiving the Prize amount promptly returned the cheque requesting the sum be donated to UNESCO'S Programs for Peace education. And I published that news in 1993-95 issue of our Journal PEACE PROGRESS with appreciation of the work of his Peace Institute along with his photograph. And in the same year on our request, Dr. Choue wrote his FOREWORD for the book: DISARMAMENT EDUCATION AND PEACE edited by me and my wife Dr. Suman Shukla. And I personally met Dr. Choue in September 1996 when he invited me as a guest to attend the International Peace Conference on the theme: "Peace Strategies for Global Community and the Role of UN in 21st Century" held at Seoul in Republic of Korea from 17-19, 1996 in Commemoration of the 10th Anniversary of the UN International Year of Peace (1986) and the 15th UN International Day of Peace.
In this Conference I presented my written views on the theme: EDUCATION FOR JUSTICE AND PEACE. We had a talk in a smaller group there when he invited us on lunch in the French Restaurant of Hotel The Shilla, Seoul, Korea; and we discussed on several issues of peace, education and democracy. I was too much impressed with his gentle and kind behavior and his own original ideas on peace through education. He requested me there to be a co-initiator of his Global Campaign for Restoring Morality and Humanity which was already initiated by him with 50 most respectable world leaders including Nobel Laureates and Nobel Peace Prize Winners. I immediately accepted his request and supported his Global Initiative by signing a document for this purpose.
The Kyung Hee University bore all my expenses for attending the said Conference, and offered me US $ 1000 as honorarium for my speech there. On my departure from Seoul to Nagpur in India, Dr. Choue presented me a lot of popular books on peace education including a full set in 4 Volumes of WORLD ENCYCLOPEDIA OF PEACE and two wrist watches – one for me and other for my spouse. And I accepted with gratitude all the gifts offered by him with his kind love and affection. In 1998 also Dr. Choue has invited me to attend the Commemoration Ceremony and International Peace Seminar for the 17th Anniversary for the UN International Day of Peace to be held at Kyung Hee University, Seoul, Republic of Korea from 24-26 September 1998 on the theme: GREAT VISION TOWARDS THE NEXT MILLENNIUM, and he requested me to deliver Special Speech at the Closing Ceremony on 26th September 1998. And I accepted his kind invitation and communicated him the theme of my speech: GLOBAL MAN AS THE VISION FOR THE NEXT MILLENNIUM. I thanked him and Kyung Hee University for covering all the expenses for my round trip and hotel accommodation. I hoped our association would be strong in future and we shall enrich our ideas through dialogue and discussion on the issues of peace for all.
Global Saint Dr. Choue was holding several key positions – 13 high ranking prestigious posts as Founder-President of Kyung Hee University, Seoul, Korea, Chancellor of Kyung Hee University System, Seoul, Korea, Perpetual President-Emeritus of the International Association of University Presidents (IAUP-UN Peace Messenger), President of the Institute of Brighter Society, President of Institute of International Peace Studies, President of the Institute of Asian Pacific Studies, President of the Centre for the Reconstruction of Human Society, President of the Global Common Society (GCS) Club Int'l-UN NGO Member, Chairman of the Korean Assembly for Reunion of Ten-Million Separated Families (KARTS) UN NGO Member, Chairman of the High Commission for Peace (HCP) of the International Association of University Presidents (IAUP), Chairman of the Oughtopian Peace Foundation, Seoul, Korea, Co-President of International Foundation for Co-operation in Asia-Pacific Countries, Moscow, Russia, and Associate President of the World Federation of Humanists, Budapest, Hungary.
Which way peace is to be achieved? Should peace be achieved through war like historical wars or through sacrificing lives like Christ, Gandhi, Martin Luther King and like persons or through balance of power by increasing and storing modern scientific arms and ammunition, and temporary pacts, treaties and negotiations or through converting the souls of war-minded people and criminals by rare spiritual persons like Buddha who converted a cruel criminal Angulimal into Arhat (Bouddha Bhikshu – Saint) by the practice of spiritual unification of soul or through education and peace education? Certainly, Dr. Choue has chosen education and peace education which are the best medicines for curing all types of illness of peace, and for achieving endurable, lasting and perpetual peace for all mankind everywhere.
Chinese have a saying:
"If you are planning for one year, sow grain; if for ten years, plant trees; but if you are planning for hundred years, grow men."
Here Dr. Choue has a plan for hundred years to grow a new type of man – men and women of justice and peace by establishing Institute of Brighter Society in 1975, Centre for the Reconstruction of Humanity in 1976, Institute of International Peace Studies in 1979, Kyung Hee Graduate Institute of Peace Studies in 1983, Oughtopian Peace Foundation in 1989 and by initiating the Global Campaign for Restoring Morality and Humanity in 1995.
Dr. Choue has closed so many prisons by opening several schools, colleges, a university and other academic establishments total 23 in numbers from the years 1951 to 1995 under one comprehensive system of education i.e. Kyung Hee University System. Thus, through these educational institutions Dr. Choue is not only producing just and peaceful youth for themselves and mankind, but he has been saving many young from being deviants, alienated and criminals. Therefore Dr. Choue is very true of and near to the saying of Victor Hugo who said:
"One, who opens a school, closes a prison."
Dr. Choue has developed his individuality utmost so that the collectivity (the world) honored him by offering highest positions in the field of higher education and also conferring him several honorary Doctorates (26 Ph.D., D.Litt. and D.Sc.). Here Dr. Choue is true example of the preaching of an Indian Poet Iqbal who says:
"Khudi Ko Kar Buland Itna, Ki Har Takdir Se Pahale,
Khuda Bande Se Puchhe, Bata Teri, Rajaa Kya Hai"
"Develop your individuality utmost
so that even God almighty
Before to decide your fate ask you
O man, tell me what do you want?"
And thus, this utmost individual development of Dr. Choue has brought for him so many honors and awards – 49 Awards beginning from 1962 to 1992 from national and international institutions, organizations and foundations of different countries for his contributions and achievements in the areas of education, peace and human rights.
Dr. Choue is a great altruist also. His altruism is most creative, wise and pure. We may call him a creative giant in the field of goodness who possesses the qualities of genuine altruism. The Roman Law gives the following formula of the minimum of altruistic conduct:
"Neminem leadere et Suum Cuique tribuere"

 "Do good to others, harm no one, and render to each his own."
Dr. Choue's Initiation for the establishment of the Global Co-operation Society (GCS) Club International Movement which is one of his International Campaign beneficial to individual, people, country and whole mankind and the doctrine of forgiveness and benevolence and the world of universal harmony, is the best example of altruism because its purpose is to benefit but not to be benefited, and to act properly with a heart of social concern with others, to establish oneself as to help others, to be responsible for the welfare of the people… to bear the burden of responsibility, pursue justice without ever turning back to push various activities that will help the society be better and brighter.
And we see the practice of altruism of Dr. Choue in some of his national and international activities of launching enlightenment Campaigns to the people of many poverty stricken villages by Kyung Hee students and through giving free medical treatment and rendering many other social services to the needy peoples by starting in 1971 the medical treatment for atomic bomb victims of Hiroshima and Nagasaki which is still continued; initiating in 1971 a Campaign for supporting Filipino flood victims by donating relief goods through Santo Tomas University; sending the 1st dispatch of Kyung Hee University's Free Medical Service Team to Bangkok, Thailand in 1982; the 2nd dispatch of Kyung Hee University's Free Medical Service Team to Medan, Indonesia in 1983; initiating in 1986 a Campaign for supporting the United Nations' peace activities (Fund raised UN Peace Fund US $ 44,978 and donated to the UN Trust Fund), Seoul, Korea; and also initiating a Campaign in the same year of 1986 for supporting needy children, and International Peace activities by sponsoring the International Creative Ceramic Arts Exhibition; Seoul, Korea (US $ 12, 144 and 5 millions won in Korea in Korean currency, the profit from the Exhibition, were donated to the UNICEF and the 1st Earth Run, Seoul, Korea respectively); initiating in 1991, a campaign for supporting Chernobyl nuclear victim children and the starving Somalian children in Africa by holding two charity Concerts, Grand Concert Peace Cantata and Grand Artistic Festival in Seoul, Korea with the Joint efforts of the UNICEF and donated 55,214,823 won in Korean currency (US $ 73,154.66 : Somalia US $ 36,577), the profit from the Concerts, to the UNICEF, Seoul, Korea; sending the third dispatch of Kyung Hee University's Free Medical Service Team to Sudan, Africa in the same year of 1991; initiating in 1992 Chernobyl Charity Exhibition (with 100 Russian Oil Paintings) for Chernobyl nuclear plant victims in Seoul, Korea and donated the profit US $ 77,826.46 from the Exhibition to those needed children in Kiev, Ukraine through the UN, Seoul, Korea; and sending in 1996 the relief goods (Over 20,000,000 won's worth of powdered milk) to help the flood victim children of North Korea through Korea Red Cross Society.
However, real altruism manifests itself not in mere words and ideology but in overt actions. And genuine altruism is pure in motivation: altruistic actions are for their own sake, quite apart from any considerations of pleasure or utility. In fact genuine altruistic act are performed even when some suffering or disadvantage incurred by doers. Truly, altruism is peace; and justice is the mother of peace which gives to the people what is their due. And all these are true of Dr. Choue. Because besides his relief works for victims of different types, he has initiated 14 national and international Campaigns for betterment of the oppressed and downtrodden, and for better living for village people, reconciliation of bitter enemies, reunion of ten million Korean separated families, for the promotion of the unification of Korea, for restoring of morality and humanity and for strengthening UN by developing a Pax UN theory and for peace.
Dr. Choue runs his life very simple. About his simplicity, Prof. Bong Im Kim, Dean of the College of Music, Kyung Hee University writes:
"Dr. Choue has never seen interested in money. He is very frugal. Rooms of his house are hot in summer and cold in winter. He has a small reception room. His chair is very plain, and his study room is very tiny."
Dr. Choue's simple life and altruistic behavior may be correlated with the views of Albert Einstein, who said:
"… one exists for other people – first of all for those upon whose smiles and well-being our own happiness is wholly dependent, and then for the many, unknown to us, to whose destinies we are bound by the ties of sympathy. A hundred times every day I remind myself that my inner and outer life are based on the labors of other men, living and dead, and that I must exert myself in order to give in the same measure as I have received and am still receiving. I am strongly drawn to a frugal life and am often oppressively aware that I am engrossing an undue amount of the labor of my fellow-men. I regard class distinctions as unjustified and, in the last resort, based on force. I also believe that a simple and unassuming life is good for everybody, physically and mentally."
Besides the above stated altruistic activities and peace initiatives, Dr. Choue has performed 107 national and international activities side by side doing his 98 professional activities, and 10 activities concerning to sports for the better, healthy, prosper and peaceful national and world society.
Academic activities of Dr. Choue are also rich in the areas of peace studies. His speeches were given at 87 national and international meetings, and he took active part and presided in 73 conferences. Besides this Dr. Choue has written, edited and published 28 books on the different themes of peace education. World Peace through Education (1971), Oughtopia (1979), World Peace : The Great Imperative (1981), Peace Studies (1984), World Peace through Pax United Nations (1984), Proposals for Peace (1986), World Encyclopedia of Peace (1986), Peace in the Global Village (1987), A Grand Design for World Peace (1989), White Paper on World Peace – Chouean Irenology (1991), Why and By What Method Should Human Society Be Reconstructed (1993), World Citizenship (1995) are some most valuable, important and popular books on peace education of Dr. Choue. He has enriched the discipline of peace education through his contributions and peace publications. His whole writings are the contents of peace education.
The name of Dr. Choue will be on the top in the history of peace education. This author has already recognized his achievements, contributions and services in the areas of peace ideas, peace studies and peace activities, and has declared him one of the great initiators of peace education for his original idea of peace that it Oughtopian Model of Peace in his Presidential Address on the theme : "Peace Education Programmes and Studies for Perpetually Just, Non-Violent and Peaceful Society" delivered on 27th November 1996 at the IAEWP 8th World Congress at Split in Croatia which was held from 27th November to 1st December 1996. However, Dr. Choue like other initiators of peace education has been sufferer and victim of torture and humiliation. Dr. Choue's contributions, achievements and services to the welfare of mankind have been recognized also by 15 institutions, academics, foundations, universities, international bodies, voluntary organizations, and governments of different nations of the world within the period of 1973-1995.
In 1997 in the month of June, International Association of Educators for World Peace – IAEWP (which is an UN NGO having affiliation with five Specialized Agencies of United Nations viz. UN-ECOSOC, UNDPI, UNICEF, UNCED & UNESCO) honored Dr. Choue by conferring him the World Peace Academy Diploma, Ambassador of Peace Award, Certificate of Confirmed Officers (Special Consultant) for his dedicated, devoted and selfless perpetual services to the welfare and peace for all mankind everywhere. And in the same year, Dr. Choue's services to the cause of education for non-violence and peace were recognized by the Jamnalal Bajaj Foundation (Bombay, India) and it honored him with Jamnalal Bajaj Award 1997 for his work for the promotion of Gandhian Values and Philosophy of Non-violence and Peace in different parts of the world for which he deserves very much.
Rich and so vast of Dr. Choue's biography has been professionally listed in 31 international Biographies, Encyclopedias, Dictionaries, Who's Who and Yearbooks published from different countries.
Dr. Choue traveled world-wide in more than 100 nations as a part of professional activities in the field of higher education, socio-economic co-operation and various scholastic meetings and cultural exchanges for international peace, and where he did not reach physically, his ideas of peace have traveled there.
Buddha, Socrates and Gandhi died long ago; their preaching have been leading the masses of the world with their ideas and practices of non-violence and peace; intellectual freedom and dialogue and freedom for speculation; and truth, non-violence and peace; though they neglected their families. But Dr. Choue, who caring his family has been leading the people of the world towards better living and perpetual peace, is very much near to the ideas and lives of Rishi Vashishtha (a Saint of ancient India, who had a balanced and healthy life) and King Janak (an ancient Indian historical King who was called Videha – unattached with worldly affairs) who having their families led the masses with their intellectual and spiritual preaching, and just practices. Dr. Choue may be very near to the ideas of a great Indian Poet Saint Kabir also who asks from the Almighty God to meet the needs of three near and dear to him, and the said:
"O God, give me as much food so my family can be well-fed.
Besides, neither I may be deprived of food
Nor any needy may move hungry from my Doors."
Dr. Choue's tolerance is par excellent who went one step further from the preaching of "Love thy enemy like yourself," and showed the importance of benevolence (be kind and helpful). Dr. Choue was conscripted into Japanese Army Student Corps when he was 23 years old, and he and his fellow conspirators, who organized a secrete movement for Korean Independence with plans to incite the Korean people to rise against Japanese Rule were arrested, inhumanly tortured, and detained in prison for over six months before narrowly escaping execution when the Allied Forces freed them in 1945. But he is kind and helpful towards Japanese people. He began in 1971 the medical treatment for atomic victims of Hiroshima and Nagasaki.
This humanitarian activity is being continued to the present time. Not only this, but with some altruistic Japanese friends, he initiated the Pan-Asian Movement for Rural Development and at the same time he established the Association of Asian Model Villages. In 1974, the movement had its inaugural conference in Seoul, and the following year, its second conference in Osaka, Japan. His initiation in 1978 for the campaign of the Global Co-operation Society (GCS) Club International (UN NGO Member) Movement and its establishment which aims to construct a sound human society, for the respect of human beings, removal of distrust and hatred, and living of human beings in harmony, is the best example of his tolerance towards all.
To disseminate the ideas of tolerance throughout the world and to inculcate the concept of tolerance among the intellectuals, and to aware the masses of the whole world about the views of tolerance, Dr. Choue as Chairman organized in the month of September 1995 the Global Convention on "Tolerance, Restoration of Morality and Humanity" in Commemoration of the 50th Anniversary of the founding of the United Nations,  and the UN Year of Tolerance under the auspices of UNESCO and International Association of University Presidents.
In fact, Dr. Choue has a great soul who embraces all human beings as members of one human family. The song of Kyungheeans which was written by Dr. Choue goes in part, "All people belong to one global family. The whole globe is a continuous extension of one land mass and as the leaders of leaders, we, hand in hand, must for world peace and human welfare…". He stresses that the organization of the Global Co-operation Society (GCS) is a global society to constitute a bright and healthy human society…
Its purpose is to take advantage of the organization of the GCS to cultivate mutual help and admiration to work together with one heart as means to overcome social difficulties and to act as a pioneer by rendering social service with the spirit of good-will, co-operation and service in loving his country and in establishing a safe and peaceful world, that is to say, "The world of universal harmony" and "One human family in a global village". In this way, Dr. Choue's philosophy and practice of tolerance are very much similar to the teachings of the ancient Indian epic Mahabharata which says:
"Small souls inquire, 'Belongs this man
To our own race or sect or clan?'
But larger-hearted men embrace
As brothers all the human race."
Not only this, his tolerance is also seen in his intense desire to develop and restore humanity for endurable peace. And for this, he has organized the Global initiative with the 50 most distinguished world leaders (the number of initiators is continuously increasing) to support his Global Campaign for Restoring Morality and Humanity. Dr. Choue's all activities concerning his theory and practice of tolerance are very much similar to the saying of a great world educator Comenius, who said almost 300 years ago:
"If we want to develop humanity, we must seek untiringly the means of achieving that end. The means are threefold: first, people must recognize that it is unworthy of them to burden themselves and each other with hate for futile reasons; they must, in a general way, forgive past disputes, injustices and injuries. We shall call this, erasing the past. Second, none shall impose his or her philosophical, theological or political principles on any other person; on the contrary, everyone must allow everybody else to uphold their opinions and to enjoy in peace that which belongs to them. We shall call this mutual tolerance. And third, all people must endeavor, in a common effort, to find the best way of behaving and, to that end, must join their thoughts their aspirations and their actions. And this we shall cal conciliation…."
Dr. Choue has firm belief in democracy. But he also knows that without education there will be no true leadership in democracy. Plato also saw the defect in democracy without education because his own great teacher Socrates was poisoned to death by the uneducated leaders in democracy of that time in Athens. And this was why Huxley's cry of a hundred years ago rings round the world today:
"The politician tells us 'You must educate the masses because they are going to be masters'… And a few voices are lifted up in favor of the doctrine that the masses should be educated because they are men and women with unlimited capacity of being, doing and suffering and that it is as true now, as ever it was, that the people perish for lack of knowledge."
Dr. Choue also saw that "poverty of leadership", as in 1950, he worked in the National Assembly as Under-Secretary of administration and an expert Advisor of law in Mind Jung Dong Ji Hoe with an aim to further his ambition in politics; and he found its reason the lack of education. And therefore he aimed his life toward education to cultivate young men and women of talent in democratic principles and statecraft rather than making political life his own lifelong career. And another reason for his entry in the field of education was to attain peace for all which he has considered was not possible without education. This truth was also accepted by Hutchins – an author of a famous and popular book : THE LEARNING SOCIETY, who says :
"Peace is unlikely there are continuous, unlimited opportunities for learning and unless men continuously avail themselves of them. The world of law and justice for which we yearn, the worldwide political republic, cannot be realized without the worldwide republic of learning."
Truly, education of man is human awakening. It is conscientization of human beings to be just and non-violent which lead to peace. This is why a great educator Comenius expressed his two wishes regarding education of man, and he said, in The Great Didactic:
"Our first wish is that all men should be educated fully to full humanity; not any one individual, nor a few nor even many, but all men together and singly, yound and old, rich and poor, of high and lowly birth, men and women – in a word all whose fate it is to be born human beings; so that at last the whole of human race may become educated, men of all ages, all conditions, both sexes and all nations.

"Our second wish is that every man should be wholly educated, rightly formed not only in one single matter or in a few or even in many, but in all things which perfect human nature…"
Hence, in 1949 Dr. Choue founded Kyung Hee University which is a comprehensive education system that stretches from kindergarten through graduate schools to postgraduate colleges and then a university. His university's Motto, which is Democratization of School, Ideas and Living, embodies the principles upon which the U.N. is founded. The Graduate Institute of Peace Studies of his University trains future leaders of Korea and the world to temper their knowledge with humanity and wisdom for perpetual peace to all mankind of the whole world.
Really, Dr. Choue was born to build peace for all in the world through peace education. UN International Day and UN International Year are his concepts for conscientizing the peoples of the whole world towards peace. The only aim of his life is to realize world peace through education.
Dr. Choue has told us that world peace can not be achieved by Pax Romana, Pax Britannica, or a Pax other nation. And he firmly believes to achieve world peace through Pax United Nations only. His Kyung Hee University, which he founded on the principles of United Nations, is truly a Global University for World Peace. By founding the Graduate Institute of Peace Studies (GIP) under Kyung Hee University, practicing peace education and peace studies at the GIP, and contributing to the promotion of global peace, Dr. Choue made the Graduate Institute the recipient of the 1993 UNESCO Award for Peace Education and Prize Money US $ 60,000. But Dr. Choue immediately refunded the prize amount to the UNESCO for its further cause to the promotion of peace education.
Dr. Choue is a great genius. He has a marvelous talent. He is ocean in knowledge, feelings and actions of, about and for things – living and non-living especially their effects on human beings and their dynamics. Thus, three domains of his mind : cognitive, affective and co-native are highly sharp and rich. And his achievements, contributions, activities and services to the mankind are so wide, deep and vast that nobody can write on all spheres of his riches and competence.
Victor Hugo once said,
"A human being who can read has been saved."
Reading to be saved means saved from oppression, dependence and hunger. Through the act of reading, oppressed and oppressors, exploited and exploiters both will become aware of reality and being human, capable to change the world of exploitation. And the way to continue human is to keep on reading. The reading of popular books has brought great revolutions in history, established democracy and built peace in some nations of the world. It is said that extension and sharing of knowledge is the basis of peace. In the Chinese Classic – The Great Learning, it is noted that:
"The extension of knowledge consists in the investigation of things. When things are investigated, knowledge is extended. When knowledge is extended, …the mind is elevated; when the mind is elevated, the personal life is deepened; when the personal life is deepened, the family will be regulated; when the family is regulated, the State will be in order; when the State is in order, there will be peace on earth." 
It is learnt that Dr. Choue spends all his time in writing for articles, speeches and books. Not only this, but for extension of knowledge he devotes his time in reading the books also, and for sharing of knowledge he organizes national, continental and international conferences to make dialogue and discussions with the persons of different regions and nations of the world. Here Nasrollah S. Fatemi enlightens us through his PREFACE written for the book: Peace Studies (published by Kyung Hee University Press, Seoul, Korea) saying that:
"Dr. Choue discovers his friends and then he shares with them his idea, enriches them with his wisdom and showers them with kindness, grace and noblest consideration."   
Dr. Choue, following the ideals of Iqbal, developed his individually utmost by learning so may subjects and acquiring knowledge contained in different disciplines and achieved high positions in the filed of higher education with several honors and awards. But his further activities and actions to the welfare of all mankind from local to global help in completing the Iqbal's saying with the preaching of Sufi Saint, who said:
Nukte Ke Her Pher Se Khuda Juda Hua,
Nikal De Khudi Ko Tuhi Khuda Hua.

The change of place of a dot, the word "Khuda" (God) becomes "Juda" (Separated).
Merge your ego (individuality) into collectivity; you will become the God (Khuda).
Dr. Choue transcended his individuality to embrace the whole humanity irrespective of race, creed, color, and language, cultural and even nationality and has identified himself with all peoples as his own; understanding that self of an individual is soul and selves of all is God (Apni Atma, Atma Hai, Sabki Atma Parmatma Hai).
Dr. Choue always tries to make others happy, prosper and peaceful through his words and actions which in turn makes him happy and peaceful. Here I would like to quote the saying of an Indian Poet Jayashankar Prasad about happiness and peace, who said:
"O man, see laughing others,
Laugh and be happy.
To expand your happiness,
Make others happy."
Confucius advised us: "Repay evil neither with goodness nor with evil, but with justice". Dr. Choue, who is a great intellectual giant and social reformer and initiator of Global Society, has been fighting to eliminate war, poverty, natural disaster, disease, ignorance and grievance – the evils of mankind and peace – through education and peace education by supporting the idea of establishment of Global Society which will be socially just, balanced, morally sensitive and humanly rewarding. Dr. Choue, who is a great peace educator, embodies the universal brotherhood of man as he considers all peoples belong to one global family. His concept of peace through education is cosmic and beneficial to all mankind. Thus, he is a living institution of peace. Therefore, he may appropriately be called a Global Saint and World Educator of peace education.
In this way, Dr. Choue, being a preacher and practitioner of justice and altruism is a unique Apostle of Peace whose teachings and practices are inevitable for universal brotherhood and global peace.
____________________________________________________

Dr. Surya Nath Prasad, former president & currently executive vice president of International Association of Educators for World Peace (IAEWP), associate professor of education emeritus, former visiting professor, the graduate institute of peace studies, Kyung Hee University, Republic of Korea, founder & editor-in-chief, Peace Education: An International Journal. dr_suryanathprasad@yahoo.co.in
Tags:
Biography
,
Education for Peace
,
International Day of Peace
,
United Nations
This article originally appeared on Transcend Media Service (TMS) on 22 Nov 2021.
Anticopyright: Editorials and articles originated on TMS may be freely reprinted, disseminated, translated and used as background material, provided an acknowledgement and link to the source, TMS: Dr. Young Seek Choue: An Apostle of Peace, is included. Thank you.
If you enjoyed this article, please donate to TMS to join the growing list of TMS Supporters.


This work is licensed under a CC BY-NC 4.0 License.