(Français) Mauvaise foi, mauvaises nouvelles et Julian Assange
ORIGINAL LANGUAGES, 10 Jan 2022
Edward Snowden | Le Grand Soir - TRANSCEND Media Service
24 décembre 2021 – Edward Snwoden explique pourquoi la décision de la Haute Cour britannique en faveur de l'extradition d'Assange pourra créer un précédent extrêmement dangereux pour le métier de journaliste. Et le lanceur d'alerte ne ménage pas tous ces « journalistes » qui ont choisi de condamner Assange, creusant la tombe de leur profession. (IGA)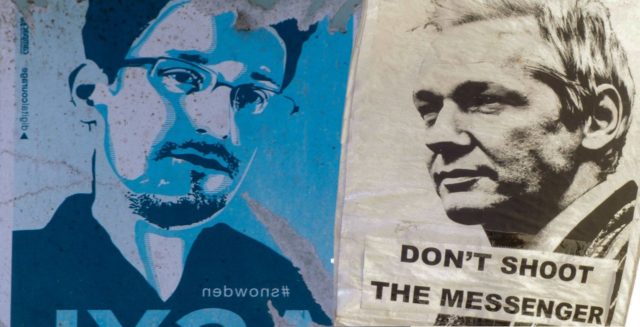 Ce Noël pourrait bien être le dernier que le fondateur de Wikileaks, Julian Assange, passera hors des geôles américaines. Le 10 décembre, la Haute Cour britannique s'est prononcée en faveur de l'extradition d'Assange vers les États-Unis, où il sera poursuivi en vertu de l'Espionage Act pour avoir publié des informations véridiques. Il est clair pour moi que les accusations portées contre Assange sont à la fois sans fondement et dangereuses, dans une mesure inégale – sans fondement dans son cas personnel, et dangereuses pour nous tous. En cherchant à poursuivre Assange, le gouvernement américain prétend étendre sa souveraineté à la scène mondiale et tenir les éditeurs étrangers responsables des lois américaines sur le secret. Ce faisant, le gouvernement américain créera un précédent pour poursuivre toutes les organisations de presse du monde entier – tous les journalistes de tous les pays – qui s'appuient sur des documents classifiés pour rendre compte, par exemple, des crimes de guerre commis par les États-Unis, du programme de drones américain ou de toute autre activité gouvernementale, militaire ou de renseignement que le département d'État, la CIA ou la NSA préféreraient garder enfermés dans le secret, loin de la vue du public et même de la surveillance du Congrès.
Je suis d'accord avec mes amis (et avocats) de l'ACLU : l'inculpation d'Assange par le gouvernement américain revient à criminaliser le journalisme d'investigation. Et je suis d'accord avec une myriade d'amis (et d'avocats) dans le monde entier pour dire qu'au cœur de cette criminalisation se trouve un paradoxe cruel et inhabituel : à savoir, le fait que nombre des activités que le gouvernement américain préférerait étouffer sont perpétrées dans des pays étrangers, dont le journalisme devra désormais répondre devant le système judiciaire américain. Et le précédent établi ici sera exploité par toutes sortes de dirigeants autoritaires à travers le monde. Quelle sera la réponse du département d'État lorsque la République d'Iran demandera l'extradition des journalistes du New York Times pour avoir violé les lois iraniennes sur le secret ? Comment le Royaume-Uni réagira-t-il lorsque Viktor Orban ou Recep Erdogan demandera l'extradition de reporters du Guardian ? Le problème n'est pas que les États-Unis ou le Royaume-Uni se plieraient un jour à ces demandes – bien sûr qu'ils ne le feraient pas – mais qu'ils ne disposeraient d'aucune base de principe pour leurs refus.
Les États-Unis tentent de distinguer la conduite d'Assange de celle des journalistes plus traditionnels en la qualifiant de « conspiration ». Mais qu'est-ce que cela signifie dans ce contexte ? S'agit-il d'encourager quelqu'un à découvrir des informations (ce que font tous les jours les rédacteurs qui travaillent pour les anciens partenaires de Wikileaks, le New York Times et le Guardian) ? Ou est-ce qu'il s'agit de donner à quelqu'un les outils et les techniques pour découvrir ces informations (ce qui, selon les outils et les techniques en question, peut aussi être considéré comme une partie typique du travail d'un rédacteur en chef) ? En vérité, tout le journalisme d'investigation en matière de sécurité nationale peut être considéré comme une conspiration : le but de l'entreprise est que les journalistes persuadent leurs sources de violer la loi dans l'intérêt public. Et le fait d'insister sur le fait qu'Assange n'est en quelque sorte « pas un journaliste » n'enlève rien à ce précédent, alors que les activités pour lesquelles il a été inculpé ne se distinguent pas des activités auxquelles se livrent régulièrement nos journalistes d'investigation les plus décorés.
Si vous avez suivi les mauvaises nouvelles de la semaine dernière, vous avez certainement rencontré une version de cette question : Assange est-il un X ou un journaliste ? Dans cette formule inepte, X peut être n'importe quoi : hacktiviste, terroriste, homme-lézard. Peu importe le substantif que vous y placez, car tout l'exercice est inutile.
Ce genre de questionnement sincère, crédule, suffisant et jubilatoire n'est que l'exemple le plus récent, juste à temps pour Noël, de mauvaise foi en chair et en os, présenté par des professionnels des médias qui ne sont jamais de plus mauvaise foi que lorsqu'ils parlent de – ou jugent – d'autres médias.
Obfuscation, rétention, manipulation du sens, déni du sens – ce ne sont là que quelques-unes des façons dont certains journalistes, et pas seulement des journalistes américains, ont conspiré, oui, conspiré pour condamner Assange in absentia, et, par extension, pour condamner leur propre profession – pour se condamner eux-mêmes. Ou peut-être ne devrais-je pas appeler les automates gélifiés de Fox ou Bill Maher des  » journalistes « , car combien de fois ont-ils fait le dur travail de cultiver une source, de protéger l'identité d'une source, de communiquer en toute sécurité avec une source ou de stocker en toute sécurité les documents sensibles d'une source ? Toutes ces activités constituent l'âme du bon journalisme, et pourtant ce sont précisément ces activités que le gouvernement américain vient de chercher à redéfinir comme des actes de conspiration criminelle odieuse.
De créatures hypocrites, de mauvaise foi : les médias en sont pleins. Et un trop grand nombre d'entre eux se contentent d'accepter la décision du gouvernement américain selon laquelle ce qui est censé être l'objectif suprême des médias – la découverte de la vérité, face aux tentatives de la cacher – est soudainement remis en question et peut-être même illégal.
Ce frisson dans l'air en cette période de Noël ? Si l'on autorise la poursuite d'Assange, elle se transformera en gelée.
Couvrez-vous bien.
___________________________________________________
Traduction "le changement ne sera pas que climatique" par Viktor Dedaj avec probablement toutes les fautes et coquilles habituelles.
Go to Original – thegrandsoir.info
Tags:
Assange
,
Edward Snowden
,
Journalism
,
Justice
,
Media
DISCLAIMER: The statements, views and opinions expressed in pieces republished here are solely those of the authors and do not necessarily represent those of TMS. In accordance with title 17 U.S.C. section 107, this material is distributed without profit to those who have expressed a prior interest in receiving the included information for research and educational purposes. TMS has no affiliation whatsoever with the originator of this article nor is TMS endorsed or sponsored by the originator. "GO TO ORIGINAL" links are provided as a convenience to our readers and allow for verification of authenticity. However, as originating pages are often updated by their originating host sites, the versions posted may not match the versions our readers view when clicking the "GO TO ORIGINAL" links. This site contains copyrighted material the use of which has not always been specifically authorized by the copyright owner. We are making such material available in our efforts to advance understanding of environmental, political, human rights, economic, democracy, scientific, and social justice issues, etc. We believe this constitutes a 'fair use' of any such copyrighted material as provided for in section 107 of the US Copyright Law. In accordance with Title 17 U.S.C. Section 107, the material on this site is distributed without profit to those who have expressed a prior interest in receiving the included information for research and educational purposes. For more information go to: http://www.law.cornell.edu/uscode/17/107.shtml. If you wish to use copyrighted material from this site for purposes of your own that go beyond 'fair use', you must obtain permission from the copyright owner.