RAND Corporation Study Calls for Regime Change in Moscow
ANGLO AMERICA, 21 Feb 2022
Bruce Gagnon | Organizing Notes - TRANSCEND Media Service
13 Feb 2022 – Imagine how Moscow felt when they first read this RAND Corporation study. When we look at current events can we notice the direct connection to the points from this study listed below? Whether it is US-NATO military expansion right up to Russian borders or efforts by Washington to kill the Nordstream 2 natural gas pipeline from Russia to Germany – it is clear that there is a method behind US-NATO madness. If you were sitting in Russia's shoes how would you react to these proposals below – many of which have been or are now being implemented?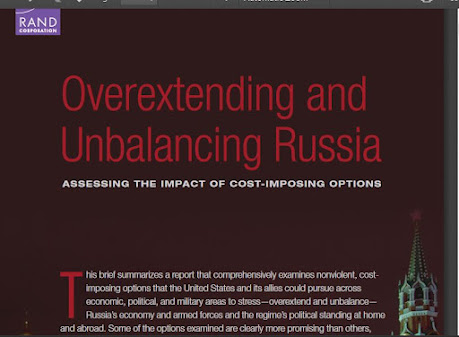 Despite these vulnerabilities and anxieties, Russia remains a powerful country that still manages to be a U.S. peer competitor in a few key domains. Recognizing that some level of competition with Russia is inevitable, RAND researchers conducted a qualitative assessment of "cost-imposing options" that could unbalance and overextend Russia. Such cost-imposing options could place new burdens on Russia, ideally heavier burdens than would be imposed on the United States for pursuing those options.
Increasing Europe's ability to import gas from suppliers other than Russia could economically extend Russia and buffer Europe against Russian energy coercion. Europe is slowly moving in this direction by building regasification plants for liquefied natural gas (LNG).
Encouraging the emigration from Russia of skilled labor and well-educated youth has few costs or risks and could help the United States and other receiving countries and hurt Russia, but any effects—both positive for receiving countries and negative for Russia—would be difficult to notice except over a very long period. This option also has a low likelihood of extending Russia.
Providing lethal aid to Ukraine would exploit Russia's greatest point of external vulnerability. But any increase in U.S. military arms and advice to Ukraine would need to be carefully calibrated to increase the costs to Russia of sustaining its existing commitment without provoking a much wider conflict in which Russia, by reason of proximity, would have significant advantages.
Undermining Russia's image abroad would focus on diminishing Russian standing and influence, thus undercutting regime claims of restoring Russia to its former glory.
Reposturing bombers within easy striking range of key Russian strategic targets has a high likelihood of success and would certainly get Moscow's attention and raise Russian anxieties; the costs and risks of this option are low as long as the bombers are based out of range of most of Russia's theater ballistic and ground-based cruise missiles.
Deploying additional tactical nuclear weapons to locations in Europe and Asia could heighten Russia's anxiety enough to significantly increase investments in its air defenses.
There are also ways to get Russia to extend itself in strategic competition. In terms of benefits, such developments would exploit Moscow's demonstrated fear of U.S. airpower capabilities and doctrines. Developing new low-observable, long-range bombers, or simply adding significantly more of types that are already available or programmed (B-2s and B-21s) would be worrisome for Moscow, as would developing autonomous or remotely piloted strike aircraft and producing them in high numbers.
Increasing U.S. and allied naval force posture and presence in Russia's operating areas could force Russia to increase its naval investments, diverting investments from potentially more dangerous areas.
Increasing naval R&D efforts would focus on developing new weapons that allow U.S. submarines to threaten a broader set of targets or enhance their ability to threaten Russian nuclear ballistic missile submarines (SSBNs), which could impose anti-submarine warfare costs on Russia.
Checking the Black Sea buildup would involve deploying strengthened North Atlantic Treaty Organization (NATO) anti-access and area denial over the Black Sea—perhaps in the form of long-range, land-based anti-ship missiles—to drive up the cost of defending Russian bases in Crimea and lower the benefit to Russia of having seized this area.
A general increase in NATO ground force capabilities in Europe—including closing European NATO member readiness gaps and increasing the number of U.S. forces stationed in traditional locations in Western Europe—would have limited risks.
Incremental investments in new technologies to counter Russian air defenses and increase U.S. long-range fires could significantly improve defense and deterrence while compelling increased Russian investment in countermeasures.
Obama's ambassador to Ukraine made a trip to US-NATO training base in western Ukraine (where the Nazis predominate). US Special Forces are rotated into the base from Ft. Carson, Colorado to train the Kiev regime's Army. Many of the Nazis have been brought into this 'new military unit'. More than 27 million people in the former Soviet Union died during Hitler's WW II invasion. Imagine how Russians today feel when they see the US arming, training and directing Nazi forces to attack the Russian-ethnic citizens living in the Donbass region of Ukraine, right next to the Russian border.

Even if the Army were not directly involved in extending Russia per se, it would play a key role in mitigating the possible blowback. All the options to extend Russia incur some risk. As a result, enhancing U.S. deterrence posture in Europe and increasing U.S. military capabilities (e.g., an enhanced Javelin or active protection systems for Army vehicles) might need to go hand in hand with any move to extend Russia, as a way of hedging against the chance of tensions with Russia escalating into conflict.
The most-promising options to "extend Russia" are those that directly address its vulnerabilities, anxieties, and strengths, exploiting areas of weakness while undermining Russia's current advantages. In that regard, Russia's greatest vulnerability, in any competition with the United States, is its economy, which is comparatively small and highly dependent on energy exports.
Most of the options discussed, including those listed here, are in some sense escalatory, and most would likely prompt some Russian counterescalation. Thus, besides the specific risks associated with each option, there is additional risk attached to a generally intensified competition with a nuclear-armed adversary to consider. This means that every option must be deliberately planned and carefully calibrated to achieve the desired effect. Finally, although Russia will bear the cost of this increased competition less easily than the United States will, both sides will have to divert national resources from other purposes.
_________________________________________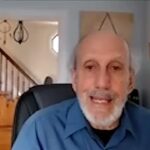 Bruce K. Gagnon, coordinator of the Global Network Against Weapons & Nuclear Power in Space, was a 2021 US Peace Prize nominee at the US Peace Memorial Foundation. Bruce grew up in a military family and joined the Air Force in 1971 during the Vietnam War. It was there that he became a peace activist. Blogs: Organizing Notes – Peace Protests at Vandenberg Space Command / Air Force Base .
Go to Original – space4peace.blogspot.com
Tags:
Biden
,
Eastern Europe
,
European Union
,
False flag
,
Proxy War
,
Putin
,
Russia
,
USA
,
Ukraine
,
Violent conflict
DISCLAIMER: The statements, views and opinions expressed in pieces republished here are solely those of the authors and do not necessarily represent those of TMS. In accordance with title 17 U.S.C. section 107, this material is distributed without profit to those who have expressed a prior interest in receiving the included information for research and educational purposes. TMS has no affiliation whatsoever with the originator of this article nor is TMS endorsed or sponsored by the originator. "GO TO ORIGINAL" links are provided as a convenience to our readers and allow for verification of authenticity. However, as originating pages are often updated by their originating host sites, the versions posted may not match the versions our readers view when clicking the "GO TO ORIGINAL" links. This site contains copyrighted material the use of which has not always been specifically authorized by the copyright owner. We are making such material available in our efforts to advance understanding of environmental, political, human rights, economic, democracy, scientific, and social justice issues, etc. We believe this constitutes a 'fair use' of any such copyrighted material as provided for in section 107 of the US Copyright Law. In accordance with Title 17 U.S.C. Section 107, the material on this site is distributed without profit to those who have expressed a prior interest in receiving the included information for research and educational purposes. For more information go to: http://www.law.cornell.edu/uscode/17/107.shtml. If you wish to use copyrighted material from this site for purposes of your own that go beyond 'fair use', you must obtain permission from the copyright owner.