(Italiano) Si può fare la pace con le armi?
ORIGINAL LANGUAGES, 21 Mar 2022
Angela Dogliotti Marasso | Centro Studi Sereno Regis – TRANSCEND Media Service
"La nonviolenza non significa docile sottomissione alla volontà del malvagio ma significa l'impiego di tutte le forze dell'anima contro la volontà del tiranno."
— M. K. Gandhi, Young India, 11 agosto 1920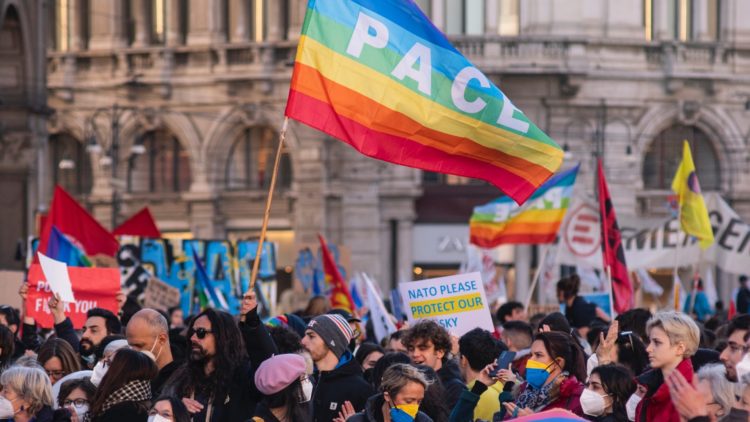 18 Marzo 2022 – Nei giorni scorsi sono comparsi diversi articoli di autorevoli intellettuali quali Vito Mancuso su «LaStampa»o di politici impegnati come Luigi Manconi su «La Repubblica», in difesa della scelta etica dell'invio di armi all'Ucraina.
Da parte dei movimenti nonviolenti – e in genere del movimento per la pace che si riconosce nella Rete italiana pace e disarmo – sono state espresse chiare critiche alla decisione del parlamento, presa a grande maggioranza, di aiutare la resistenza ucraina anche con l'invio di armi; e alcuni di noi hanno già preso posizione in questo dibattito (si veda, ad esempio la risposta di Pasquale Pugliese a Mancuso, o quella di Enrico Peyretti a Gilberto Squizzato (comparsa su «Adista»); o quella del Presidente dell'ANPI Pagliarulo e di Mao Valpiana a Manconi su «La Repubblica», per citare solo quelle degli amici più vicini).
Su questo tema, e su una valutazione più complessiva della situazione in atto, anche Marco Labbate, in un bell'articolo comparso su questo sito l'11 marzo, ha condiviso alcuni interrogativi drammatici che penso valga la pena riprendere e approfondire.
A proposito delle forme possibili di sostegno  alla resistenza ucraina, è capitato anche a me , come a lui,  di chiedermi se mandare armi «sia una strategia dolorosa, ma necessaria, che mira, unita alle sanzioni, a rendere la guerra insostenibile per la Russia e a portarla a un rapido ripiegamento e quindi a risparmiare vite»… ecco, questa è l'obiezione a mio parere più «pesante» , che mette in crisi chi, come noi, sostiene  la necessità di percorrere altre strade. Non arrivo però a pensare che potrebbe essere inevitabile un impegno diretto della NATO, che penso abbia le mani legate, a meno che non si voglia correre il rischio, davvero, di una guerra nucleare. Perché, in una guerra, se si alza lo scontro da una parte, si alimenta l'escalation che, come sappiamo, può arrivare anche dove non si aveva l'intenzione di arrivare, sfuggendo al controllo. E questo, in presenza di armi nucleari tattiche, nessuno può permetterselo. Lo stesso concetto di «guerra giusta» non ha più senso di fronte alla possibilità di autodistruzione nell'era atomica…
Intanto, l'aumento della circolazione di armi rende la guerra sempre più crudele, fa crescere il numero delle vittime, alimenta l'odio reciproco e ci avvicina a un punto di non ritorno pericolosissimo per tutti. Su questa strada non ci saranno vincitori, perché tutti saranno vittime della violenza e tutti i conflitti precedenti questa guerra resteranno sul campo. La «vittoria», più probabile, della Russia, o fosse anche dell'Ucraina, non sarà che il presupposto per un successivo conflitto che prima o poi emergerà.
Il dibattito politico su questi temi si sta facendo in questi giorni sempre più aspro, anche con vergognose accuse nei confronti di chi esprime una posizione pacifista e nonviolenta, di essere equidistante se non addirittuta filo-putiniano (Antonio Polito sul «Corriere della Sera).
Non c'è dubbio che qui siamo in presenza di un aggressore e di un aggredito.  Non c'è affatto equidistanza tra queste due parti, semmai equivicinanza a tutte le persone che soffrono a causa di questa assurda guerra, decisa da un autocrate, senza alcun rispetto nemmeno per il suo popolo.
Questo però, a mio parere, non ci esime dal chiederci quali sono tutte le responsabilità, di tutte le parti in campo, che hanno condotto a questi esiti. Altrimenti il rischio è che si assuma una prospettiva dicotomica e manichea, si rafforzi la logica amico/nemico, tutto il bene di qua (e sul «bene» delle nostre società occidentali ci sarebbero molte cose da eccepire…), tutto il male di là. Non è così. Nemmeno per quanto riguarda gli Ucraini, che hanno anche loro le loro responsabilià nel conflitto.
Penso anche che la resistenza nonviolenta, come si evince dalla ricerca di Chenoweth e Stephan, che Marco Labbate cita, si è già manifestata con successo, anche quando è stata spontanea, non adeguatamente preparata. Certo, non possiamo essere noi a dire cosa devono fare gli Ucraini sotto le bombe.
Noi però possiamo, e dobbiamo, se sosteniamo che le armi non siano la soluzione, «offrire qualcosa di più efficace», a partire da noi. Tutto quello che suggerisce Labbate e oltre: da un tavolo della pace a Ginevra per affrontare tutte le questioni in ballo (non solo l'Ucraina), alla presenza di caschi blu di interposizione, allo sciopero europeo contro la guerra, all'accettazione di tutte le conseguenze delle sanzioni anche da parte nostra, alla presenza di figure autorevoli e istituzioni europee nel teatro di guerra, sostenute da ONG e carovane di pace come avvenne nei Balcani…
L'alternativa alla guerra è solo una negoziazione capace di prendere in considerazione tutti gli obiettivi legittimi di tutte le parti.
Perché non è vero che sia stato fatto tutto il possibile. Lo scrive anche Marco Mascia, successore di Papisca all'Università di Padova e docente di Relazioni internazionali e sistema politico dell'Unione europea nella stessa Università: «Oggi gli strumenti per risolvere pacificamente un conflitto ci sono. Si chiamano diritto internazionale e organizzazioni internazionali» («La Voce dei Berici», 14 marzo 2022).
Stiamo assistendo con questa guerra a un riassetto delle relazioni internazionali, in senso almeno tripolare (Stati Uniti, Russia, Cina). L'Occidente farebbe bene ad ampliare lo sguardo e ad accorgersi che è necessario un nuovo patto di convivenza planetaria, più giusto ed equilibrato, anche per affrontare insieme le enormi sfide che abbiamo di fronte, in primis il cambiamento climatico, che la guerra ci ha fatto dimenticare, ma che è sempre presente, ancor più drammaticamente alimentato dalla guerra stessa.
Certo non dobbiamo nasconderci che tutto ciò comporta, per la nostra parte di mondo, grandi cambiamenti, anche nel nostro stile di vita. Come già aveva ben compreso Alex Langer: contro la guerra, è necessario cambiare la vita.
________________________________________

Angela Dogliotti Marasso è membro della Rete TRANSCEND per la Pace, Sviluppo e Ambiente e direttrice del Centro Studi Sereno Regis a Torino.
Go to Original – serenoregis.org
Tags:
Arms Industry
,
European Union
,
Invasion
,
Russia
,
Ukraine
DISCLAIMER: The statements, views and opinions expressed in pieces republished here are solely those of the authors and do not necessarily represent those of TMS. In accordance with title 17 U.S.C. section 107, this material is distributed without profit to those who have expressed a prior interest in receiving the included information for research and educational purposes. TMS has no affiliation whatsoever with the originator of this article nor is TMS endorsed or sponsored by the originator. "GO TO ORIGINAL" links are provided as a convenience to our readers and allow for verification of authenticity. However, as originating pages are often updated by their originating host sites, the versions posted may not match the versions our readers view when clicking the "GO TO ORIGINAL" links. This site contains copyrighted material the use of which has not always been specifically authorized by the copyright owner. We are making such material available in our efforts to advance understanding of environmental, political, human rights, economic, democracy, scientific, and social justice issues, etc. We believe this constitutes a 'fair use' of any such copyrighted material as provided for in section 107 of the US Copyright Law. In accordance with Title 17 U.S.C. Section 107, the material on this site is distributed without profit to those who have expressed a prior interest in receiving the included information for research and educational purposes. For more information go to: http://www.law.cornell.edu/uscode/17/107.shtml. If you wish to use copyrighted material from this site for purposes of your own that go beyond 'fair use', you must obtain permission from the copyright owner.