Europe Sweeps Away More Refugees, Asylum Seekers – Part II: Hungary, Poland
EUROPE, 25 Apr 2022
Baher Kamal | Human Wrongs Watch - TRANSCEND Media Service
Part I focused on the United Kingdom and Greece
22 Apr 2022 – This article will deal with how Hungary has been criminalising organisations that provide humanitarian assistance to migrants, and how Poland 'arbitrarily' detains thousands of asylum seekers.
In fact, Hungary, a European Union full member country, has a long record of 'demonising' migrants, refugees and asylum seekers.
Already back in 2018, another major human rights organisation –Human Rights Watch, reported that, since 2015, the Viktor Orban government has engaged in a virulent campaign against migrants and asylum seekers, including efforts to demonise organisations that provide legal and humanitarian assistance to these groups.
In the case of another European Union's full member country –Poland, another major human rights organisation Amnesty International, on 11 April 2022 reported that the Polish authorities have arbitrarily detained nearly two thousand asylum-seekers who crossed into the country from Belarus in 2021 [that's prior to the Ukrainian war].
"Asylum-seekers who crossed the Belarus border into Poland, including many forced to do so by Belarusian Border Guards, are now detained in filthy, overcrowded detention centres where guards subject them to abusive treatment and deny them contact with the outside world."

— Jelena Sesar, Regional Researcher at Amnesty International
Also that many of those asylum seekers have been subjected to abuse, including strip searches in unsanitary, overcrowded facilities, and in some cases even forcible sedation and tasering.
Degrading treatment
Amnesty International reported about the Polish Authorities violating the rights of asylum-seekers, including strip searches and other degrading treatment, in overcrowded detention centres. Some people were forcibly sedated during their return.
"At the Polish border, they face razor wire fences and repeated pushbacks by border guards sometimes up to 20-30 times."
Asylum-seekers who crossed the Belarus border into Poland, including many forced to do so by Belarusian Border Guards, are now detained in "filthy, overcrowded detention centres where guards subject them to abusive treatment and deny them contact with the outside world," said Jelena Sesar, Regional Researcher at Amnesty International.
Arbitrary detention, abysmal detention conditions
Polish border guards have systematically rounded up and violently pushed back people crossing from Belarus, sometimes threatening them with guns, according to Amnesty International's report.
"The vast majority of those who have been fortunate enough to avoid being pushed back to Belarus and to apply for asylum in Poland are forced into automatic detention, without a proper assessment of their individual situation and the impact detention would have on their physical and mental health."
Suicidal thoughts
"They are often held for prolonged and indefinite periods of time in overcrowded centres that offer little privacy and only limited access to sanitary facilities, doctors, psychologists, or legal assistance."
Almost all of the people Amnesty International interviewed said they were traumatised after fleeing areas of conflict and being trapped for months on the Belarusian-Polish border.
They also suffered from serious psychological problems, including anxiety, insomnia, depression and frequent suicidal thoughts, undoubtedly exacerbated by their unnecessary metres. For most, psychological support was unavailable.
Retraumatised inside a military base
Many of the people who Amnesty spoke to had been in Wędrzyn detention centre, which holds up to 600 people. Overcrowding is particularly acute in this facility, where up to 24 men are detained in rooms measuring just eight square metres, Amnesty International reported.
"In 2021, the Polish authorities decreased the minimum required space for foreign detainees from three square metres per person to just two. The Council of Europe minimum standard for personal living space in prisons and detention centres is four square metres per person."
European Guantánamo
People held in Wędrzyn recounted how guards greeted new detainees by saying "welcome to Guantánamo", reports Amnesty International, adding that many of them were victims of torture in their home countries before enduring harrowing experiences both in Belarus and on the border of Poland.
The detention centre in Wędrzyn is part of an active military base. The facility's barbed-wire walls — and the persistent sound of armoured vehicles, helicopters and gunfire from military exercises in the area — only serve to re-traumatise them.
Deshumanised
"Most days we were woken up by the sounds of tanks and helicopters, followed by gunshots and explosions. This would go on all day, sometimes. When you have nowhere to go, no activities [to] take your mind off it or a space for even a brief respite, this is intolerable," Khafiz, a Syrian refugee, told Amnesty International.
"After all the torture in prison in Syria, threats to my family, and then months on the road, I think I was finally broken in Wędrzyn."
The human rights defender organisation also reported that, in Lesznowola Detention Centre, detainees said that guards' treatment left them feeling dehumanised.
Nearly all those interviewed reported consistently disrespectful and verbally abusive behaviour, racist remarks and other practices that indicated psychological ill-treatment.
Men who Amnesty International interviewed uniformly complained about the manner in which body searches were conducted. When people were transferred from one detention centre to another, they were forced to undergo a strip search at each facility, even though they were in state custody at all times.
Violent forcible returns
Amnesty International interviewed several people who were forcibly returned as well as some who avoided return and remain in detention in Poland.
Many said the Polish border guards who conducted the returns coerced them into signing documents in Polish that they suspected included incriminating information in order to justify their returns.
They also said that, in some cases, border guards used excessive force, such as tasers, restrained people with handcuffs, and even sedated those being returned.
Authorities attempted to forcibly return Yezda, a 30-year old Kurdish woman, with her husband and three small children, says Amnesty International. "After being told that the family would be returned to Iraq, Yezda panicked and screamed and pleaded with the guards not to take them."
"I was ready to die in Poland"
She threatened to take her life and became extremely agitated. "I knew I could not go back to Iraq and I was ready to die in Poland. While I was crying like that, two guards restrained me and my husband, tied our hands behind our backs, and a doctor gave us an injection that made us very weak and sleepy."
Yezda said that she broke her foot as she fought the guards who tried to put her on the plane. Yezda and her family were returned to Warsaw after the airline refused to take them to Iraq. They remain in a camp in Poland for now.
Volunteers and activists have been barred from accessing the border of Poland and Belarus, and some have even faced prosecution for trying to help people cross the border, added Amnesty International.
Stranded
"Hundreds of people fleeing conflict in the Middle East and other parts of the world remain stranded on the border between Belarus and Poland. The Polish government must immediately stop push backs. They are illegal no matter how the government tries to justify them."
Cruelty at Europe's other borders
In its report: Poland: Cruelty not compassion, at Europe's other borders, Amnesty International explained that the rapid relief effort at the border, exceptional generosity of civil society and willingness of Polish authorities to receive people fleeing from Ukraine contrast starkly with the Polish government's hostility toward refugees and migrants who have arrived in the country via Belarus since July 2021.
"Hundreds of people who crossed from Belarus have been arbitrarily detained in Poland in appalling conditions and without access to a fair asylum proceeding. Many have been forcibly returned to their countries of origin, some under sedation. In addition, hundreds of people remain stranded inside Belarus and face increasingly desperate conditions."
_____________________________________________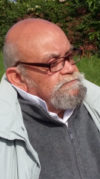 Baher Kamal, a member of the TRANSCEND Network for Peace Development Environment, is an Egyptian-born, Spanish national, secular journalist, with over 45 years of professional experience — from reporter to special envoy to chief editor of national dailies and an international news agency. Baher is former Senior Advisor to the Director General of the international news agency IPS (Inter Press Service) and he also contributed to prestigious magazines such as TRANSCEND Media Service, GEO, Muy Interesante, and Natura, Spain. He is also publisher and editor of Human Wrongs Watch.
Go to Original – human-wrongs-watch.net
Tags:
Direct violence
,
European Union
,
Immigration
,
Migrant Workers
,
Migrants
,
Refugees
,
Ukraine
,
Volodymyr Zelenskyy
,
Warfare
DISCLAIMER: The statements, views and opinions expressed in pieces republished here are solely those of the authors and do not necessarily represent those of TMS. In accordance with title 17 U.S.C. section 107, this material is distributed without profit to those who have expressed a prior interest in receiving the included information for research and educational purposes. TMS has no affiliation whatsoever with the originator of this article nor is TMS endorsed or sponsored by the originator. "GO TO ORIGINAL" links are provided as a convenience to our readers and allow for verification of authenticity. However, as originating pages are often updated by their originating host sites, the versions posted may not match the versions our readers view when clicking the "GO TO ORIGINAL" links. This site contains copyrighted material the use of which has not always been specifically authorized by the copyright owner. We are making such material available in our efforts to advance understanding of environmental, political, human rights, economic, democracy, scientific, and social justice issues, etc. We believe this constitutes a 'fair use' of any such copyrighted material as provided for in section 107 of the US Copyright Law. In accordance with Title 17 U.S.C. Section 107, the material on this site is distributed without profit to those who have expressed a prior interest in receiving the included information for research and educational purposes. For more information go to: http://www.law.cornell.edu/uscode/17/107.shtml. If you wish to use copyrighted material from this site for purposes of your own that go beyond 'fair use', you must obtain permission from the copyright owner.