(Français) Printemps Arabe, Printemps Russe, Printemps Latino-Américain ?
ORIGINAL LANGUAGES, 8 Aug 2022
David Adams | Transition to a Culture of Peace – TRANSCEND Media Service
1 août 2022 – Il y a dix ans, j'ai été encouragé par le mouvement du Printemps arabe, écrivant que "le printemps arabe et les révolutions démocratiques en cours dans les pays arabes fournissent un nouvel élan important vers une culture de la paix".
Et au printemps de cette année, j'ai été encouragé par le mouvement anti-guerre dans la Fédération de Russie, écrivant que "des dizaines de milliers de Russes protestent contre la guerre et leurs voix ne peuvent être réduites au silence".
Malheureusement, le printemps arabe et le « printemps russe » ont été étoufféés par les forces de la culture de guerre.
Ce mois-ci dans CPNN, je décris un autre mouvement régional pour la culture de la paix, qui se déroule dans toute l'Amérique latine ? Peut-il survivre ?
Le rôle de Lula da Silva est particulièrement important dans le "printemps latino-américain". Il est en tête des sondages pour l'élection présidentielle qui aura lieu en octobre. Mais le Brésil a une histoire de coups d'État militaires, de tribunaux fantoches et d'assassinats, et déjà l'un des candidats aux côtés de Lula a été assassiné. Son parti politique, le Parti des travailleurs du Brésil, résiste à la menace, proposant même des ateliers sur la culture de la paix, mais réussiront-ils ?
Cependant, même si le "printemps latino-américain" est supprimé, ce n'est pas le dernier mot. Comme je l'écrivais il y a huit ans lors d'une "vague progressiste" similaire en Amérique latine, "même si l'Amérique latine est empêchée d'installer une culture de la paix au niveau national dans sa propre zone, ses tentatives d'aller dans cette direction auront un effet durable sur la conscience de ses citoyens et nous pouvons être sûrs que c'est là, dans la conscience, que l'histoire sera finalement déterminée."
Les mouvements peuvent être réprimés, mais les personnes mobilisées ne disparaissent pas.
Lorsque nous avons lancé le programme de culture de la paix à l'UNESCO dans les années 1990, il y a eu une réunion au cours de laquelle les plus impliqués d'entre nous ont rappelé comment nous avions tous été inspirés par notre participation au mouvement des années 60 contre la guerre au Vietnam. En tant que Nord Américain, j'avais vécu 1968 en vivant en Italie. Deux de mes collègues d'Amérique latine avaient vécu 1968 alors qu'ils vivaient en Europe.
Fondamentalement, ce qui est essentiel pour le progrès historique, c'est la conscience des militants sociaux. La conscience n'est pas facile à mesurer, mais elle devient un facteur déterminant à certains moments de l'histoire où le régime dominant (c'est-à-dire la culture de la guerre) s'effondre de ses propres contradictions. Cela s'est passé dans les années 60 avec la guerre du Vietnam, à la fin des années 80 avec l'effondrement de l'empire soviétique.
Alors que nous approchons d'un autre moment de ce genre, avec l'effondrement imminent de l'empire Nord Américain, nous devrions appeler les vétérans du printemps arabe, du printemps russe et maintenant du printemps latino-américain à reprendre leur activisme et à travailler pour la transition vers un culture de la paix.
Revenant au moment où nous avons lancé l'initiative Culture de la paix à l'UNESCO, nous pouvons peut-être apprendre de cette expérience.
C'était un moment spécial de l'histoire; l'Empire soviétique s'était récemment effondré et il semblait que la paix était possible. J'ai écrit les mots suivants pour la réunion de 1989 à Yamoussoukro, en Côte d'Ivoire, qui a lancé la culture de la paix à l'UNESCO :
Le temps est venu d'abolir la violence
et de créer une culture de paix,
de réordonner l'économie mondiale,
de mettre en harmonie notre rapport à la nature.
Le terrain es prêt
et les premiers signes de changement sont visibles.
Le désarmement n'est plus l'image d'un rêve,
mais apparaît comme une scène au informations du soir
qui se déploie comme un fait dans le village le plus reculé.
Deux éléments étaient essentiels : nous travaillions à l'UNESCO, une organisation internationale mondiale dédiée à « la paix dans l'esprit des hommes » ; et le nouveau Directeur général de l'UNESCO, Federico Mayor, était un homme de sagesse et de courage qui a osé exiger que l'UNESCO remplisse son mandat pour la paix.
Lorsque l'Empire Nord Américain s'effondrera, il y aura une fenêtre d'opportunité similaire. J'espère qu'il y aura un nouveau Directeur-général de l'UNESCO qui a participé au printemps arabe, russe ou latino-américain.
______________________________________________________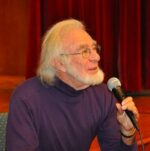 Dr. David Adams est membre du TRANSCEND Network for Peace Development Environment et coordinateur du Culture of Peace News Network. Il a pris sa retraite en 2001 de l'UNESCO où il était directeur de l'Unité pour l'Année internationale des Nations Unies pour la culture de la paix. Auparavant, aux universités de Yale et de Wesley, il était un spécialiste des mécanismes cérébraux du comportement agressif, de l'histoire de la culture de la guerre et de la psychologie des militants de la paix. Envoyez lui un email.
Go to Original – decade-culture-of-peace.org
Tags:
Arab Spring
,
Brazil
,
Latin America Caribbean
,
Lula da Silva
,
Russia
,
Soviet empire
,
US empire
,
USA
DISCLAIMER: The statements, views and opinions expressed in pieces republished here are solely those of the authors and do not necessarily represent those of TMS. In accordance with title 17 U.S.C. section 107, this material is distributed without profit to those who have expressed a prior interest in receiving the included information for research and educational purposes. TMS has no affiliation whatsoever with the originator of this article nor is TMS endorsed or sponsored by the originator. "GO TO ORIGINAL" links are provided as a convenience to our readers and allow for verification of authenticity. However, as originating pages are often updated by their originating host sites, the versions posted may not match the versions our readers view when clicking the "GO TO ORIGINAL" links. This site contains copyrighted material the use of which has not always been specifically authorized by the copyright owner. We are making such material available in our efforts to advance understanding of environmental, political, human rights, economic, democracy, scientific, and social justice issues, etc. We believe this constitutes a 'fair use' of any such copyrighted material as provided for in section 107 of the US Copyright Law. In accordance with Title 17 U.S.C. Section 107, the material on this site is distributed without profit to those who have expressed a prior interest in receiving the included information for research and educational purposes. For more information go to: http://www.law.cornell.edu/uscode/17/107.shtml. If you wish to use copyrighted material from this site for purposes of your own that go beyond 'fair use', you must obtain permission from the copyright owner.