Mediation and Restorative Justice in Latin America
TRANSCEND MEMBERS, 5 Sep 2022
David Adams | Transition to a Culture of Peace – TRANSCEND Media Service
1 Sep 2022 – Latin America continues to advance towards a culture of peace. Last month we reviewed progressive results of elections in Mexico, Chile, Peru and Colombia and recalled that progressive government has returned to Bolivia following the coup d'état against Evo Morales, and that Lula da Silva is favored to win the presidency of Brazil in next month's election.
Latin America has been the leading edge in the transition to a culture of peace as we have remarked in this blog since 2013.
Recalling that an earlier wave of progressive governments in Latin America was suppressed by North American imperialism in collaboration with right-wing forces, I remarked that even if this new "Latin American spring" is suppressed, that is not the last word.  As I wrote eight years ago  during a similar "progressive wave, "even if Latin America is blocked from installing a culture of peace at national levels in its own zone, its attempts to move in this direction will have a lasting effect on the consciousness of its citizens and we may be confident that it is there, in consciousness, that history will ultimately be determined."
This month we consider the progress towards a culture of peace on another level. The progress at a local level in mediation and restorative justice adds to this analysis of Latin America and to the possibility that it can achieve a culture of peace.
Mediation: The Eighth World Mediation Congress took place in Sucre, Bolivia. More than 2,000 people came from Germany, Argentina, Colombia, Chile, Spain, France, Mexico, Nicaragua, Peru, Portugal and Uruguay.
Restorative justice: This plays a major role in the peace process of Colombia. Former guerrillas, victims and public forces have created dialogue tables and worked together on local projects that provide reparation for the damages caused by the war. This month we see the results of a model program that has taken place in Viotá (Cundinamarca).
Latin America has been the world leader in these local peace processes for many years now. In CPNN since 2015, 27 of the 35 articles about mediation have come from Latin America and since 2016, 17 or the 19 articles about restorative justice have come from Latin America. In addition to the initiatives listed above from Bolivia and Colombia, here is a list of those from Latin America in the past year alone.
July 12, 2022: Honduras: "Mesas de seguridad ciudadana" in 298 municipalities
January 18, 2022: Centers for Mediation, Conciliation and Restorative Justice in the State of Mexico
January 18, 2022: Argentina : Federal Network of Centers for Community Mediation and Training in School Mediation with an Example from Province of Buenos Aires
January 18, 2022: Panama : Management results in 2021 of the Coordination Office of the Community Mediation Program
January 8, 2022: Brazil: Practices that promote a culture of peace at Funase had good results in 2021
January 8, 2022: Dominican Republic: 11 Thousand People Train in Conflict Resolution and Culture of Peace in 2021
November 18, 2021:Mexico: Municipal Mediation Unit of the City of Merida to promote a Culture of Peace
November 18, 2021: Petrópolis, Brazil : III International Restorative Justice Week will open next Monday
In the preceding years, initiatives in mediation and restorative justice were also recorded from Jamaica:, Peru and Guatemala.
In the case of Brazil, as we have followed in CPNN, the practice of restorative justice has been established throughout the entire judicial system.
In many of these cases we see that the local initiatives are linked to other initiatives of mediation and restorative justice both nationally and internationally. We have noted above that the recent mediation congress in Bolivia attracted participants from 8 Latin American countries. Similarly, the Latin American Congress of Restorative Justice in June 2021 attracted virtual exhibitors from Argentina, Chile, Colombia, Mexico, Brazil, Peru, Honduras, Uruguay, Bolivia, Guatemala, and the Dominican Republic.
In conclusion, a culture of peace needs to be anchored at the local level and linked internationally, in order to survive the interventions of the global culture of war, headed by the American empire, that will not allow the establishment of culture of peace at any national level. For example, in an earlier blog, Advice to Colombia for the Peace Process , I recalled the local peace process developed in South Africa after the peace accords in that country and remarked that a similar local network was needed in Colombia. The development of restorative justice in Colombia contributes to this.
Considering all the above, Latin America continues to be the leading edge in the transition to a culture of peace.
_________________________________________________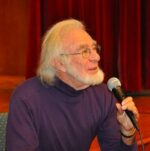 Dr. David Adams is a member of the TRANSCEND Network for Peace Development Environment and coordinator of the Culture of Peace News Network. He retired in 2001 from UNESCO where he was the Director of the Unit for the UN International Year for the Culture of Peace.  Previously, at Yale and Wesleyan Universities, he was a specialist on the brain mechanisms of aggressive behavior, the history of the culture of war, and the psychology of peace activists, and he helped to develop and publicize the Seville Statement on Violence. Send him an email.
Go to Original – decade-culture-of-peace.org
Tags:
Conflict Analysis
,
Latin America Caribbean
,
Lula da Silva
,
Mediation
,
Restorative Justice
DISCLAIMER: The statements, views and opinions expressed in pieces republished here are solely those of the authors and do not necessarily represent those of TMS. In accordance with title 17 U.S.C. section 107, this material is distributed without profit to those who have expressed a prior interest in receiving the included information for research and educational purposes. TMS has no affiliation whatsoever with the originator of this article nor is TMS endorsed or sponsored by the originator. "GO TO ORIGINAL" links are provided as a convenience to our readers and allow for verification of authenticity. However, as originating pages are often updated by their originating host sites, the versions posted may not match the versions our readers view when clicking the "GO TO ORIGINAL" links. This site contains copyrighted material the use of which has not always been specifically authorized by the copyright owner. We are making such material available in our efforts to advance understanding of environmental, political, human rights, economic, democracy, scientific, and social justice issues, etc. We believe this constitutes a 'fair use' of any such copyrighted material as provided for in section 107 of the US Copyright Law. In accordance with Title 17 U.S.C. Section 107, the material on this site is distributed without profit to those who have expressed a prior interest in receiving the included information for research and educational purposes. For more information go to: http://www.law.cornell.edu/uscode/17/107.shtml. If you wish to use copyrighted material from this site for purposes of your own that go beyond 'fair use', you must obtain permission from the copyright owner.