The Belmarsh Tribunals Demand Justice for Julian Assange
WHISTLEBLOWING - SURVEILLANCE, 30 Jan 2023
Amy Goodman and Denis Moynihan | Democracy NOW! – TRANSCEND Media Service
26 Jan 2023 – "The first casualty when war comes is truth," U.S. Senator Hiram W. Johnson of California said in 1929, debating ratification of the Kellogg-Briand Pact, a noble but ultimately failed attempt to ban war. Reflecting on World War I, which ended a decade earlier, he continued, "it begins what we were so familiar with only a brief period ago, this mode of propaganda whereby…people become war hungry in their patriotism and are lied into a desire to fight. We have seen it in the past; it will happen again in the future."
Time and again, Hiram Johnson has been proven right. Our government's impulse to control information and manipulate public opinion to support war is deeply ingrained. The past twenty years, dominated by the so-called War on Terror, are no exception. Sophisticated PR campaigns, a compliant mass media and the Pentagon's pervasive propaganda machine all work together, as public intellectual Noam Chomsky and the late Prof. Ed Herman defined it in the title of their groundbreaking book, "Manufacturing Consent," borrowing a phrase from Walter Lippman, considered the father of public relations.
One publisher consistently challenging the pro-war narrative pushed by the U.S. government, under both Republican and Democratic presidents, has been the whistleblower website Wikileaks. Wikileaks gained international attention in 2010 after publishing a trove of classified documents leaked from the U.S. military. Included were numerous accounts of war crimes in Iraq and Afghanistan, the killing of civilians, and shocking footage of a helicopter gunship in Baghdad slaughtering a dozen civilians, including a Reuters journalist and his driver, on the ground below. Wikileaks titled that video, "Collateral Murder."
The New York Times and other newspapers partnered with Wikileaks to publish stories based on the leaks. This brought increased attention to the founder and editor-in-chief of Wikileaks, Julian Assange. In December, 2010, two months after release of the Collateral Murder video, then-Vice President Joe Biden, appearing on NBC, said Assange was "closer to being a hi-tech terrorist than the Pentagon papers." Biden was referring to the 1971 classified document release by Daniel Ellsberg, which revealed years of Pentagon lies about U.S. involvement in the war in Vietnam.
With a secret grand jury empanelled in Virginia, Assange, then in London, feared being arrested and extradited to the United States. Ecuador granted Assange political asylum. Unable to make it to Latin America, he sought refuge in the Ecuadorian embassy in London. He lived inside the small, apartment-sized embassy for almost seven years. In April 2019, after a new Ecuadorian president revoked Assange's asylum, British authorities arrested him and locked him up in London's notorious Belmarsh Prison, often called "Britain's Guantánamo." He has been held there, in harsh conditions and in failing health, for almost four years, as the U.S. government seeks his extradition to face espionage and other charges. If extradited and convicted in the U.S., Assange faces 175 years in a maximum-security prison.
While the Conservative-led UK government seems poised to extradite Assange, a global movement has grown demanding his release. The Progressive International, a global pro-democracy umbrella group, has convened four assemblies since 2020 called The Belmarsh Tribunals. Named after the 1966 Russell-Sartre Tribunal on the Vietnam War, convened by philosophers Bertrand Russell and Jean-Paul Sarte, The Belmarsh Tribunal has assembled some of the world's most prominent, progressive activists, artists, politicians, dissidents, human rights attorneys and whistleblowers, all speaking in defense of Julian Assange and Wikileaks.
"We are bearing witness to a travesty of justice," Jeremy Corbyn, a British Member of Parliament and a former leader of the Labour Party, said at the tribunal. "To an abuse of human rights, to a denial of freedom of somebody who bravely put himself on the line that we all might know that the innocent died in Abu Ghraib, the innocent died in Afghanistan, the innocent are dying in the Mediterranean, and innocents die all over the world, where unwatched, unaccountable powers decide it's expedient and convenient to kill people who get in the way of whatever grand scheme they've got. We say no. That's why we are demanding justice for Julian Assange."
Corbyn is joined in his call by The New York Times, the Guardian, Le Monde, El Pais and Der Spiegel–major newspapers that published articles based on the leaked documents. "Publishing is not a crime," the newspapers declared.
Never before has a publisher been charged under the U.S. Espionage Act. The Assange prosecution poses a fundamental threat to the freedom of speech and a free press. President Biden, currently embroiled in his own classified document scandal, knows this, and should immediately drop the charges against Julian Assange.
___________________________________________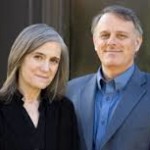 Amy Goodman is the host of "Democracy Now!" a daily international TV/radio news hour airing on more than 900 stations in North America. She is the author of Breaking the Sound Barrier, released in paperback and now a New York Times best-seller.
Denis Moynihan is the co-founder of Democracy Now! Since 2002, he has participated in the organization's worldwide distribution, infrastructure development, and the coordination of complex live broadcasts from many continents. He lives in Denver where he is developing a new noncommercial community radio station.
The original content of this program is licensed under a Creative Commons Attribution-Noncommercial-No Derivative Works 3.0 United States License.
Go to Original – democracynow.org
Tags:
Activism
,
Anglo America
,
Assange
,
Belmarsh Prison
,
Belmarsh Tribunal
,
Big Brother
,
Cryptome
,
Ecuador
,
Human Rights
,
John Young
,
Journalism
,
Justice
,
Media
,
Surveillance
,
Sweden
,
Torture
,
UK
,
UN
,
USA
,
Violence
,
Whistleblowing
,
WikiLeaks
DISCLAIMER: The statements, views and opinions expressed in pieces republished here are solely those of the authors and do not necessarily represent those of TMS. In accordance with title 17 U.S.C. section 107, this material is distributed without profit to those who have expressed a prior interest in receiving the included information for research and educational purposes. TMS has no affiliation whatsoever with the originator of this article nor is TMS endorsed or sponsored by the originator. "GO TO ORIGINAL" links are provided as a convenience to our readers and allow for verification of authenticity. However, as originating pages are often updated by their originating host sites, the versions posted may not match the versions our readers view when clicking the "GO TO ORIGINAL" links. This site contains copyrighted material the use of which has not always been specifically authorized by the copyright owner. We are making such material available in our efforts to advance understanding of environmental, political, human rights, economic, democracy, scientific, and social justice issues, etc. We believe this constitutes a 'fair use' of any such copyrighted material as provided for in section 107 of the US Copyright Law. In accordance with Title 17 U.S.C. Section 107, the material on this site is distributed without profit to those who have expressed a prior interest in receiving the included information for research and educational purposes. For more information go to: http://www.law.cornell.edu/uscode/17/107.shtml. If you wish to use copyrighted material from this site for purposes of your own that go beyond 'fair use', you must obtain permission from the copyright owner.