'Outright Hatred' towards Muslims, Has Risen to 'Epidemic Proportions'
TRANSCEND MEMBERS, 20 Mar 2023
Baher Kamal | Human Wrongs Watch - TRANSCEND Media Service
"Terrorism and violent extremism cannot and should not be associated with any religion, nationality, civilization, or ethnic group."
15 Mar 2023 –– Islamophobia is a 'fear, prejudice and hatred of Muslims that leads to provocation, hostility and intolerance by means of threatening, harassment, abuse, incitement and intimidation of Muslims and non-Muslims, both in the online and offline world.'
Consequently, suspicion, discrimination and 'outright hatred' towards Muslims have risen to "epidemic proportions."
These are not the words of this convinced secular journalist, but those of the UN Special Rapporteur on freedom of religion or belief.
In fact, a recent report launched ahead of the International Day to Combat Islamophobia (15 March), warns that, motivated by institutional, ideological, political and religious hostility that transcends into structural and cultural racism, it targets the symbols and markers of being a Muslim.
This definition emphasises the link between institutional levels of Islamophobia and manifestations of such attitudes, triggered by the visibility of the victim's perceived Muslim identity.
A threat to Western values?
This approach also interprets Islamophobia as a form of racism, whereby Islamic religion, tradition and culture are seen as a "threat" to "Western values."
"Following the terrorist attacks of 11 September 2001 and other horrific acts of terrorism purportedly carried out in the name of Islam, institutional suspicion of Muslims and those perceived to be Muslim has escalated to epidemic proportions."
Widespread negative representations of Islam
At the same time, "widespread negative representations of Islam, and harmful stereotypes that depict Muslims and their beliefs and culture as a threat have served to perpetuate, validate and normalise discrimination, hostility and violence towards Muslim individuals and communities."
In addition, in States where they are in the minority, "Muslims often experience discrimination in accessing goods and services, in finding employment and in education."
In some States they are denied citizenship or legal immigration status due to xenophobic perceptions that Muslims represent national security and terrorism threats. Muslim women are disproportionately targeted in Islamophobic hate crimes, adds the United Nations.
Islamophobic 'hate crimes'
Studies show that the number of Islamophobic hate crimes frequently increases following events beyond the control of most Muslims, including terrorist attacks and anniversaries of such attacks.
"These trigger events illustrate how Islamophobia may attribute collective responsibility to all Muslims for the actions of a very select few, or feed upon inflammatory rhetoric."
The UN says that many Governments have taken steps to combat Islamophobia by establishing anti-hate-crime legislation and measures to prevent and prosecute hate crimes and by conducting public awareness campaigns about Muslims and Islam designed to dispel negative myths and misconceptions.
A resolution…
The United Nations General Assembly adopted a resolution sponsored by 60 Member-States of the Organization of Islamic Cooperation (OIC), which designated 15 March as the International Day to Combat Islamophobia.
The resolution stresses that "terrorism and violent extremism cannot and should not be associated with any religion, nationality, civilization, or ethnic group."
It calls for a global dialogue on the promotion of a culture of tolerance and peace, based on respect for human rights and for the diversity of religions and beliefs.
Marking the first International Day to Combat Islamophobia in 2021, UN Secretary-General António Guterres pointed out that "anti-Muslim bigotry is part of a larger trend of a resurgence in ethno-nationalism, neo-Nazism, stigma and hate speech targeting vulnerable populations including Muslims, Jews, some minority Christian communities, as well as others."
… and a Plan
In response to the "alarming trend" of rising hate speech around the world, UN Secretary-General António Guterres launched the United Nations Strategy and Plan of Action on Hate Speech.
The Strategy clearly states that hate speech incites violence and intolerance.
The devastating effect of hatred, it adds, is sadly nothing new. However, its scale and impact are now amplified by new communications technologies.
"Hate speech – including online – has become one of the most common ways of spreading divisive rhetoric on a global scale, threatening peace around the world."
The numbers
With an estimated total of some 1.8 billion followers worldwide, Islam is the second most spread belief after Christianism (2.3 billion).
Here, it should be reminded that not all Arabs are Muslims, nor all Muslims are Arabs.
In fact, Arab countries are home to just slightly more than 1 in 4 Muslims worldwide, while Asia –in particular South and Southeast Asia– accounts for more than 60% of the world's Muslims.
The largest Muslim population in a single country lives in Indonesia, which is home to 13% of all the world's Muslims. Pakistan (with 12%) is the second largest Muslim-majority nation, followed by India (11%), and Bangladesh (10%).
Also the Arabs
In spite of the above, there is still a widespread perception mixing Muslims with Arabs, which extends the anti-Muslim hatred wave to all Arab or Arab-majority societies.
Whatever the case is, recent history shows that several Muslim countries have fallen victims to wars, and military occupation (Palestine, Afghanistan, Iraq, Syria, Yemen), while others are scenarios to stark instabilities (Libya, Tunisia, Sudan, just to mention some).
Racism everywhere
No lessons have been learnt from horrific crimes committed against believers. Remember the Holocaust against the Jews?
The evidence is that racism, "xenophobia and related discrimination and intolerance exist in all societies, everywhere. Racism harms not just the lives of those who endure it, but also society as a whole," stated the UN chief.
"We all lose in a society characterised by discrimination, division, distrust, intolerance, and hate. The fight against racism is everyone's fight…"
Yes, but is it… really?
_____________________________________________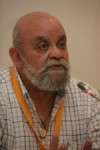 Baher Kamal, a member of the TRANSCEND Network for Peace Development Environment, is an Egyptian-born, Spanish national, secular journalist, with over 45 years of professional experience — from reporter to special envoy to chief editor of national dailies and an international news agency. Baher is former Senior Advisor to the Director General of the international news agency IPS (Inter Press Service) and he also contributed to prestigious magazines such as TRANSCEND Media Service, GEO, Muy Interesante, and Natura, Spain. He is also publisher and editor of Human Wrongs Watch.
Go to Original – human-wrongs-watch.net
Tags:
Islam
,
Islamophobia
,
Muslims
,
Religion
,
State Terrorism
,
Terrorism
,
War of Terror
,
War on Terror
DISCLAIMER: The statements, views and opinions expressed in pieces republished here are solely those of the authors and do not necessarily represent those of TMS. In accordance with title 17 U.S.C. section 107, this material is distributed without profit to those who have expressed a prior interest in receiving the included information for research and educational purposes. TMS has no affiliation whatsoever with the originator of this article nor is TMS endorsed or sponsored by the originator. "GO TO ORIGINAL" links are provided as a convenience to our readers and allow for verification of authenticity. However, as originating pages are often updated by their originating host sites, the versions posted may not match the versions our readers view when clicking the "GO TO ORIGINAL" links. This site contains copyrighted material the use of which has not always been specifically authorized by the copyright owner. We are making such material available in our efforts to advance understanding of environmental, political, human rights, economic, democracy, scientific, and social justice issues, etc. We believe this constitutes a 'fair use' of any such copyrighted material as provided for in section 107 of the US Copyright Law. In accordance with Title 17 U.S.C. Section 107, the material on this site is distributed without profit to those who have expressed a prior interest in receiving the included information for research and educational purposes. For more information go to: http://www.law.cornell.edu/uscode/17/107.shtml. If you wish to use copyrighted material from this site for purposes of your own that go beyond 'fair use', you must obtain permission from the copyright owner.