Why Julian Assange Must Be Freed
WHISTLEBLOWING - SURVEILLANCE, 26 Jun 2023
Matt Taibbi | Racket News - TRANSCEND Media Service
Speaking in London on Behalf of the Jailed WikiLeaks Founder
24 Jun 2023 – At Parliament Hill in London today, there was a demonstration on behalf of jailed WikiLeaks founder Julian Assange. Present was the famed rendering of Assange, Chelsea Manning, and Edward Snowden made by sculptor Davide Domino. The statue includes an empty chair for the next whistleblower. I had the honor of standing on that chair to give a short address:
I have a confession to make. Once, like a lot of journalists, I didn't like Julian Assange. It wasn't just that WikiLeaks was breaking one huge story after another. He had fab hair. He wore skinny jeans. He even modeled at fashion week!
What can I say? I was jealous. We're in London, so I can quote Shakespeare, can't I?
Beware the green-eyed monster, which doth mock the meat it feeds on.
Jealousy, that monster, impairs one's thinking. It impaired mine. I didn't have a reason to dislike Assange. So I invented one. I decided I didn't like the concept of "radical transparency." I thought: "You can't just dump all of those secrets on the public. That's irresponsible!"
I was so brainwashed that I forgot, as many people do, that secrets do not belong to governments. That information belongs to us. Governments rule by our consent. If they want to keep secrets, they must have our permission to do so. And they never have the right to keep crimes secret.
I'm an American. Many of you are from the U.K. In our countries, we're building skyscrapers and huge new complexes to store our secrets, because we don't have room to keep them all as is!
Why do we have so many secrets? Julian Assange told us why. From an essay he wrote:
Authoritarian regimes give rise to forces which oppose them by pushing against the individual and collective will to freedom, truth and self realization. Plans which assist authoritarian rule, once discovered, induce resistance. Hence these plans are concealed by successful authoritarian powers.
When governments become authoritarian, they inspire resistance. Techniques must then be developed to repel that resistance. Those techniques must then be concealed.
In short: the worse a country is, the more secrets it has. We have a lot of secrets now.
Julian Assange became famous as we were creating a vast new government-within-a-government, a system of secret prisons, extraordinary rendition, mass surveillance, and drone assassination. Many of these things we know about only because of WikiLeaks. Ostensibly, all this secrecy was needed to fight foreign terrorism.
The brutal irony now is the architects of that system no longer feel the need to hide their dirty tactics. My government, openly, wants to put this man in jail for 175 years, mostly for violations of the Espionage Act. These include crimes like "conspiracy to receive national defense information," or "obtaining national defense information."
What is "national defense information?" The answer is what makes this law so dangerous. It's whatever they say it is. It's any information they don't want to get out. It doesn't even have to be classified.
What is conspiracy to obtain such information? We have a word for that. It's called journalism.
My government wants to put Julian Assange in jail for 175 years for practicing journalism. The government of this country, the U.K., is going to allow it to happen.
If they did this to Andrei Sakharov, or Nelson Mandela, every human rights organization in the world would be denouncing this as an intolerable outrage. Every NGO would be lining up to lend support. Every journalist would be penning editorials demanding his release.
But because our own governments are doing it, we get silence.
If you're okay with this happening to one Julian Assange, you'd better be okay with it happening to many others. That's why this moment is so important. If Assange is successfully extradited and convicted, it will take about ten minutes for it to happen again. From there this will become a common occurrence. There will be no demonstrations in parks, no more news stories. This will become a normal part of our lives.
Don't let that happen.
Free Julian Assange.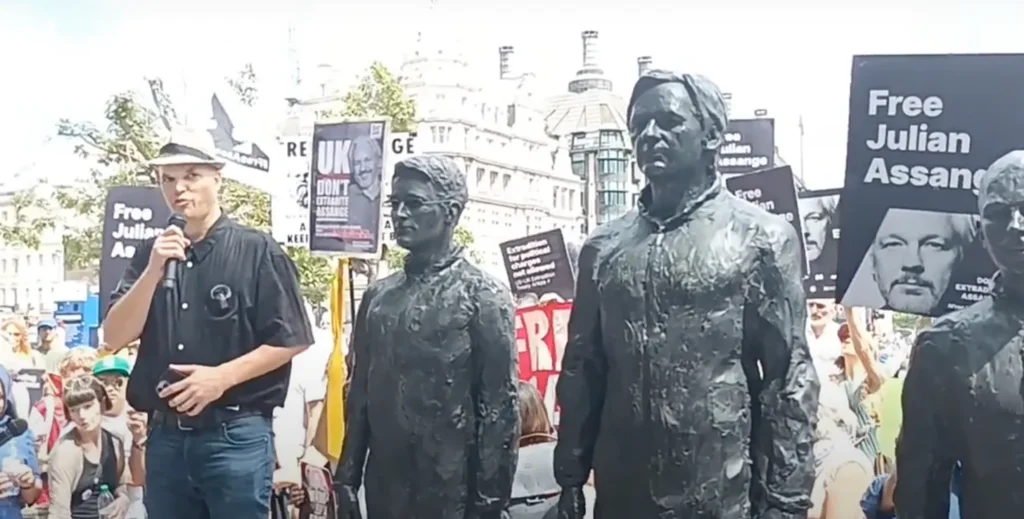 ______________________________________________
Tags:
Activism
,
Assange
,
Belmarsh Prison
,
Belmarsh Tribunal
,
Big Brother
,
Cryptome
,
Ecuador
,
Human Rights
,
John Young
,
Journalism
,
Justice
,
Media
,
Surveillance
,
Sweden
,
Torture
,
UK
,
UN
,
USA
,
Violence
,
Whistleblowing
,
WikiLeaks
DISCLAIMER: The statements, views and opinions expressed in pieces republished here are solely those of the authors and do not necessarily represent those of TMS. In accordance with title 17 U.S.C. section 107, this material is distributed without profit to those who have expressed a prior interest in receiving the included information for research and educational purposes. TMS has no affiliation whatsoever with the originator of this article nor is TMS endorsed or sponsored by the originator. "GO TO ORIGINAL" links are provided as a convenience to our readers and allow for verification of authenticity. However, as originating pages are often updated by their originating host sites, the versions posted may not match the versions our readers view when clicking the "GO TO ORIGINAL" links. This site contains copyrighted material the use of which has not always been specifically authorized by the copyright owner. We are making such material available in our efforts to advance understanding of environmental, political, human rights, economic, democracy, scientific, and social justice issues, etc. We believe this constitutes a 'fair use' of any such copyrighted material as provided for in section 107 of the US Copyright Law. In accordance with Title 17 U.S.C. Section 107, the material on this site is distributed without profit to those who have expressed a prior interest in receiving the included information for research and educational purposes. For more information go to: http://www.law.cornell.edu/uscode/17/107.shtml. If you wish to use copyrighted material from this site for purposes of your own that go beyond 'fair use', you must obtain permission from the copyright owner.