Can Crimes of Resistance Ever Justify Genocide? The Tragic Reality of Gaza
TRANSCEND MEMBERS, 13 Nov 2023
Richard Falk | Global Justice in the 21st Century – TRANSCEND Media Service
Published in Middle East Eye on 3 Nov 2023 with the title "Israel-Palestine war: Israel's endgame is much more sinister than restoring 'security.'"

*******************************
3 Nov 2023 – UN Secretary General Antonio Guterres was recently pilloried by Israel because he stated a truism, observing that the 7 October Hamas attack "did not happen in a vacuum".
Guterres was calling the world's attention to Israel's long record of severe criminal provocations in occupied Palestine, which have been occurring ever since it became the occupying power after the 1967 war.
The occupier, a role expected to be temporary, is entrusted in such circumstances with upholding international humanitarian law by ensuring the security and safety of the occupied civilian population, as spelled out in the Fourth Geneva Convention.
Israel reacted so angrily to Guterres' entirely appropriate and accurate remarks because they could be interpreted as implying that Israel "had it coming" in view of its severe and varied abuses against people in the occupied Palestinian territories, most flagrantly in Gaza, but also in the West Bank and Jerusalem.
After all, if Israel could present itself to the world as an innocent victim of the 7 October attack – an incident that was itself replete with war crimes – it could reasonably hope to gain carte blanche from its patrons in the West to retaliate as it pleased, without being bothered by the restraints of international law, UN authority, or common morality.
Indeed, Israel responded to the 7 October attack with its typical skill in manipulating the global discourse that shapes public opinion and guides the foreign policies of many important countries. Such tactics seem almost superfluous here, as the US and EU swiftly issued blanket approval for whatever Israel did in response, however vengeful, cruel or unrelated to restoring Israeli border security.
Guterres's UN speech had such a dramatic impact because it punctured Israel's balloon of artfully constructed innocence, in which the terror attack came out of the blue. This exclusion of context diverted attention from the devastation of Gaza and the genocidal assault on its overwhelmingly innocent, and long-victimised, population of 2.3 million.
Extraordinary lapses
What I find strange and disturbing is that, despite the consensus that the Palestinian fighters' attack became feasible only because of extraordinary lapses in Israel's supposedly second-to-none intelligence capabilities and tight border security, this factor has rarely been discussed since that day.
Instead of the morning after being filled with vengeful fury, why wasn't the focus within Israel and elsewhere on taking emergency action to restore Israeli security by correcting these costly lapses, which would seem to be the most effective way to assure that nothing comparable to 7 October could happen again?
I can understand Israeli Prime Minister Benjamin Netanyahu's reluctance to stress this explanation or advocate this form of response, as it would be tantamount to a confession of his personal co-responsibility for the tragedy traumatically experienced by Israel at its supposedly impenetrable border.
But what of others in Israel, and among its supporting governments? Undoubtedly, Israel is in all likelihood devoting all means at its disposal, with a sense of urgency, to close these incredible gaps in its intelligence system, and to beef up its military capabilities along Gaza's comparatively short borders.
It is not necessary to be a security wonk to conclude that dealing reliably with these security issues would do more to prevent and deter future Palestinian fighters attacks, than this ongoing saga of inflicting devastating punishment on the Palestinian population of Gaza, very few of whom are involved with the military wing of Hamas.
Genocidal fury
Netanyahu has lent further plausibility to such speculation by presenting a map of the Middle East without Palestine included, effectively erasing Palestinians from their own homeland, during a September UN speech, where he spoke of a new peace in the Middle East amid the prospect of Israel-Saudi Arabia normalisation. His presentation amounted to an implicit denial of the UN consensus on the two-state formula as a roadmap for peace.
Meanwhile, the genocidal fury of Israel's response to the Hamas attack is enraging people across the Arab world, and indeed the world over, even in western countries. But after more than three weeks of merciless bombardment, total siege and mass forced displacement, Israel's discretion to unleash this torrent of violence on Gaza has yet to be challenged by its western supporters.
The US in particular is backing Israel at the UN, using its veto as needed in the Security Council, and voting with almost no solidarity from major countries against a ceasefire at the General Assembly. Even France voted for the General Assembly resolution, and the UK had the minimal decency to abstain, both likely reacting pragmatically to the populist pressures mounted by large and angry street demonstrations at home.
It has also been forgotten in reacting to Israel's tactics in Gaza that from day one, the extremist government has initiated a shocking series of violent provocations across the occupied West Bank. Many have interpreted this undisguised unleashing of settler violence as part of the endgame of the Zionist project, aimed at achieving victory over the remnants of Palestinian resistance.
There is little reason to doubt that Israel deliberately overreacted to 7 October by immediately engaging in a genocidal response, particularly if its purpose was to divert attention from the escalation of West Bank settler violence, exacerbated by the government's distribution of guns to "civilian security teams".
The Israeli government's ultimate plan seems to be to end once and for all UN partition fantasies, lending authority to the Zionist maximalist goal of annexation or total subjugation of West Bank Palestinians. In effect, as morbid as it seems, the Israeli leadership seized the occasion of 7 October to "finish the job" by committing genocide in Gaza, under the guise that Hamas was such a danger as to justify not only its destruction, but this indiscriminate onslaught against the whole population.
My analysis leads me to conclude that this ongoing war is not primarily about security in Gaza or security threats posed by Hamas, but rather about something much more sinister and absurdly cynical.
Israel has seized this opportunity to fulfill Zionist territorial ambitions amid "the fog of war" by inducing one last surge of Palestinian catastrophic dispossession. Whether it is called "ethnic cleansing" or "genocide" is of secondary importance, although it already qualifies as the predominant humanitarian catastrophe of the 21stcentury.
In effect, the Palestinian people are being victimised by two convergent catastrophes: one political, the other humanitarian.
__________________________________________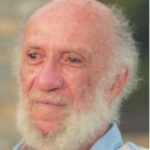 Richard Falk is a member of the TRANSCEND Network, Albert G. Milbank Professor Emeritus of International Law at Princeton University, Chair of Global Law, Faculty of Law, at Queen Mary University London, Research Associate the Orfalea Center of Global Studies at the University of California, Santa Barbara, and Fellow of the Tellus Institute. He directed the project on Global Climate Change, Human Security, and Democracy at UCSB and formerly served as director the North American group in the World Order Models Project. Between 2008 and 2014, Falk served as UN Special Rapporteur on Human Rights in Occupied Palestine. His book, (Re)Imagining Humane Global Governance (2014), proposes a value-oriented assessment of world order and future trends. His most recent books are Power Shift (2016); Revisiting the Vietnam War (2017); On Nuclear Weapons: Denuclearization, Demilitarization and Disarmament (2019); and On Public Imagination: A Political & Ethical Imperative, ed. with Victor Faessel & Michael Curtin (2019). He is the author or coauthor of other books, including Religion and Humane Global Governance (2001), Explorations at the Edge of Time (1993), Revolutionaries and Functionaries (1988), The Promise of World Order (1988), Indefensible Weapons (with Robert Jay Lifton, 1983), A Study of Future Worlds (1975), and This Endangered Planet (1972). His memoir, Public Intellectual: The Life of a Citizen Pilgrim was published in March 2021 and received an award from Global Policy Institute at Loyala Marymount University as 'the best book of 2021.' He has been nominated frequently for the Nobel Peace Prize since 2009.
Go to Original – richardfalk.org
Join the BDS-BOYCOTT, DIVESTMENT, SANCTIONS campaign to protest the Israeli barbaric siege of Gaza, illegal occupation of the Palestine nation's territory, the apartheid wall, its inhuman and degrading treatment of the Palestinian people, and the more than 7,000 Palestinian men, women, elderly and children arbitrarily locked up in Israeli prisons.
DON'T BUY PRODUCTS WHOSE BARCODE STARTS WITH 729, which indicates that it is produced in Israel.    DO YOUR PART! MAKE A DIFFERENCE!
7 2 9: BOYCOTT FOR JUSTICE!
Tags:
BDS Boycott Divestment Sanctions
,
Colonialism
,
Cultural violence
,
Direct violence
,
Ecocide
,
Gaza
,
Genocide
,
Israeli Apartheid
,
Israeli Army
,
Israeli occupation
,
Jewish Settlers
,
Middle East
,
Nakba
,
Palestine
,
Palestine/Israel
,
Sociocide
,
State Terrorism
,
Structural violence
,
Violent conflict
,
West Bank
,
Zionism
DISCLAIMER: The statements, views and opinions expressed in pieces republished here are solely those of the authors and do not necessarily represent those of TMS. In accordance with title 17 U.S.C. section 107, this material is distributed without profit to those who have expressed a prior interest in receiving the included information for research and educational purposes. TMS has no affiliation whatsoever with the originator of this article nor is TMS endorsed or sponsored by the originator. "GO TO ORIGINAL" links are provided as a convenience to our readers and allow for verification of authenticity. However, as originating pages are often updated by their originating host sites, the versions posted may not match the versions our readers view when clicking the "GO TO ORIGINAL" links. This site contains copyrighted material the use of which has not always been specifically authorized by the copyright owner. We are making such material available in our efforts to advance understanding of environmental, political, human rights, economic, democracy, scientific, and social justice issues, etc. We believe this constitutes a 'fair use' of any such copyrighted material as provided for in section 107 of the US Copyright Law. In accordance with Title 17 U.S.C. Section 107, the material on this site is distributed without profit to those who have expressed a prior interest in receiving the included information for research and educational purposes. For more information go to: http://www.law.cornell.edu/uscode/17/107.shtml. If you wish to use copyrighted material from this site for purposes of your own that go beyond 'fair use', you must obtain permission from the copyright owner.
Join the discussion!
We welcome debate and dissent, but personal — ad hominem — attacks (on authors, other users or any individual), abuse and defamatory language will not be tolerated. Nor will we tolerate attempts to deliberately disrupt discussions. We aim to maintain an inviting space to focus on intelligent interactions and debates.