Articles by Ali Abunimah
We found 15 results.
---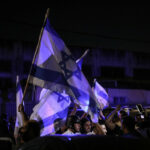 "Today We Are Nazis," Says Member of Israeli Jewish Extremist Group
Ali Abunimah and Tamara Nassar | The Electronic Intifada - TRANSCEND Media Service, 31 May 2021
19 May 2021 – Israeli Jewish extremists used instant messaging services to organize armed militias to attack Palestinian citizens of Israel. "We are no longer Jews today," one user wrote in a Telegram group titled "People from Holon, Bat Yam and Rishon Lezion go out to bring war." "Today we are Nazis." "No one in the authorities could claim that they did not know," HaBloc said.
→ read full article
---
Myanmar Shows Off Its Israeli Weapons
Ali Abunimah | The Electronic Intifada – TRANSCEND Media Service, 30 Oct 2017
23 Oct 2017 – Myanmar has been showing off its new gunboats, confirming that Israel is supplying the country with weapons in spite of official secrecy. Amid ethnic cleansing of Rohingya, Israel envoy offers PR advice.
→ read full article
---
Hunger Strike Ends, Prisoners Declare Victory
Ali Abunimah | The Electronic Intifada – TRANSCEND Media Service, 29 May 2017
27 May 2017 – After 40 days without food, hundreds of Palestinian prisoners have suspended their hunger strike in Israeli jails. The end of the strike came after 20 hours of intense negotiations between the strike's leaders, including imprisoned Fatah figure Marwan Barghouti, and the Israel Prison Service, according to a statement issued Saturday [27 May] morning by the prisoners solidarity committee.
→ read full article
---
Genocide Scholars Pull Out of Israel Conference
Ali Abunimah | The Electronic Intifada – TRANSCEND Media Service, 27 Jun 2016
25 Jun 2016 – The vice-president of the International Network of Genocide Scholars, Univ. of Cape Town Prof. Mohamed Adhikari, has pulled out of the group's conference at Hebrew University in Jerusalem. British genocide scholar Martin Shaw also announced he is pulling out. South Africa's Centre for the Study of Violence and Reconciliation also withdrew citing concerns about Israel's violations of Palestinian human rights.
→ read full article
---
Support for Palestinians Triples among US Youth, Survey Finds
Ali Abunimah | Electronic Intifada – TRANSCEND Media Service, 16 May 2016
"Currently, 43 percent of Millennials, born after 1980, report sympathizing more with Israel, while 27 percent are more sympathetic to the Palestinians," Pew states. "The share sympathizing with the Palestinians has risen significantly in recent years, from nine percent in 2006 to 20 percent in July 2014 to 27 percent today" – in other words it has tripled. Among Baby Boomers – those born between 1946 and 1964 – 61 percent are more pro-Israel, while just 14 percent back the Palestinians.
→ read full article
---
Israel Imposes Travel Ban on BDS Co-Founder Omar Barghouti
Ali Abunimah | The Electronic Intifada – TRANSCEND Media Service, 16 May 2016
Sarah Leah Whitson, executive director of Human Rights Watch, said that "Israel's refusal to renew Barghouti's travel document appears to be an effort to punish him for exercising his right to engage in peaceful, political activism, using its arsenal of bureaucratic control over Palestinian lives."
→ read full article
---
Did Israel Lobby "Bullying and Threats" Push Univ. of Southampton to Cancel Conference?
Ali Abunimah – The Electronic Intifada, 13 Apr 2015
2 Apr 2015 – Organizers of an academic conference on Israel are proceeding with an urgent legal challenge after the UK's University of Southampton today confirmed that it has canceled the event. More than 900 academics from all over the world have signed on to a statement in support of the conference.
→ read full article
---
Why I'm Relieved Netanyahu Won
Ali Abunimah – Electronic Intifada, 23 Mar 2015
18 Mar 2015 – Many had hoped that Benjamin Netanyahu would be defeated in yesterday's Israeli election. I was not one of them. The Israeli Jewish public's choice to re-elect Netanyahu should make it clear to people around the world that Israel does not seek peace and does not seek justice. It will continue to oppress and ethnically cleanse Palestinians until it is stopped.
→ read full article
---
France Begins Jailing People for Ironic Comments
Ali Abunimah – Electronic Intifada, 26 Jan 2015
It may sound like an ironic joke, but it isn't. Less than a week after the massive rallies in defense of "free expression," French authorities have jailed a youth 16 year-old for irony. His alleged crime? He posted on Facebook a cartoon representing a person holding the magazine Charlie Hebdo, being hit by bullets, and accompanied by an 'ironic' comment.
→ read full article
---
Under Cover of Reconstruction, UN and PA Become Enforcers of Israel's Gaza Siege
Ali Abunimah – The Electronic Intifada, 20 Oct 2014
17 Oct 2014 – The UN has agreed to become the chief enforcer of Israel's ongoing siege of Gaza. Under the guise of reconstruction, the UN will be monitoring and gathering private information about Palestinian households to be passed onto Israel, which will have a veto over which families get aid to rebuild their homes. Truly revolting.
→ read full article
---
How to Boycott Israel: Updated Guidelines for Academics
Ali Abunimah – Electronic Intifada, 8 Sep 2014
2 Sep 2014 – The Palestinian Campaign for the Academic and Cultural Boycott of Israel (PACBI) recently updated its guidelines on how to apply the international academic and cultural boycott of Israel.
→ read full article
---
What's Gone Wrong At The Guardian?
Ali Abunimah – Al Jazeera, 21 Aug 2012
Hiring Joshua Trevino, who endorsed the killing of Gaza flotilla members, is a worrying step for journalism. Treviño is a Republican Party operative, paid political consultant and ideologue for hire. But while some may not like those attributes, they would not make him unique among columnists. What does distinguish Treviño is his propensity to call for violence. Endorsing the killing of unarmed civilians…
→ read full article
---
Obama More Sympathetic to Israelis Killed in Bulgaria than to Sikh Americans Murdered in Wisconsin
Ali Abunimah – The Electronic Intifata, 13 Aug 2012
As soon as news came of a bomb attack that killed Israeli tourists in Bulgaria on 18 July [2012], US President Barack Obama condemned it in the most strident terms – even though, then, as now, the perpetrator and his motive remain unknown. Such sentiments at the killing of innocent people are understandable. But why has Obama so far refused to condemn in equally strong terms Wade Michael Page's murderous rampage that killed six people at the Sikh Temple in Oak Creek, Wisconsin yesterday [5 Aug 2012]?
→ read full article
---
Egypt's Military Ruler Tantawi and the American Siege of Gaza
Ali Abunimah – Pambazuka News, 12 Sep 2011
Revelations from WikiLeaks – As a WikiLeaks cable reveals, the US was even more actively involved than originally thought in 'enforcing the siege of Gaza along Egypt's border'.
→ read full article
---
CAN MITCHELL TURN JERUSALEM INTO BELFAST?
Ali Abunimah, 5 Feb 2009
US President Barack Obama's appointment of former Senator George Mitchell as his new Middle East envoy is a good choice. Mitchell showed even-handedness uncharacteristic of US officials when he led a fact-finding mission to the region in 2000. Had its recommendations been followed — cessation of all violence and a full freeze of Israeli settlement […]
→ read full article
---