Articles by Ather Zia
We found 2 results.
---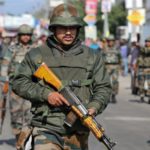 Violence Breeds More Violence in Kashmir
Ather Zia – Al Jazeera, 25 Feb 2019
18 Feb 2019 – As the militarisation of Kashmir has grown, so have victimisation and radicalisation.
→ read full article
---
Resistance Is a Way of Life for Kashmiri Youth
Ather Zia – Al Jazeera, 8 May 2017
26 Apr 2017 – The year 2017 is not even halfway through, but in the Indian-controlled Kashmir it has already been named "the year of the student uprising". Why Kashmir's millennials have stones in their hands.
→ read full article
---