Articles by Avi Shlaim
We found 4 results.
---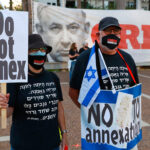 By Recognising Palestine, Britain Can Help Right the Wrongs of the Balfour Declaration
Avi Shlaim | The Guardian - TRANSCEND Media Service, 6 Jul 2020
22 Jun 2020 – The theft of Palestinian land is a legacy of British colonialism. The UK must stand in the way of further Israeli annexations.
→ read full article
---
US: The Dishonest Broker
Avi Shlaim – Aljazeera, 25 Oct 2010
There are many reasons for America's failure to broker a peace deal between Israel and the Palestinians but the most fundamental one is that it is a dishonest broker. As a result of its palpable partiality towards Israel, America has lost all credibility in the eyes not only of the Palestinians but of the wider Arab and Muslim worlds. The so-called peace process has been all process and no peace. Peace talks that go nowhere slowly provide Israel with just the cover it needs to pursue its expansionist agenda on the West Bank. The asymmetry of power between Israel and the Palestinians is so great that only a third party can bridge the gap.
→ read full article
---
CAPTIVE NATION
Avi Shlaim, 25 Jan 2009
How Gaza Became a Palestinian Prison The only way to make sense of Israel's senseless war in Gaza is through historical context. Establishing the state of Israel in May 1948 involved a monumental injustice to the Palestinians. British officials bitterly resented American partisanship on behalf of the infant state. On June 2, 1948, Sir John […]
→ read full article
---
ISRAEL AND GAZA: RHETORIC AND REALITY
Avi Shlaim, 9 Jan 2009
The historical record of Israel's dealings with Gaza sheds light on its strategic aims in the current conflict there, says Avi Shlaim. The only way to make sense of Israel's senseless war in Gaza is through understanding the historical context. The establishment of the state of Israel in May 1948 involved a monumental injustice to […]
→ read full article
---