Articles by Ed Pilkington
We found 16 results.
---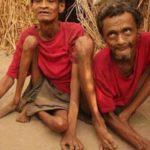 Dismay as Trump Vetoes Bill to End US Support for War in Yemen
Ed Pilkington – The Guardian, 22 Apr 2019
17 Apr 2019 – Donald Trump has vetoed a bill passed by Congress to end US military assistance in Saudi Arabia's war in Yemen. Politicians decry Trump's decision as a cynical move and missed opportunity for humanitarian help.
→ read full article
---
Chelsea Manning Released from Military Prison
Ed Pilkington – The Guardian, 22 May 2017
17 May 2017 – Chelsea Manning, the army private who released a vast trove of US state secrets and was punished by the US military for months in penal conditions denounced by the UN as torture, has been released from a military prison in Kansas after serving seven years of a 35-year sentence.
→ read full article
---
WikiLeaks Demands Answers after Google Hands Staff Emails to US Government
Ed Pilkington and Dominic Rushe – The Guardian, 2 Feb 2015
• Search giant gave FBI emails and digital data belonging to three staffers
• WikiLeaks told last month of warrants which were served in March 2012
→ read full article
---
The Joke Is on Them: Gay Conversion Group's Billboard Star IS GAY
Ed Pilkington – The Guardian, 22 Dec 2014
The poster claimed that of identical twins, one was gay and one straight. In fact the 'twins' were a single model and he is openly gay.
→ read full article
---
Tim Berners-Lee: Encryption Cracking by Spy Agencies 'Appalling and Foolish'
Ed Pilkington – The Guardian, 11 Nov 2013
Sir Tim Berners-Lee, the computer scientist who created the world wide web, has called for a "full and frank public debate" over internet surveillance by the NSA and GCHQ, warning that the system of checks and balances to oversee the agencies has failed. As the inventor of the Internet he is uniquely qualified to comment on the internet spying revealed by Edward Snowden.
→ read full article
---
US Defends Drone Strikes as 'Necessary and Just' in Face of UN Criticism
Ed Pilkington and Ryan Devereaux – The Guardian, 28 Oct 2013
The US government has defended its use of drone strikes in Pakistan, Yemen and other countries in front of the UN, telling that in President Obama's view the deployment of unmanned aerial attacks against al-Qaida targets was "necessary, legal and just".
→ read full article
---
New York Times Says UK Tried to Get It to Hand Over Snowden Documents
Ed Pilkington – The Guardian, 21 Oct 2013
The editor of the New York Times, Jill Abramson, has confirmed that senior British officials attempted to persuade her to hand over secret documents leaked by the former National Security Agency contractor Edward Snowden.
→ read full article
---
Chelsea Manning Rejects 'Pacifist' Label in First Statement since Sentencing
Ed Pilkington – The Guardian, 14 Oct 2013
Exclusive: In first public remarks since guilty verdict, WikiLeaks source expresses intense upset at public presentation of her.
→ read full article
---
WikiLeaks Activist in New York to Protest US Whistleblowers Clampdown
Ed Pilkington – The Guardian, 8 Apr 2013
Iceland MP Birgitta Jónsdóttir arrives in US for first time since WikiLeaks 'Collateral Murder' controversy three years ago, which put WikiLeaks on the map on 5 April 2010 by revealing footage of a US apache helicopter attack on unarmed civilians in Baghdad – by staging an exhibition of still photographs drawn from the video in New York.
→ read full article
---
Manning Plea Statement: Americans Had a Right to Know 'True Cost of War'
Ed Pilkington at Fort Meade, Maryland – The Guardian, 4 Mar 2013
After admitting guilt in 10 of 22 charges, soldier reveals how he came to share classified documents with WikiLeaks and talks of 'bloodlust' of US helicopter crew. The soldier related that in the video a man who has been hit by the US forces is seen crawling injured through the dust, at which point one of the helicopter crew is heard wishing the man would pick up a weapon so that they could kill him. "For me that was like a child torturing an ant with a magnifying glass."
→ read full article
---
CIA To Exempt Strikes on Pakistan from Drones Codification
Ed Pilkington – The Guardian, 28 Jan 2013
John Brennan, the counter-terrorism adviser nominated by President Obama to be the next head of the CIA, has reportedly agreed to exempt agency strikes in Pakistan from a new set of rules that attempts to justify and codify the use of drones to assassinate leaders of al-Qaida and other terrorist groups around the world, including US citizens.
→ read full article
---
Bradley Manning's Lawyers Seek To Show Torturous Holding Conditions
Ed Pilkington – The Guardian, 6 Aug 2012
Civilian lawyer David Coombs wants to call a military psychiatrist who consistently recommended to Manning's captors at the brig at Quantico that the prisoner should be removed from restrictive conditions. But his advice was ignored and Manning continued to be subjected to solitary confinement, being stripped naked, held in a bare cell and made to wear a rough smock at night. Witnesses will testify, the defence motion states, that when the psychiatrists objected to the conditions, they were told by the military chiefs in the brig: "We will do whatever we want to do."
→ read full article
---
Bradley Manning Lawyer in Struggle to Have Government Documents Released
Ed Pilkington – The Guardian, 11 Jun 2012
The US government is in possession of 250,000 pages of documents relating to the transmission of state secrets to whistleblower website WikiLeaks, which it is refusing to disclose to defence lawyers representing the alleged source of the leaks, Bradley Manning.
→ read full article
---
Bradley Manning Hearing Date Set As Court Martial Process Finally Begins
Ed Pilkington in New York – The Guardian, 28 Nov 2011
Manning, accused of leaking secrets to WikiLeaks, to go to pre-trial – known as Article 32 hearing – in Maryland next month. Daniel Ellsberg, the whistleblower behind the Pentagon Papers, said: "The charges against Bradley Manning are an indictment of our government's obsession with secrecy. Manning is accused of revealing illegal activities by our government and its corporate partners that must be brought to the attention of the American people."
→ read full article
---
Bradley Manning: Top US Legal Scholars Voice Outrage At 'Torture'
Ed Pilkington in New York - The Guardian, 18 Apr 2011
More than 250 of America's most eminent legal scholars have signed a letter protesting against the treatment in military prison of the alleged WikiLeaks source Bradley Manning, contesting that his "degrading and inhumane conditions" are illegal, unconstitutional and could even amount to torture. The list of signatories includes Laurence Tribe, a Harvard professor who is considered to be America's foremost liberal authority on constitutional law. He taught constitutional law to Barack Obama and was a key backer of his 2008 presidential campaign.
→ read full article
---
Bradley Manning's Military Doctors Accused Over Treatment
Ed Pilkington in New York – The Guardian, 21 Mar 2011
A leading group of doctors in the US concerned with the ethical treatment of patients has questioned the role of military psychiatrists in Quantico, Virginia, where the suspected WikiLeaks source Bradley Manning is being subjected to harsh treatment that some call torture. The advocacy body Physicians for Human Rights has sounded the alarm over the role of psychiatrists at the brig in the marine base where Manning has been in custody since last July.
→ read full article
---