Articles by Ethan Siegel
We found 1 results.
---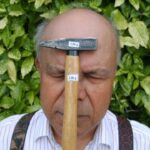 The Unfiltered Truth behind Human Magnetism, Vaccines, and COVID-19
Ethan Siegel | Forbes - TRANSCEND Media Service, 19 Jul 2021
23 Jun 2021 – Recently, Dr. Sherri Tenpenny has claimed that the coronavirus vaccine is actively magnetizing people, stating in her testimony, "I'm sure you've seen the pictures all over the internet of people who have had these shots and now they're magnetized. You can put a key on their forehead, it sticks. You can put spoons and forks all over and they can stick because now we think there is a metal piece to that." Fortunately, the science of magnetism has been extraordinarily well-understood for over 150 years. Here's a look at the science behind this claim.
→ read full article
---