Articles by Eurasia Review
We found 8 results.
---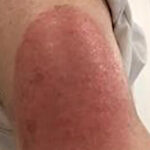 Greater Awareness Needed of Delayed Skin Reactions to Moderna COVID-19 Vaccine
Eurasia Review - TRANSCEND Media Service, 8 Mar 2021
4 Mar 2021 – Phase 3 clinical data from the Moderna vaccine trial did show delayed skin hypersensitivity in a small number of the more than 30,000 trial participants. However, the authors say the large, red, sometimes raised, itchy or painful skin reactions were never fully characterized or explained, and they warn clinicians may not be prepared to recognize them and guide patients on treatment options and completion of the second dose of the vaccine.
→ read full article
---
Rohingya Crisis: Why Reporters Are Scared to Cover Story
Vishakha Amitabh Hoskote – Eurasia Review, 26 Dec 2016
Beware of Myanmar's attempt to absolve itself of criminal responsibility and jump on the West's 'war on terror' wagon. Media persons trying to cover the news are scared of more violence erupting post their interactions with the Rohingya Muslims and local Villagers. There is nobody to take a stand.
→ read full article
---
Malawi: Albino Killings on the Rise, Bishops Speak Out
Catholic News Agency – Eurasia Review, 30 May 2016
26 May 2016 – Amid increased violence against albinos in the southeastern African nation of Malawi, the bishops' justice and peace commission has condemned their killing, which is linked to the practice of witch doctors.
→ read full article
---
Scientists Discover How Supermassive Black Holes Keep Galaxies Turned Off
Eurasia Review – TRANSCEND Media Service, 30 May 2016
26 May 2016 – An international team of scientists has identified a common phenomenon in galaxies that could explain why huge numbers of them turn into cosmic graveyards. Galaxies begin their existence as lively and colorful spiral galaxies, full of gas and dust, and actively forming bright new stars.
→ read full article
---
War on Women and Minorities in Colonial and Post-Colonial Burma [Myanmar]
Russell A. Whitehouse – Eurasia Review, 21 Dec 2015
Perpetual existential threats have created strong ethnic paranoia among the Burmese establishment that has recently culminated in brutal repression of minorities, particularly females.
→ read full article
---
Corporate Evil Creeps Up Unobserved: TransPacific Partnership Will Undermine Democracy
Prof. Rodney Shakespeare - Eurasia Review, 22 Apr 2013
The TPP is intended to (finally) undermine democracy by handing power to the global financial elite and the big corporations. The key mechanism will be the transfer of power from sovereign nations to so-called 'trade tribunals' whose purpose is to make national laws subservient to corporate interests. These trade tribunals will do what they like: no government or electorate will be able to influence them.
→ read full article
---
Libya: NATO to Hold Emergency Meeting of North Atlantic Council
Eurasia Review – TRANSCEND Media Service, 28 Feb 2011
NATO Secretary General Anders Fogh Rasmussen: "It's a bit pre-mature to go into specifics, but it's well known that NATO has assets that can be used in a situation like this and NATO can act as an enabler and coordinator, if and when, individual member states want to take action."
→ read full article
---
Who Is Afraid of a Real Flotilla Inquiry?
Uri Avnery – Eurasia Review, 21 Jun 2010
If a real Commission of Inquiry had been set up (instead of the pathetic excuse for a commission), here are some of the questions it should have addressed:
→ read full article
---