Articles by Garry Leech
We found 3 results.
---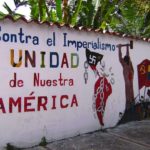 Business as Usual: Washington's Regime Change Strategy in Venezuela
Garry Leech - CounterPunch, 26 Nov 2018
23 Nov 2018 – A great summary of what has happened in Venezuela and in all of Latin America. Besides Venezuela and the recent attempts by the Trump administration to affect regime change there, it draws on lessons from Operation Condor, Chile and Haiti. Washington's strategy of regime change in Venezuela is almost identical to the approach it has taken in Latin America on numerous occasions since World War Two."
→ read full article
---
The Elephant in the Room: Capitalism and Sustainable Development
Garry Leech - CounterPunch, 19 Oct 2015
Capitalism requires a constantly expanding production and consumption of goods, which can only be achieved through the increased exploitation of the planet's natural resources at an unsustainable rate. Because of this reality, sustainable development cannot be achieved without a dramatic reduction in the levels of production and consumption, which directly contradicts the growth logic that drives capitalism.
→ read full article
---
Promoting Injustice: The Bias of Human Rights Watch
Garry Leech - CounterPunch, 18 Mar 2013
Investigative reporter Garry Leech writes that HRW repeatedly focuses on political and civil rights while ignoring social and economic rights.
→ read full article
---