Articles by Gershon Baskin
We found 2 results.
---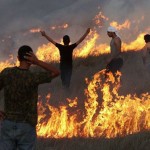 Judaism, the Israeli-Palestinian Conflict and Me
Gershon Baskin | The Jerusalem Post - TRANSCEND Media Service, 31 Aug 2020
26 Aug 2020 – For years I have witnessed very violent behavior by settlers and soldiers toward Palestinians. The most violent of these acts were committed by religious settlers. Their hatred is burning in their eyes toward Palestinians, and even more toward Jews who come to show solidarity or protect Palestinians. These behaviors push me to move even further away from Judaism; the religious settlers and the soldiers call me a traitor.
→ read full article
---
THE RIGHT OF RETURN (ANOTHER REACTION TO BADAWI'S ARTICLE)
Gershon Baskin, 10 Sep 2009
Israeli understanding of the Jewishness of Israel is complex, and it makes the right of return the most contentious issue on the negotiating agenda. The demand of Prime Minister Netanyahu to the Palestinians to recognize Israel as the nation state of the Jewish people is perceived by many of the few people left in the […]
→ read full article
---