Articles by James Ball
We found 10 results.
---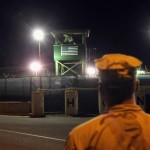 [10 Years Ago] The Guantánamo Files: Leaks Lift Lid on World's Most Controversial Prison
David Leigh, James Ball, Ian Cobain and Jason Burke - The Guardian, 10 May 2021
Article published on TRANSCEND Media Service in 2 May 2011
• Innocent people interrogated for years on slimmest pretexts
• Children, elderly and mentally ill among those wrongfully held
• 172 prisoners remain, some with no prospect of trial or release
• Interactive guide to all 779 detainees
→ read full article
---
GCHQ Captured Emails of Journalists from Top International Media
James Ball – The Guardian, 26 Jan 2015
Emails from the BBC, Reuters, the Guardian, the New York Times, Le Monde, the Sun, NBC and the Washington Post were saved by GCHQ and shared on the agency's intranet as part of a test exercise by the signals intelligence agency, analysis of documents released by whistleblower Edward Snowden reveals.
→ read full article
---
UK – Optic Nerve: Millions of Yahoo Webcam Images Intercepted by GCHQ
Spencer Ackerman and James Ball – The Guardian, 3 Mar 2014
• 1.8m users targeted by UK agency in six-month period alone
• Optic Nerve program collected Yahoo webcam images in bulk
• Yahoo: 'A whole new level of violation of our users' privacy'
• Material included large quantity of sexually explicit images
→ read full article
---
NSA Collects Millions of Text Messages Daily in 'Untargeted' Global Sweep
James Ball – The Guardian, 20 Jan 2014
The untargeted collection and storage of SMS messages – including their contacts – is revealed in a joint investigation between the Guardian and the UK's Channel 4 News based on material provided by NSA whistleblower Edward Snowden.
→ read full article
---
Spy Agencies in Covert Push to Infiltrate Virtual World of Online Gaming
James Ball – The Guardian, 16 Dec 2013
NSA and GCHQ collect gamers' chats and deploy real-life agents into World of Warcraft and Second Life.
→ read full article
---
Revealed: Australian Spy Agency Offered to Share Data about Ordinary Citizens
Ewen MacAskill, James Ball and Katharine Murphy – The Guardian, 2 Dec 2013
2 Dec 2013 – Australia's surveillance agency offered to share information collected about ordinary Australian citizens with its major intelligence partners, according to a secret 2008 document leaked by the US whistleblower Edward Snowden. The document shows the partners discussing whether or not to share "medical, legal or religious information".
→ read full article
---
US and UK Struck Secret Deal to Allow NSA to 'Unmask' Britons' Personal Data
James Ball – The Guardian, 25 Nov 2013
• 2007 deal allows NSA to store previously restricted material
• UK citizens not suspected of wrongdoing caught up in dragnet
• Separate draft memo proposes US spying on 'Five-Eyes' allies
→ read full article
---
Reports That NSA Taps into Google and Yahoo Data Hubs Infuriate Tech Giants
Dominic Rushe, Spencer Ackerman and James Ball – The Guardian, 4 Nov 2013
Google and Yahoo, two of the world's biggest tech companies, reacted angrily to a report on Wednesday [30 Oct 2013] that the National Security Agency has secretly intercepted the main communication links that carry their users' data around the world.
→ read full article
---
NSA Monitored Calls of 35 World Leaders after US Official Handed Over Contacts
James Ball – The Guardian, 28 Oct 2013
The National Security Agency monitored the phone conversations of 35 world leaders after being given the numbers by an official in another US government department, according to a classified document provided by whistleblower Edward Snowden.
→ read full article
---
The Guantánamo Files: Leaks Lift Lid on World's Most Controversial Prison
David Leigh, James Ball, Ian Cobain and Jason Burke - The Guardian, 2 May 2011
• Innocent people interrogated for years on slimmest pretexts
• Children, elderly and mentally ill among those wrongfully held
• 172 prisoners remain, some with no prospect of trial or release
• Interactive guide to all 779 detainees
→ read full article
---