Articles by Jason Ditz
We found 7 results.
---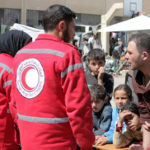 Red Crescent Says No Evidence of Chemical Attack in Syria's Douma
Jason Ditz | AntiWar – TRANSCEND Media Service, 16 Apr 2018
9 Apr 2018 – The Syrian Red Crescent issued a statement today dismissing the allegations of a weekend chemical weapon attack in the city of Douma. The statement insisted their medical personnel in the city had found no evidence any such attack took place.
→ read full article
---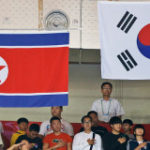 North Korea Issues Statement Calling for Breakthrough in Unification
Jason Ditz | AntiWar – TRANSCEND Media Service, 29 Jan 2018
Urges All Koreans to Push Bilateral Cooperation
→ read full article
---
South Korea Unexpectedly Approves Aid to North
Jason Ditz – Antiwar.com, 25 Sep 2017
21 Sep 2017 – As Sanctions Hit Civilians, South Korea to Send Food, Medicine to North Korea – In a move no one expected, and which puts them squarely at odds with the US, South Korea today announced the provision of a new $8 million aid package for neighboring North Korea in directly contrast with US calls for "more pressure."
→ read full article
---
State Dept Excuses Syria Rebel Group over Terror Attacks
Jason Ditz | AntiWar – TRANSCEND Media Service, 8 Aug 2016
State Department spokesman Mark Toner downplayed the incidents, or the possibility that the US would stop arming Nour al-Din al-Zinki just because they beheaded a child and used chemical weapons. Insists 'One Incident Here and There' Doesn't Make Them Terrorists'
→ read full article
---
US Warns Russia against Humanitarian Intervention in Ukraine
Jason Ditz - AntiWar, 11 Aug 2014
8 Aug 2014 – Less than 24 hours after President Obama announced a new round of military operations in Iraq, couched as a "humanitarian" endeavor aimed at preventing "genocide," US Ambassador to the UN Samantha Power was warning Russia against doing the exact same thing.
→ read full article
---
Sanctions: Cruel and Counterproductive
Jason Ditz – Al Jazeera, 30 Sep 2013
The great sanctions experiment of the late 20th and early 21st centuries has been a disastrous failure, and must be abandoned outright, both on humanitarian grounds as well as a rational measure of its impracticality. Sanctions simply don't work.
→ read full article
---
Report: Army to Disclose Evidence Against Bradley Manning
Jason Ditz – Antiwar.com, 7 Nov 2011
The US Army will soon hold some form of hearing which will disclose the evidence the US government has collected against Bradley Manning in the year and a half since his detention began. The hearing will be the first time any actual evidence is presented against Manning, with most public releases about him centering around his alleged "outsider" status during his time in the military. Some politicians, including former Governor Mike Huckabee, have demanded his execution.
→ read full article
---